"Life shrinks or expands in proportion to one's courage" – Quote by Cuban Memoirist Anaïs Nin chosen by Amy Van Winkle
American Artist Amy Van Winkle creates beautiful textured works of art incorporating different processes to build dimension and character. In this interview, Amy touches upon inspirations for her work, the story behind her process and aesthetic, and the environment within which she creates which further encourages her artistic vision.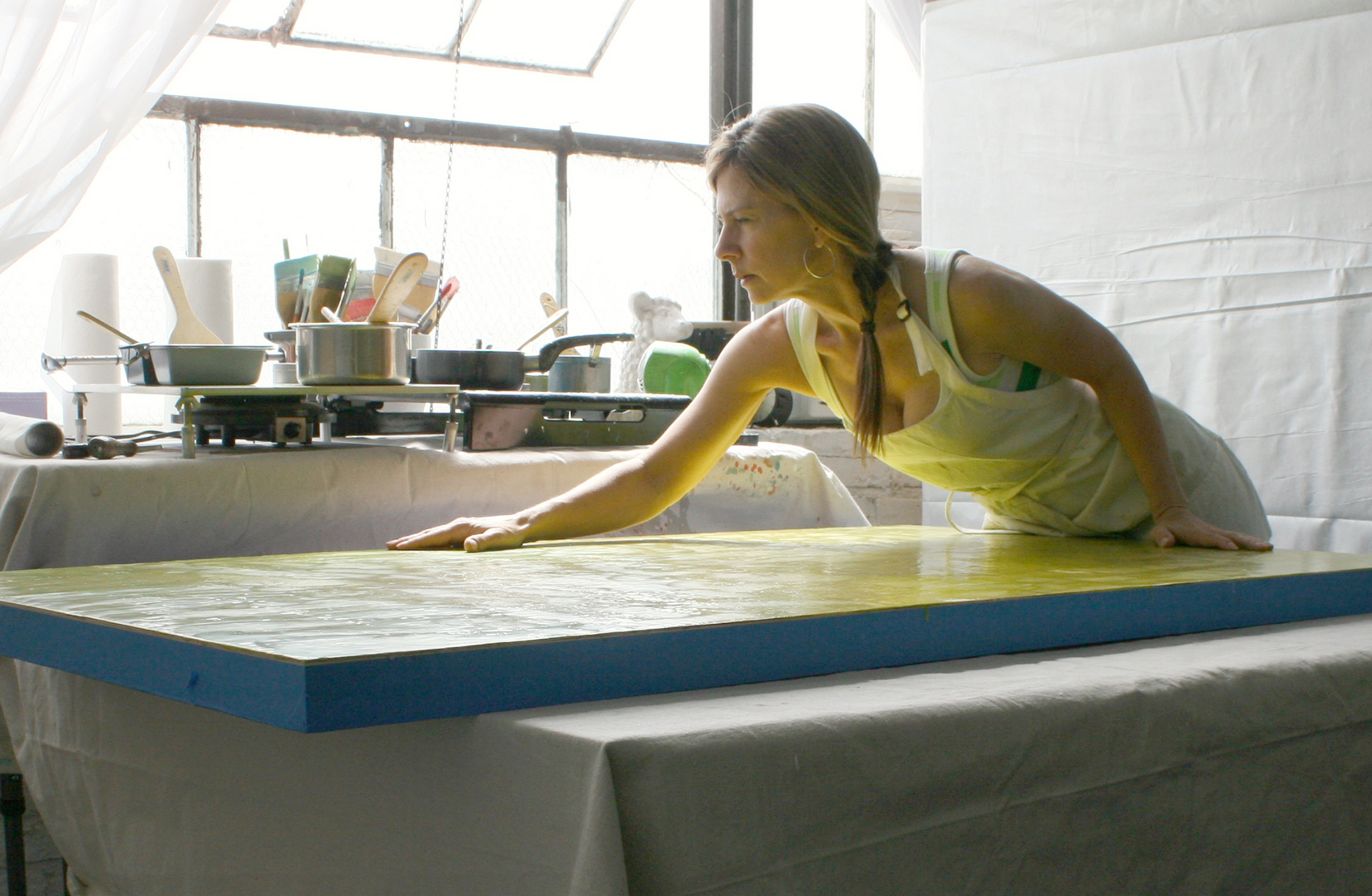 How do you describe your work?
As far as my painting style, I'd have to say it falls in the Color Field category of Abstract Expressionism.  I like exploring how different colors react together while building history and texture. My paintings tend to exhibit a sense of order with a touch of chaos, especially when painting in the medium of encaustic.  I build up many layers of paint and then selectively scrape, incise and scar the surface, creating a visible and archival history. My paintings become a dialog of fused layers, with transparent and opaque details.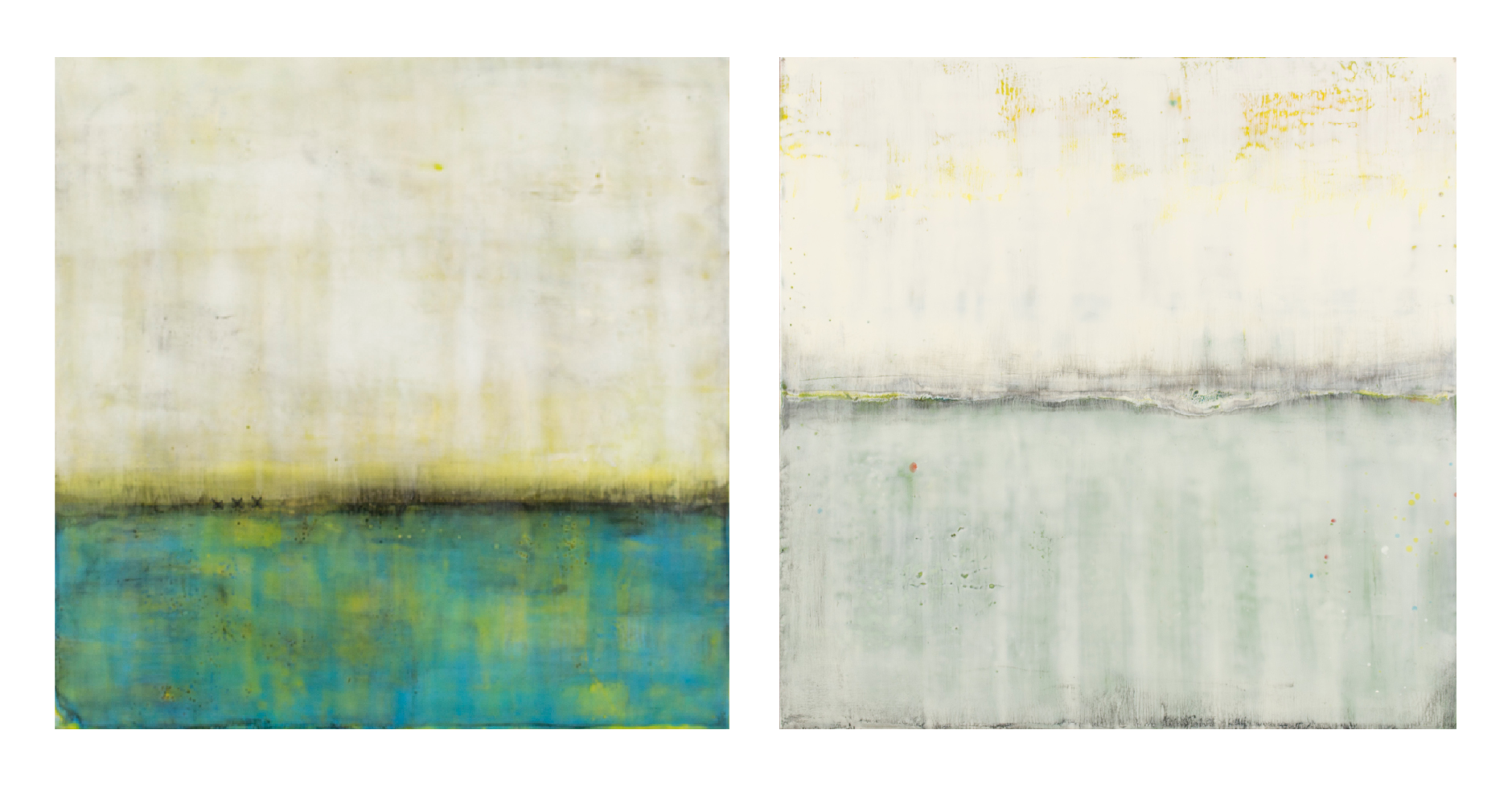 Tell us a bit about your studio.
My studio, like my work, is fairly organized with areas of chaos. I usually work on 2-3 pieces at a time, preferably in different mediums. If I'm struggling or need a break on one piece, I shift gears to another piece.
I am currently in the process of relocating my home and studio from Chicago to Santa Fe, NM. My new studio is located in a canyon on the Santa Fe River. I'll be surrounded by water and trees, which will surely impact my paintings.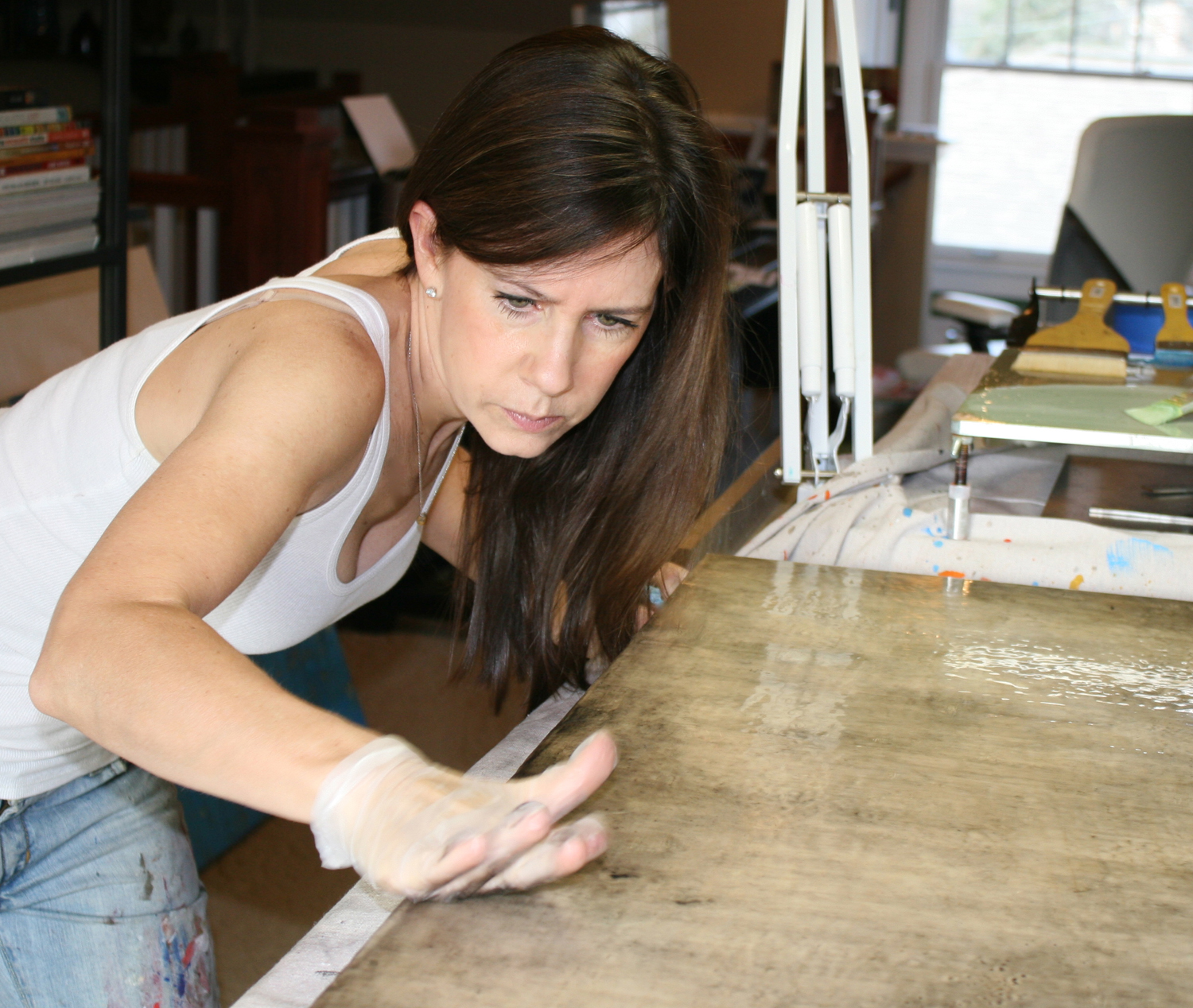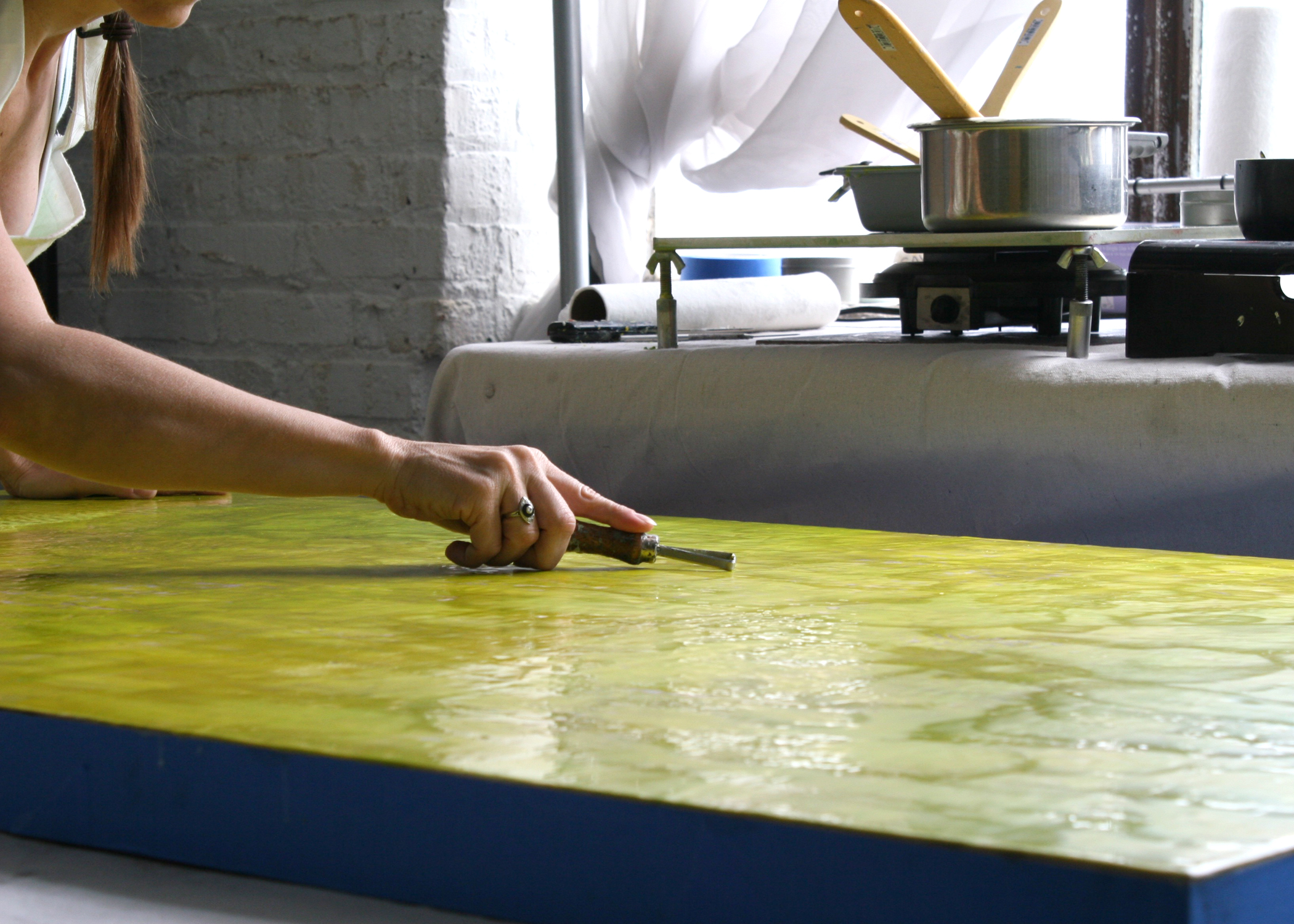 What makes your work unique?
I think, like all artists, my art is unique because my history and experiences are unique. I like to work in different mediums including oil, encaustic, acrylic and mixed media. I have a history of painters and quilters in my family that have influenced my style. I often stitch my encaustic paintings, which adds texture and dimension to the work.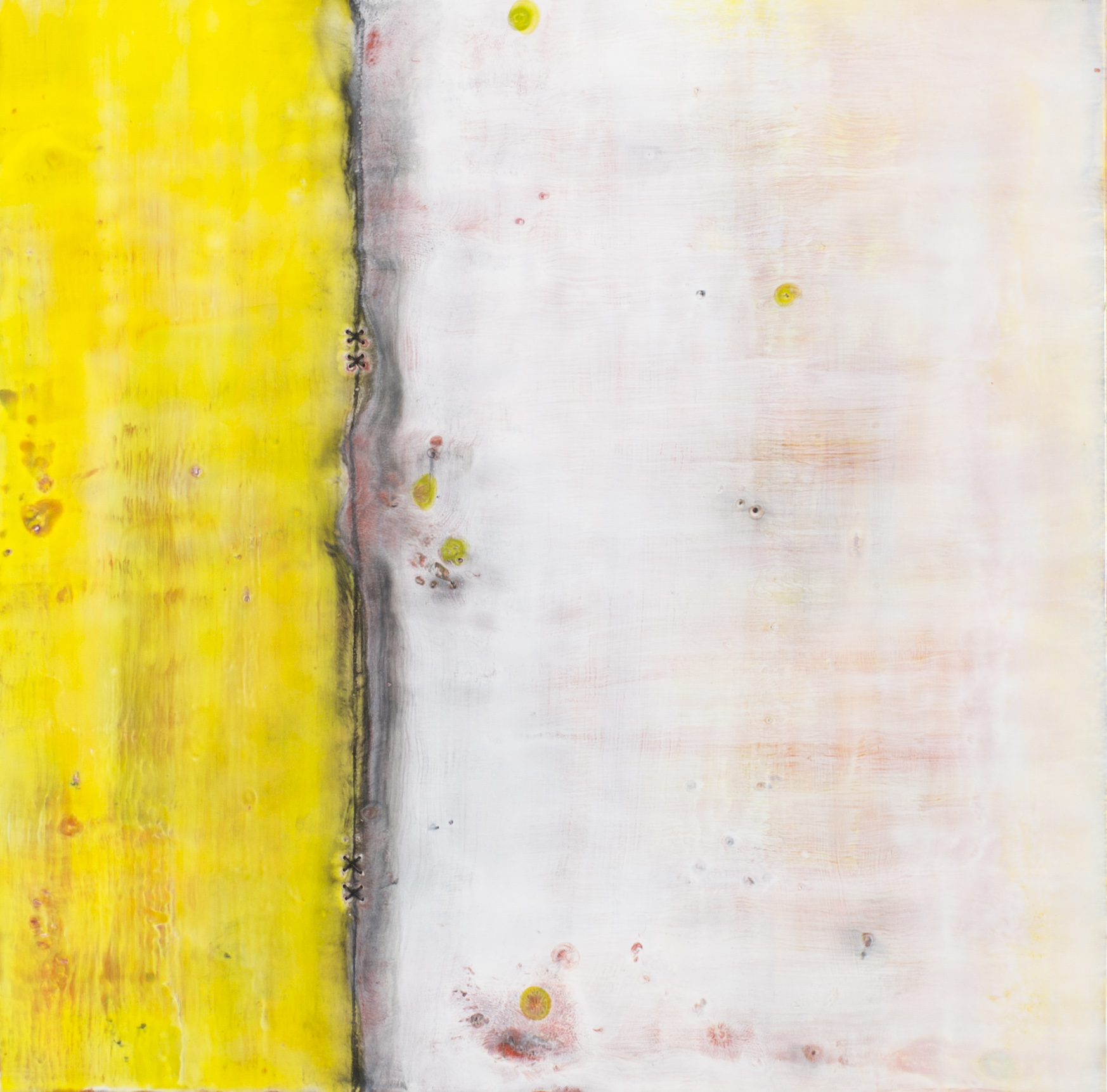 What are sources of inspiration for your work?
There are many daily inspirations that influence my work. Just today, I looked out and the sky was the most beautiful blue with ribbons of pink as the sun was beginning to set. Beauty, despair, color, line, etc. surround us all at every moment. I think the key is just taking the time to look around and breathe it in. I draw most of my inspiration from my past experiences, good and bad. There's a theme of transition and mending in most of my work. I spent a lot of time in Southeast Asia, so that has impacted my work as well.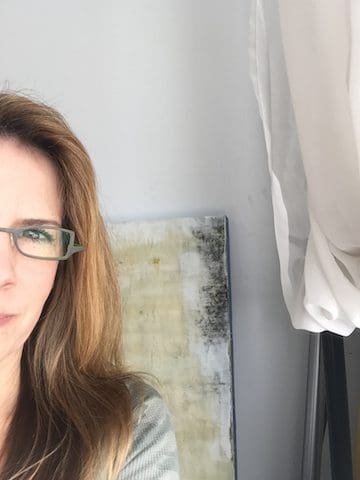 Amy has participated in shows throughout the world and is currently represented by galleries in the USA and Taiwan. Stop by the gallery nearest you to experience her newest works in person.