JOHN BRANDON

SILLS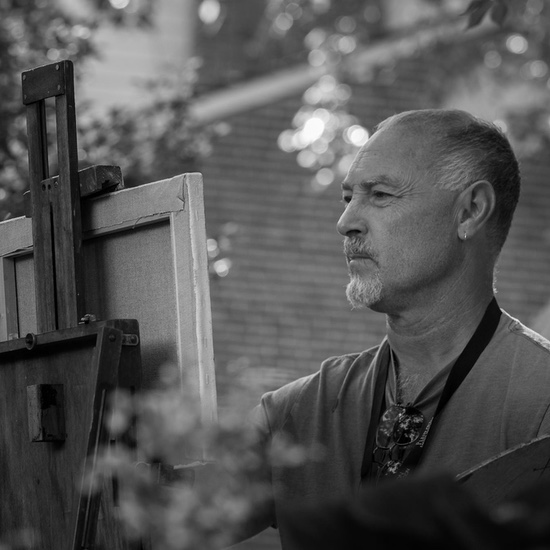 John Brandon Sills works in a manner that derives its technical inspiration from the Old Masters and its stylistic appearance from Barbizon and Impressionist painting. Being a classically trained artist, John uses a mastery of drawing to infuse his work with a sense of spontaneity and life.

Though he is accomplished in all types of painting, John has chosen landscape as his primary means of expression. John paints nature in all its forms, emphasizing those aspects that create an awareness of mans relationship to the environment. Toward this end, his landscapes exhibit the sensitivity that urges the viewer to appreciate the spiritual aspects of the land, and actively participate in its protection. John shares his knowledge by teaching classes and conducting plein air.

In still life and figure painting, the capturing of light and atmosphere is his main concern. John strives to do this by employing the careful observation and attention to technique that he learned during his training.

John received his BA in Fine Art from Towson University in 1984. In 1982 he spent a semester studying Renaissance Art in Florence Italy. After his graduation John choose to continue his studies by enrolling in the prestigious Schuler School of Fine Art in Baltimore Maryland. While there, he completed a four year program of rigorous academic training in classical realism.

The paintings of John Brandon Sills fall into two categories, plein air paintings and studio work. "In my plein air work I try to capture the essence of an experience hoping to express the vitality of nature in brushstroke and color. My studio pieces are more subdued reflecting the introspective aspect of creating in solitude." This dichotomy gives John's work a balance that demonstrates the multiple facets of the creative personality. In landscape painting John has been influenced by the work of George Innes, Charles François Daugibny, Claude Monet and John Singer Sargent. His figure and still lifes have been influenced by Dutch 17th century masters, Rembrandt and Holbein. John has also studied with and been influenced by modern masters Ann Didusch Schuler and Will Wilson.

The paintings of John Brandon Sills are represented in numerous collections in the United States as well as collections in Canada, England, France, Jamaica, Grand Cayman B.W.I and Australia.

John has won numerous awards including People's Choice award in the Mid Atlantic Plein Air Painters Association's Paint Annapolis exhibition, Best In Show and First Place awards in The Charcoal Club of Baltimore Invitational Show and finalist in American Artist Magazine Realism Today competition.