Two different viewpoints on a beautiful and light filled bathroom from our expert consultants that will inspire the way you look at art and the world around you.
Clean lines and ethereal light embody a spa-like atmosphere in this simplistic and sun filled bathroom. White walls coupled with the glass encased shower create an open air and fresh feel; the ideal space for an equally serene work of art.
For this sleek master bath, I chose the "Organic Wildflower" series. The artist has such a unique way of capturing nature that is both energizing and calming. This pair of paintings on acrylic, each suspended from a brushed steel box, complements the pristine elements of the room while adding depth and light. The bright and vibrant color captivates the viewer while revitalizing the space.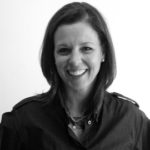 Marshall Noice's "Granite Canyon Trail Head" is a beautiful addition to this minimalist bath. The vibrant color from the painting illuminates the room while also reflecting the subtle and radiant light. Noice is passionate about the impact of color and light; utilizing an elegant balance that resonates within any space. The painting provides a soft yet commanding focal point that instantly breathes energy into this simplistic space.