Two different viewpoints on a bold living room from our expert consultants that will inspire the way you look at art and the world around you.
Black and White is a bold yet elegant combination. Its sleek and stylish appeal gives you the chance to play with different forms, colors and textures. When it comes to showcasing your artwork, the possibilities are endless.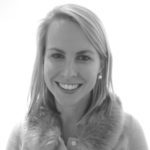 "Tumble" is the perfect statement as you walk through the dramatic double doors to this elegant living room. The piece adds a kinetic feel to a very crisp and contemporary room. The blocks of color in the painting echo the pattern on the rug and the tufted buttons on the sofa, while introducing a new color palette to the space. This large scale painting draws the elements of design and architecture together.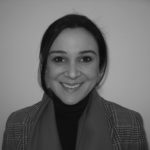 This dramatic space begs for a pop of color. "Blue" by Anke is a perfect fit. This crisp, high gloss resin piece has a powerful presence while evoking a sense of playfulness. The light hearted combination of a masked girl holding a bunny on the roof takes us back to the days of exploration, imagination and fantasy.