Two different viewpoints on a contemporary boho influenced living room from our expert consultants that will inspire the way you look at art and the world around you.
I chose Alice Pritchard's pastel painting "Into The Woods" for this funky bohemian living room. Pritchard's grouping of trees softens the industrial feel of exposed concrete, while complimenting the natural wood features found in the recliner and repurposed wood crates. The colorful palette of the painting touches on the eclectic mix of colors in the room without overwhelming. The organized repetition of vertical lines in the painting  gives a focal point for the eye to rest while looking around the room.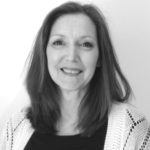 I chose Charles Jacob's, "Blue Parking Meter" for this living room because of its fun and edgy style. Jacob's eye captures everyday objects and sets them apart, creating balance and a focal point in this vibrant and colorful setting.