Experience a new series of works by artist Carol O'Malia. In an interview with our galleries and the artist, explore the inspirations behind her "Girl on a Train" series, which represent the urban landscape and the human desire to leave one's mark upon this planet.
How would you describe your new series of works?

First, I see these as my "Girl on a Train" series. They are decidedly female-centric, even though the imagery of trains and graffiti is (considered) more masculine or aggressive. The trains as I walk by them are huge, much bigger than one would think as one drives by. They tower over you. They are powerful. The graffiti that is tagged onto the trains always astonishes me, first because the 'artist" is so close to the subject matter and cannot see how it will look until (s)he – but probably "he" – is done. Second, one has to be agile and athletic to scale the trains in order to tag them.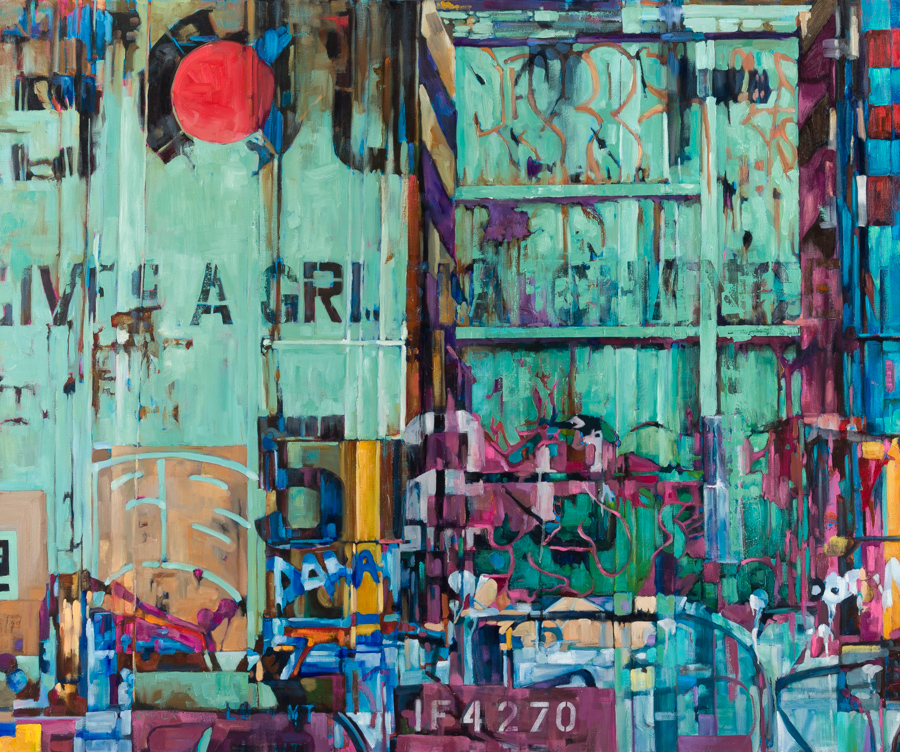 How does your experience with graffiti inspire your creative process?

As I walk by, I see someone who left his mark. The words/graffiti seem to be contemporary petroglyph. When I go back to the studio, I don't want to just copy what I have seen and photographed. I start with the basic shapes and words of the graffiti then I sit back and try to figure out what I "see."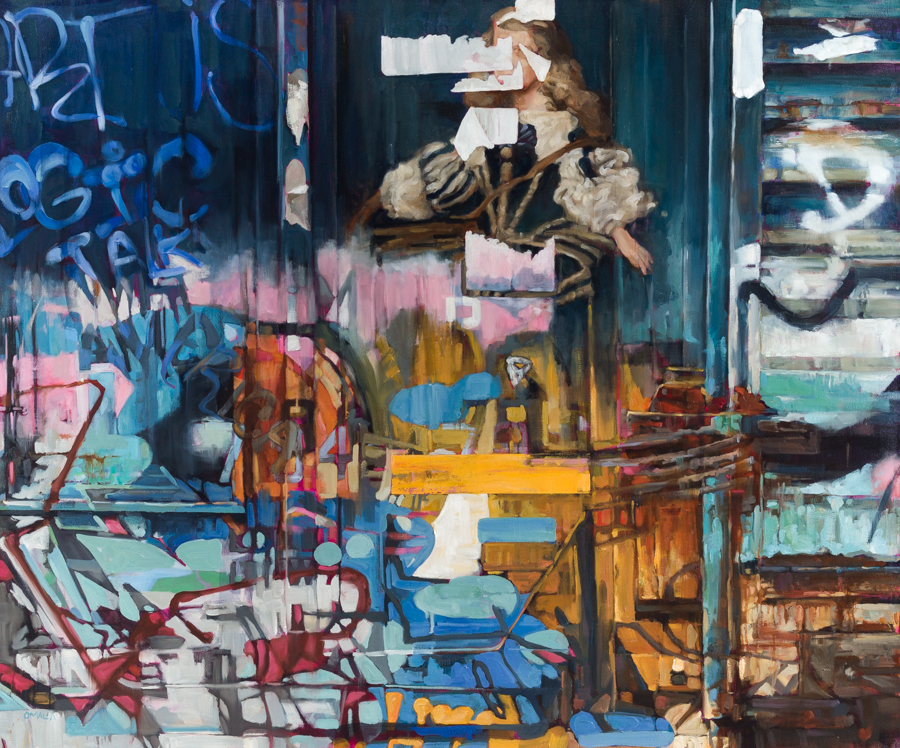 At this point, the words change, or rather alter. Some of the words remain the same but others morph as words and phrases pop into my head. So, "Art is Logic" started out with many of those letters but, with editing, became "art is logic." The figure is Velazquez' "L'Infant Marguerite-Therese d' Autriche," one of his princesses. I don't know why, but I have wanted to see a "princess" on the side of these trains for years. And, by the way, I have been walking along these tracks photographing for over ten years. It is only now that I have gathered the nerve to actually paint them.
Besides your observations of graffiti over the years, where does this series stem from? What does it represent?

They obviously are from my psyche and they have more than a hint of feminism applied onto a powerful, iconic symbol. They represent the urban landscape and man's continued need to say, "I was here."