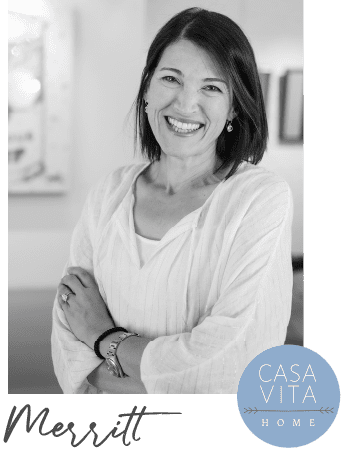 Designed by Casa Vita Home, this mood board curates a dining room that exudes modern elegance while staying comfortable and inviting. From the distinctive table made from reclaimed douglas fir, to the denim wall covering with a Japanese-inspired print, to the antique woven rug, this design is all about the refined textures and hand-crafted details.
To complete the space, I chose three pieces from the gallery that complement the design in different ways. Which one is your favorite?
A Winter's Walk by Shivani Dugar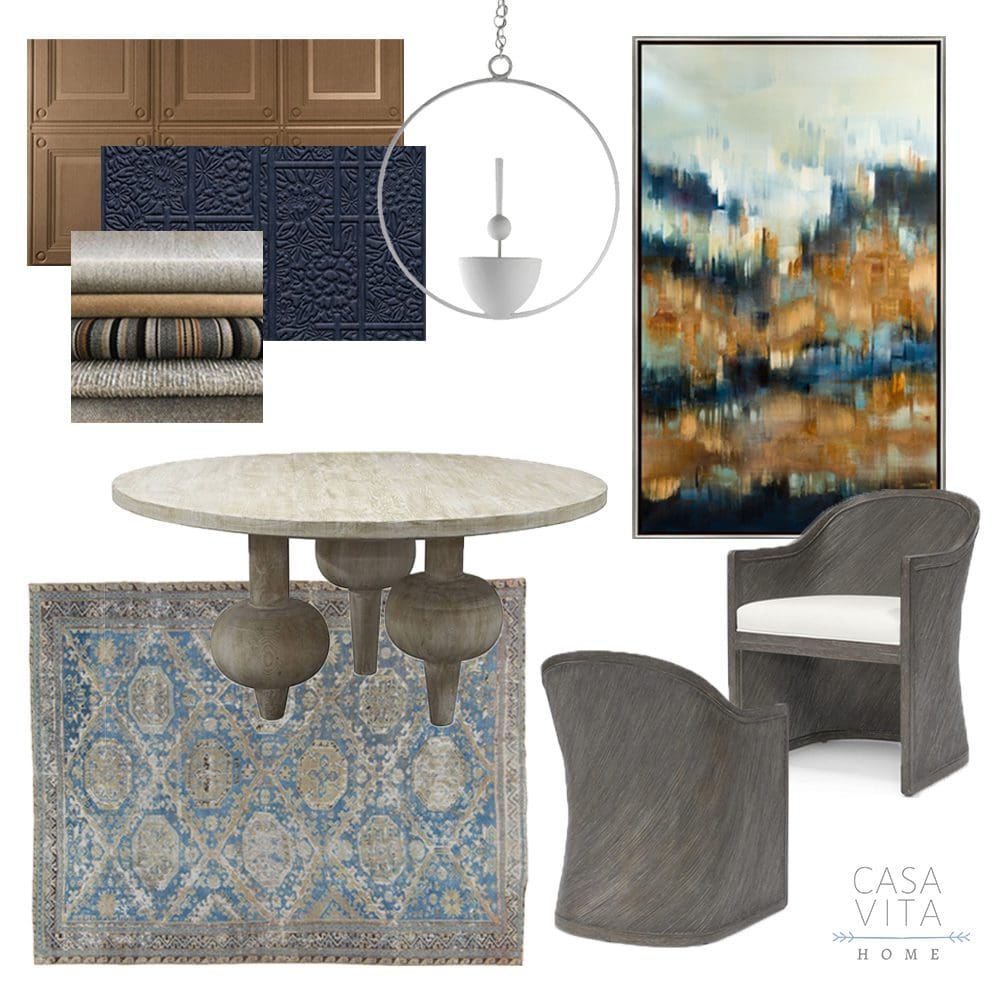 A Winter's Walk adds a serene presence to the dining room with its layers of pattern and color. Dugar was inspired by a scenic walk through the mountains while on a ski trip, and you can feel the cool air and sense of euphoria coming through the piece. Her nature-inspired palette harmonizes with the neutral scheme of the space.
Shivani Dugar: View More Work | In the Artist's Studio | On the Wall
Camellia by Charles Dwyer

Charles Dwyer's portrait Camellia is so striking! Her confident gaze introduces a boldness into the space – the perfect statement piece for this design. The warm golden hues in the piece also balance out the cooler tones found in the furniture and rug.
Charles Dwyer: View More Work | In the Artist's Studio | On the Wall
The Search by Marilyn Borglum

Borglum's equine subject is the epitome of grace and strength, making this piece a distinguished addition to the dining room. The muted colors subtly play off of the gray washes of the table and chairs. With its painterly atmosphere, The Search softens more streamlined elements of the design.
Marilyn Borglum: View More Work | In the Artist's Studio | On the Wall