Two different viewpoints on a contemporary and sleek dining space from our expert consultants that will inspire the way you look at art and the world around you.
Feng shui reins throughout this deluxe modern gathering space as neutral tones softly mingle with the cooling geometry of the tiled walls and horizontal lines of the marbled table. The soft pendant lighting adds a subtle glow, while the floor length ivory curtains tie the space together with opulent texture. All that is missing from this refined dining room is a captivating work of art with a hint of color and warmth.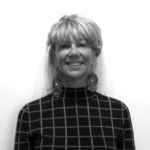 This room confronts you with unwavering strength etched in the feeling of refinement. Charles Dwyers' "Cirque – Sara" is a figure posed with alluring elegance. Her dress draped gracefully over her legs in rich brown and cream tones masterfully highlights the taupe colors of the table and plush fabric of the chairs. Dwyer executes Sara's form with delicate precision while his background of broken color covers the canvas with exuberance. Dwyer's painting evokes the question, "Is Sara commanding the room or does she seamlessly blend as one of the guests?"
"Whispering Aspens" brings a pop of texture and color to this minimal, neutral room. The architecture's clean lines echo those of the birch trees. Outdoor lighting permeates the room eluding to the natural landscape that no doubt awaits outside. "Whispering Aspens" both compliments and elevates the room, celebrating the organic qualities of its design.