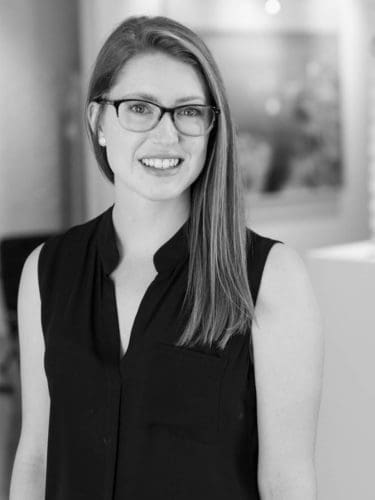 An interior may have one focal point or many smaller wow moments — in either case, the space should reflect the personalities of the person or people that live there. In that way, art is a great opportunity to make a space more personal, meaningful, or welcoming. In selecting pieces for this space, I tried to think of the personalities of the people who may call this space home.
Oneric by Hyunmee Lee perfectly complements the minimalism of this design, adding subtle color to the black, white and grey palette. Her mark making becomes the focus of the composition — highlighting the smaller moments and how they communicate.
Craig Alan's Populus: My Peeps adds some energy to the space. A wonderfully whimsical ode to Keith Haring, the composition points to the people that make a house a home. This is a great focal point in the central gathering space in the home.
Breeze III by Cecil K. reflects the design plan to bring the outdoors inside, reflecting the broader view that could be outside the window. This work is peaceful and the swatches of vibrant color bring the horizon line to life.