Stark and elegant, this washroom is laced with classic delicate details throughout, setting the scene for a warm, evocative work of art. Explore these two different perspectives on a polished, poetic interior to inspire the way you look at art and the world around you.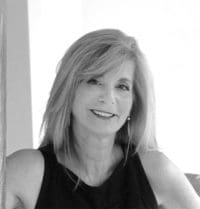 The soft, spring hues in Josef Kote's bright, uplifting work Morning Spring give this delicate interior an invigorating focal point. The relaxed marks and composition complete the romantic, feminine nature of the interior and evoke content, tranquil daydreams about the past, present and future.

Striking and evocative, Shivani Dugar's Towards There II adds depth and warmth to the stark palette of this elegant interior. Monochromatic walls, antique bronze and gold accents provide a stage for the boldness of this lively yet polished composition. Energy radiates from Shivani's mesmerizing work, providing contrast to the symmetry and strong lines surrounding it.