Explore these two different perspectives on a contemporary and desert-inspired space from our expert consultants that will inspire the way you look at art and the world around you.
Artist Sherri Belassen invites the colors of the desert right outside the window into this clean-lined space with her vibrant painting entitled "Shine." Burnt orange and teals bring earth tones and tranquility to this modern and monochromatic bedroom. The textured, figurative piece brings to mind relaxation; a beautiful image to fall asleep beneath…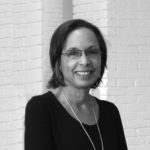 I chose "Suspended Geometry II" for this serene and open bedroom. The metal and acrylic fabrication of the piece meld with the soft contemporary feel of the room. The subtle colors in the artwork compliment the natural elements of the desert beyond the far glass wall, igniting the otherwise monochromatic space with the southwest's spirited palette.