Two different viewpoints on a dazzling dining room from our expert consultants that will inspire the way you look at art and the world around you.
Don't be afraid to use color in your dining room to reflect your playful side! Spice up your space with bold artwork, wild chairs or both!  See how it comes together with our expert consultants' choices below.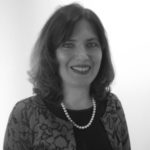 I chose Oliveira's "Rainbow Storm" taking a cue from the playful use of color in the space.  At the same time, Oliveira's precision in application and attention to line and shape, adds contrast to the femininity of the room. A perfect balance of playfulness and sophistication.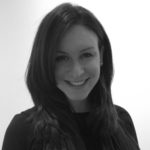 The room lends itself to showcasing a special piece. I chose John Brandon Sills' "Forest Nocturne." It evokes a sense of mystery and retreat into another world. Since the room has vibrant pink chairs and crisp white walls, this vivid blue painting is completely unexpected. When you walk into a room and are simply 'wowed', you know you have the right piece. The deep blue hues and rich pink color combination manages to be bold yet tranquil, a tough thing to achieve!