This wine cellar and tasting room exudes sophistication. The deep purple walls call for a work of art that will complement the room's rich tones and elevate the wine tasting experience. See two options below for pieces that will bring out the velvety notes of this space.
Dennis Campay's Tomorrow adds an elegant touch of European grandeur to this sumptuous wine tasting room. What better accompaniment to the perfect glass of pinot noir than a piano concerto?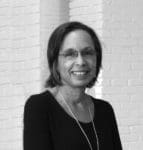 On this rich aubergine wall, Philip Buller's Jumpers will exude a sense of strength as well as a dreamlike quality. The quadrangle composition in the painting mimics the layout of this inviting space.
Schedule an appointment with one of our art consultants to find a piece that works for your space.