From the first descriptions of a Camera Obscura in 4th century BCE, all the way to the present day iPhone shot, photography has captivated our minds and hearts and served as an important form of communication. Acclaimed photographer Ansel Adams said it best, "When words become unclear, I shall focus with photographs…"
Thanks to the number of cameras, techniques, and creative minds out there, the variations in professional photography styles are endless. Take a look at some of images from the talented photographers our gallery is lucky enough to work with. 
David Burdeny
David Burdeny has traveled all around the world to capture his ethereal photographs. With each piece, he's not just documenting a scene, but demonstrating an idea and a feeling. Through the use of long exposure and ethereal color, he captures these contemplative scenes, in magnificent and ordinary spaces alike. Beach Ball Salesman, taken at Copacabana Beach, Brazil, contrasts the soft colors of the landscape with a vibrant lone figure. This contrast highlights the vastness of the empty beach, creating a dreamlike atmosphere.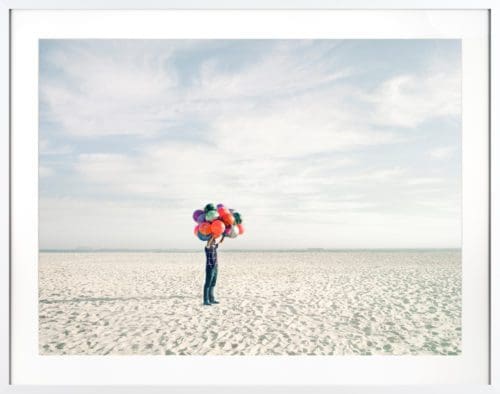 David Burdeny: View More Work | In the Artist's Studio | Learn More
Joshua Jensen-Nagle
Jensen-Nagle's process of taking photographs from a distance (often while hanging out of a helicopter) allows you to lose yourself fully in the beauty of the image. The photographs are meant to evoke an emotional response, by creating a sense of fantasy or possibly nostalgia for the viewer. The large scale of the photos adds to the immersive experience. Carry Me Away captures a tranquil scene at the Dead Sea — we can only imagine ourselves blissfully floating alongside this figure in the sun.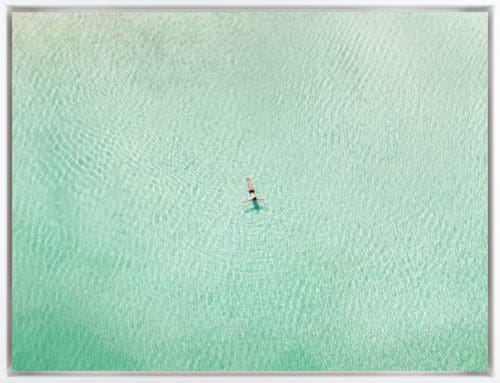 Joshua Jensen-Nagle: View More Work | In the Artist's Studio | Learn More
Xan Padrón
Photography has the ability to transcend into multiple disciplines, and Padón's work is no different. Standing on a corner of a city, Xan takes photos for hours of all those who pass, noticing the most minute details most would miss. What is the subject wearing, are they holding anything, what's their posture like? Each piece is like Padrón's own sociological study, exemplifying the beauty of our differences. Take a closer look at Downtown, Seattle and see what you can notice about artist's subjects.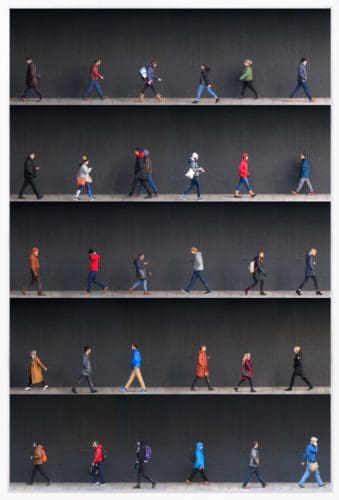 Xan Padrón: View More Work | Learn More
Tom Chambers
Tom Chambers creates photographs that are mirrors into a fantasy realm. Each piece with its own unique story and inspiration is constructed using a technique called Photomontage. This process overlaps two or more images creating one breathtaking final product. Inspired by Renaissance Masters and the unique light of Tuscany, A View From the Bridge encourages viewers to take note of how the light not only affects the brilliance of this piece, but our own perception as well.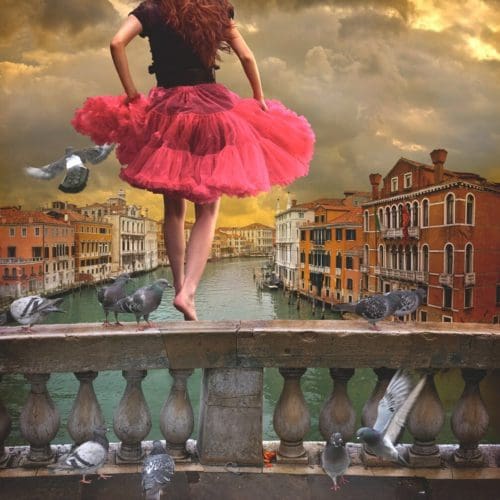 Browse through more photographs in our collection.