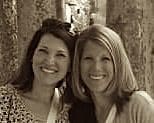 Find something you love doing, and do it. That's the best advice we could give our own daughters today and it was the advice given to us by our mother. Lucky for us, that "something we loved" was an art gallery our mother, Joanie, started almost 30 years ago. We grew up living and breathing art.
What started as a small "in-home" art gallery has grown to 3 gallery locations in the Mid-Atlantic Region: Renaissance Fine Arts in Baltimore, MD & Merritt Gallery in Chevy Chase, MD & Haverford, PA. In addition we have our own state of the art framing facility in Baltimore.  Today we get to come to "work" at the gallery everyday with the extended family that has "grown" around us.  We have a dedicated and talented staff, many of whom have been with the company for many, many years. Together with our incredible team, we enjoy supporting our artists and creating an incredibly unique art buying experience for our clients.
Be honest, be true and believe in what you do. This has been a terrific mantra for us as we have continued to help generations of clients build art collections they love. Come visit us at the gallery!
With Warmest Regards,
Merritt & Rachel