Spanish-born and Bali-based artist, Mersuka Dopazo, has travelled far and wide for inspiration. Employing collage as a medium and a metaphor in her large-scale works is fundamental to her own worldview, finding joy in the hodge podge of life and the people you meet on your journeys. Layers of fabric, paint, line drawing, and patterned paper intertwine to create scenes that evoke the spirit of places that have impacted Dopazo: India, Japan, and the Balinese surf.
Following the release of her incredible new book, we sat down with a copy of Mersuka Dopazo: My Dream Reality to get a more in-depth understanding of the artist, her story, inspiration, and process.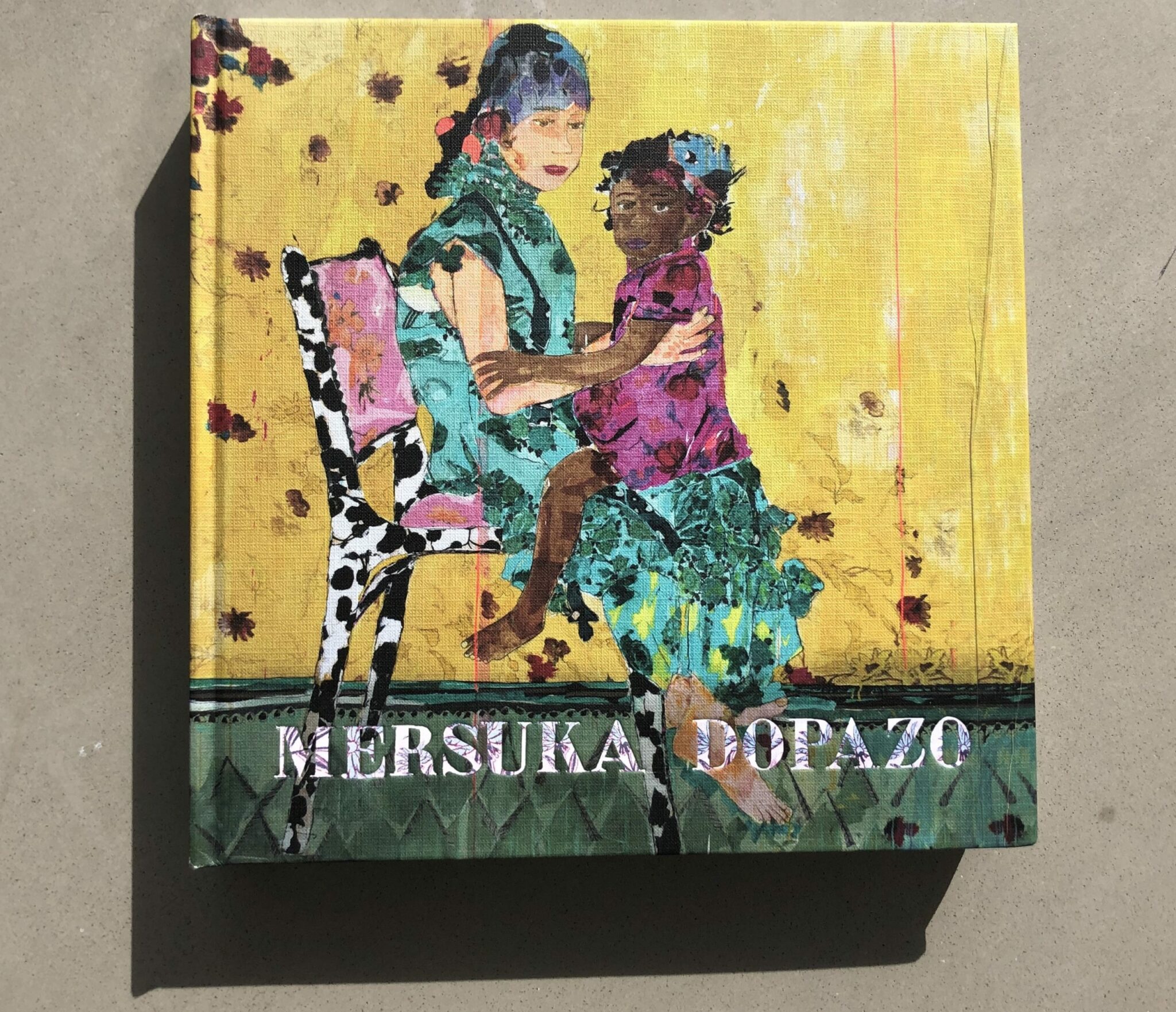 The Beginning of the Journey
"My first steps as an artist began while living in the countryside with Nacho, my then-husband. I started painting and collecting flowers and leaves that I then dried on the pages of books. I relate almost everything in life to love. Love is my engine, my source of creativity and my energy. But the breakup took place and it was then and there that a new life began for me, completely devoted to painting, becoming a full time artist…I always remember having immense desires of expressing myself. I wanted to tell stories, to create and communicate. I could have chosen several ways of expression but I chose the one of painting." (page 15)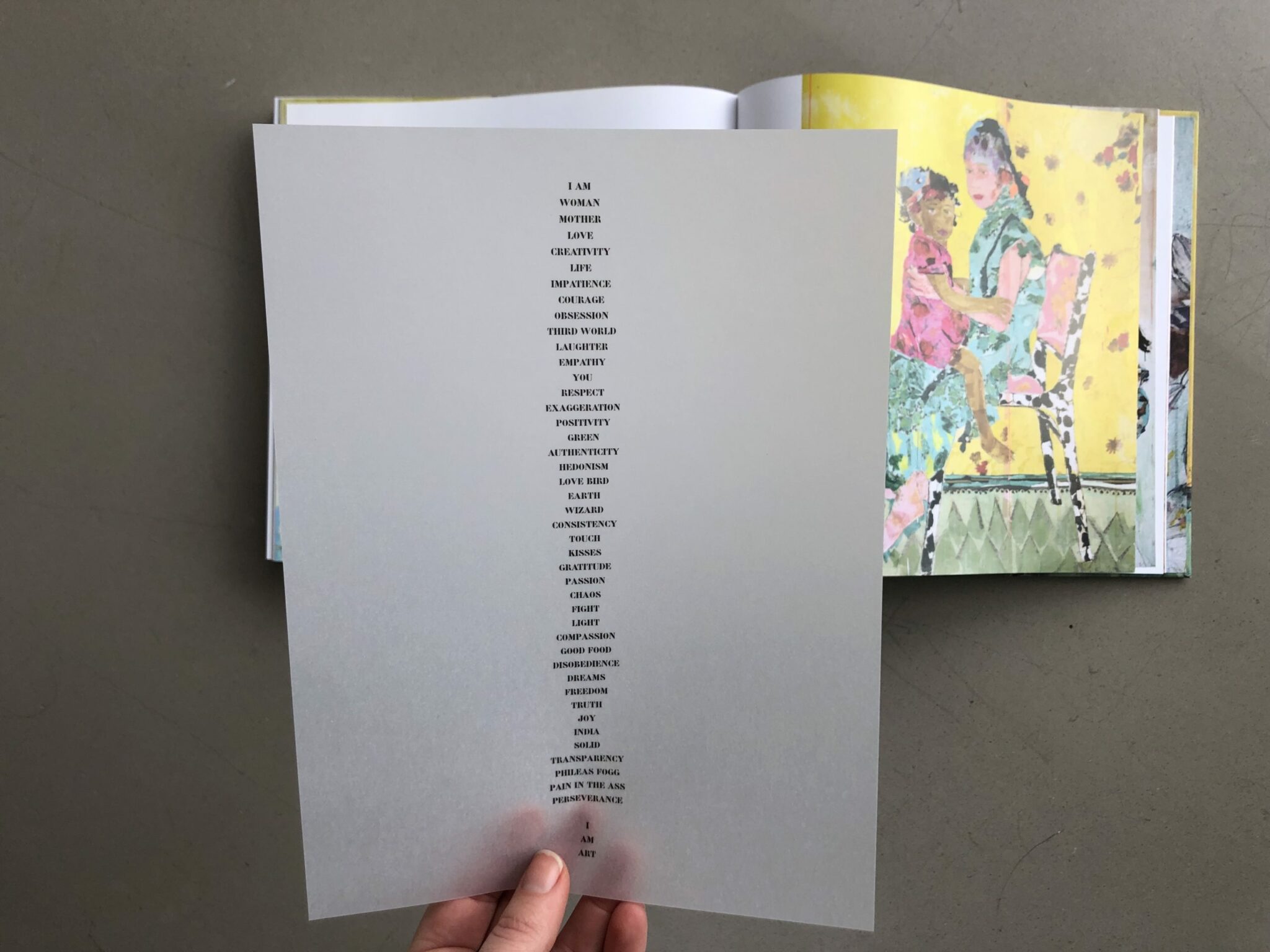 International Inspirations
"During one of my trips [to India], I visited Benares, or Varanasi as the locals call it, and it was here that I began working with fabrics, which have since become a central part of my work…It was HERE, whilst sailing down the river in a small boat, that I noticed local women washing their stunning saris in the water and drying them on the ghats. This image of saris drying on the steps served as the inspiration for this chapter of Abstraction, when I began to work with fabrics, weaving all the hopes and dreams which come true in this river into my work." (page 64)
"I like the old, the worn, used, and second hand; hidden dusty shacks where you find secret things among the clutter. The street stalls, the improvised ones on the roads. There is a lot of creativity when people have to make a living with what they have…All these wonderful ingredients that India has, are translated into an inexhaustible source of energy and inspiration, which you will undoubtedly see reflected throughout my work." (page 40)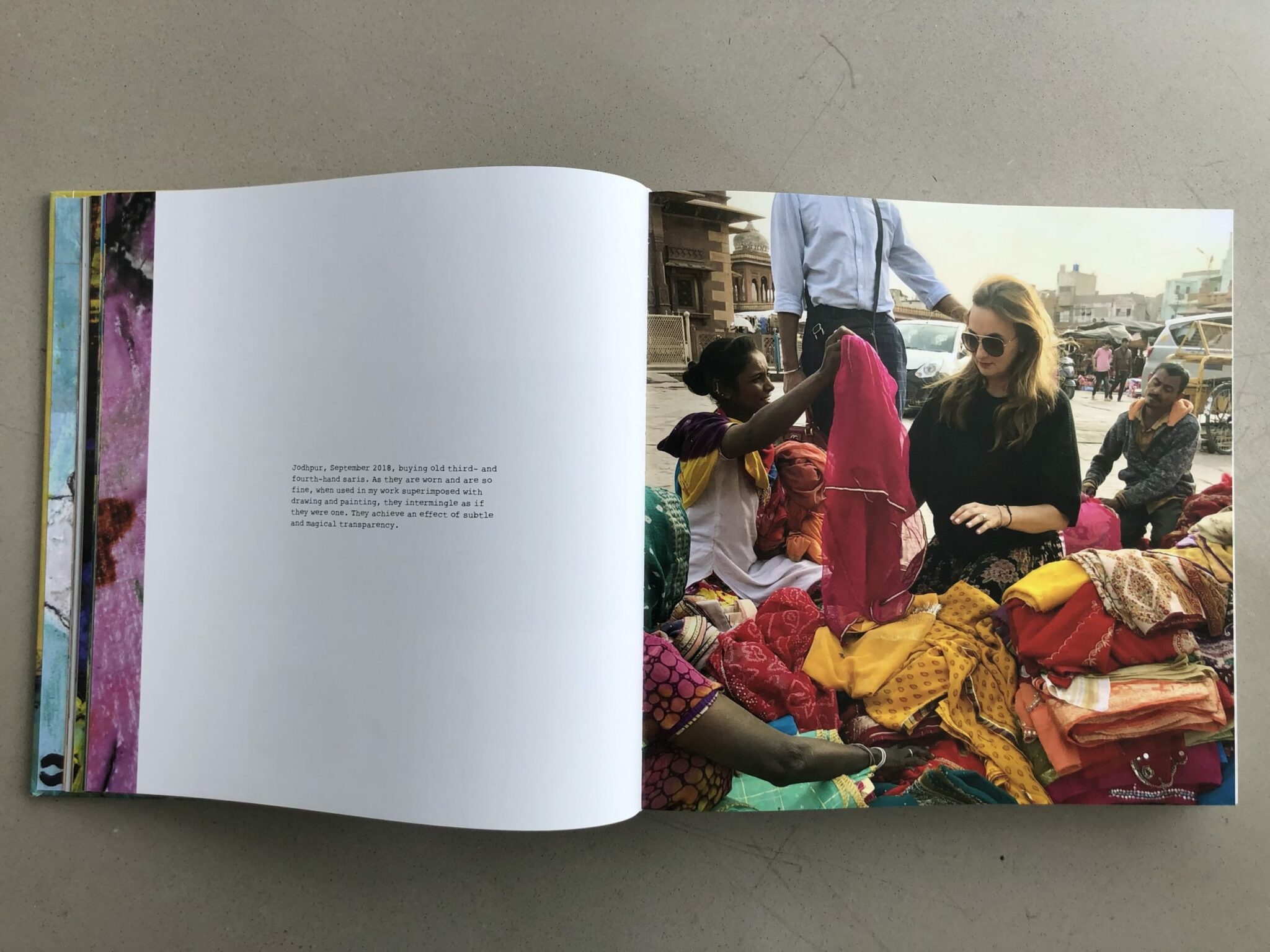 Unraveling the Technique
"I like buying old and broken fabrics and most of the time those who sell them cannot understand what attracts me to them. And within a minute or two, I am suddenly surrounded by thirty women selling me more of these third- or fourth-hand saris that have the delicacy to adhere to the canvases like sand to the skin, as if they were a part of it." (page 40)
"Once again, fabrics take on a central role in my paintings, in this case transparent fabrics which allow the initial drawing to be seen. I always do these drawings, which form a constant yet evolving part of my still lifes, with a black "watercoloured" pencil, which blends well with the white paint and drops of other coloured paints I use…I like the different layers of paint and textures to blend with each other, giving people reason to stop and attempt to unravel the techniques used." (page 332)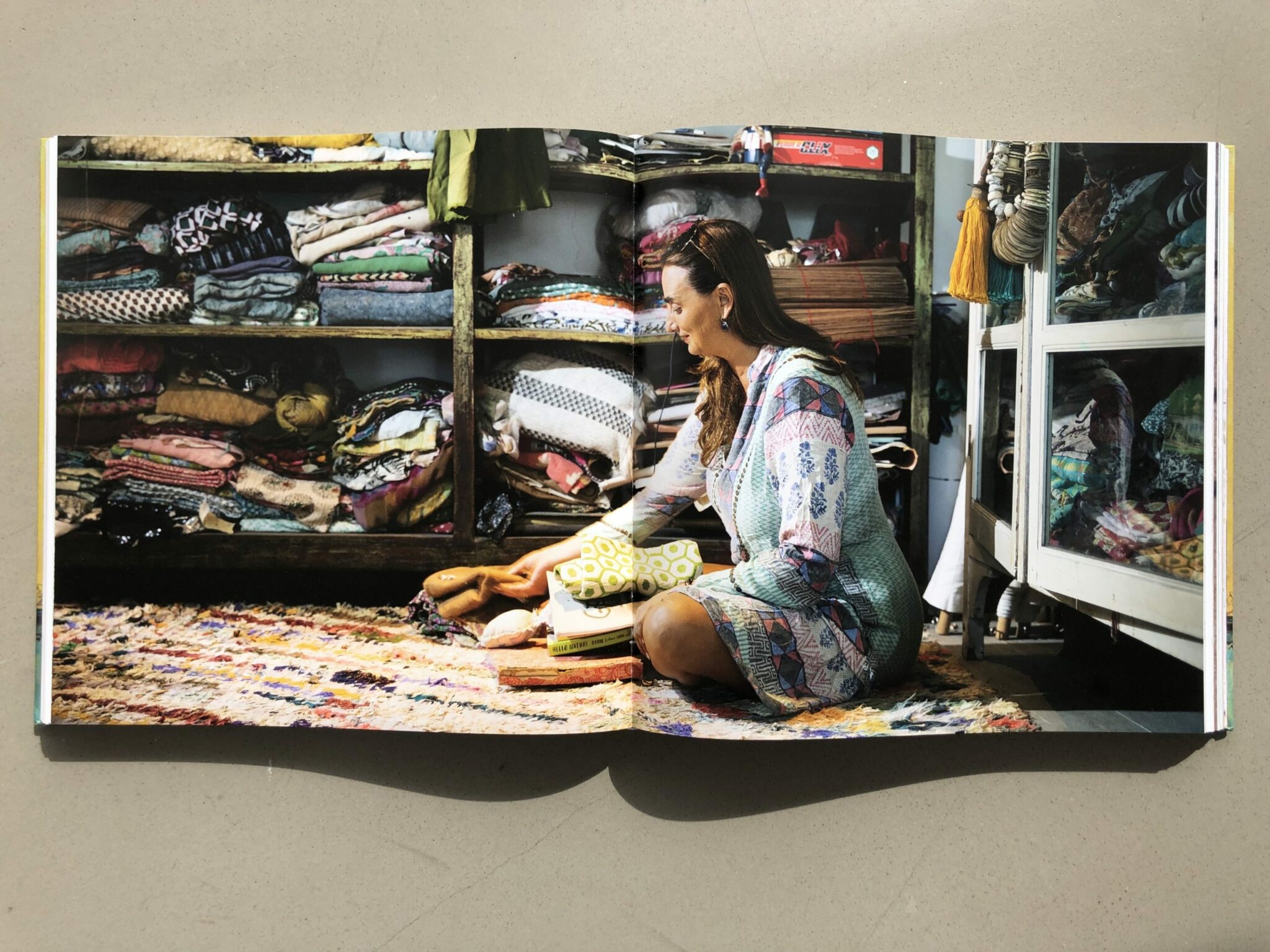 A Peripatetic Process
"The way I paint is undoubtedly a reflection of my unpredictable nature. As such, my work is a natural process which does not involve choosing the fabrics or colours I am going to use in advance. Instead, one colour leads on to another, one stroke points me in the direction of the next and, as if by magic, the painting gradually takes form.
Every inch is reworked and goes through several stages, with still lifes giving me the chance to use all the colours in my palette." (page 332)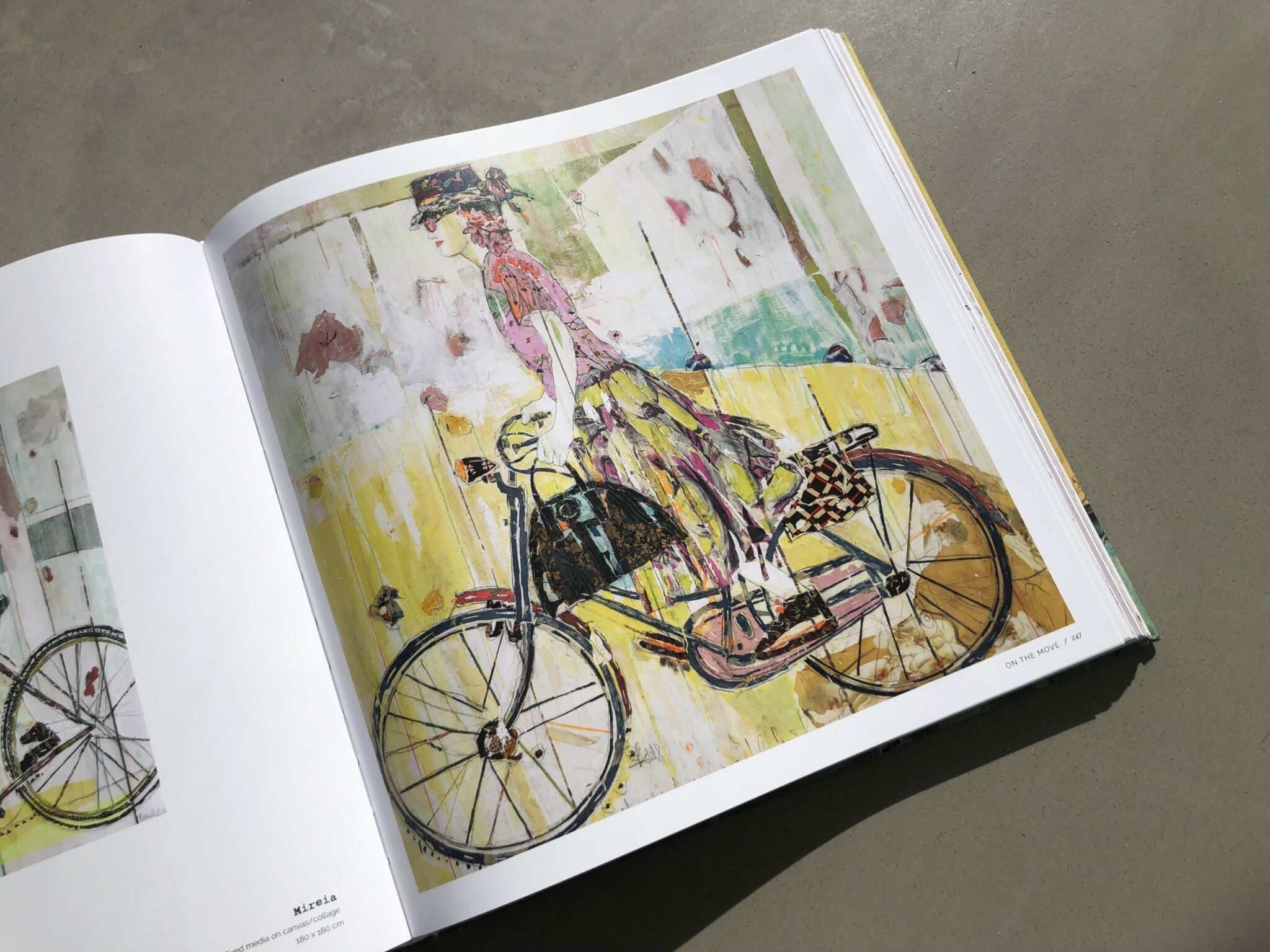 Books can be purchased through the gallery, while supplies last. Contact the gallery nearest you to find out how you can get one of these magnificent beauties to adorn your coffee table. Visit one of our galleries to experience Dopazo's impressive works in person.
Mersuka Dopazo: On the Wall