Two different viewpoints on a nature inspired and minimalistic bedroom from our expert consultants that will inspire the way you look at art and the world around you.
Strong earth tones unite with plush textiles to create this warm and inviting bedroom. The landscape wall that frames the bed is the ideal space for a captivating work of art.
Shay Kun's  "Asylum" provides a lovely juxtaposition between the room's clean lines and the soft, out of focus nature of the painting. This piece also introduces subtle color to the space without overwhelming the monochromatic feel of the room.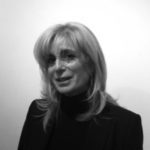 The piece I chose for this space is "Lavabit" by Simon. This large abstract is sophisticated yet holds a dream-like quality that complements the lush and comfortable bedroom. The small hints of bright orange within Simon's painting also add a pop of color to the quiet space, commanding the eye of the viewer.