Two different viewpoints on an elegant living area from our expert consultants that will inspire the way you look at art and the world around you.
Effortlessly chic but with a rustic charm, this living space unites nature inspired decor with a streamlined modern design. From the oversized mid century arm chair to the marble patterned rug, this room is perfectly diverse with the potential to add more layers of interest through a stunning work of art.
Anke's "Blue House" is a fun and charming piece, bringing a bit of whimsy into this sophisticated environment. Pairing a subtle palette with fantastic imagery, Anke is able to transcend this room from modern minimalist haven to a more engaging space perfect for entertaining.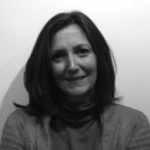 I chose Mayte Guzman's "Ave Roja" (meaning "Red Bird") for this sleek and natural living space. The deep slate blue wall is a perfect background for the lyrical brushstrokes employed by Guzman, while the palette of the piece is a perfect complement to the colors within the room.