It is human nature to look toward the past for inspiration and guidance. Just as ancient Romans borrowed ideas from ancient Greeks, modern creatives adopt wisdom from the masters. See how three of our artists show influence from their creative predecessors in their current work: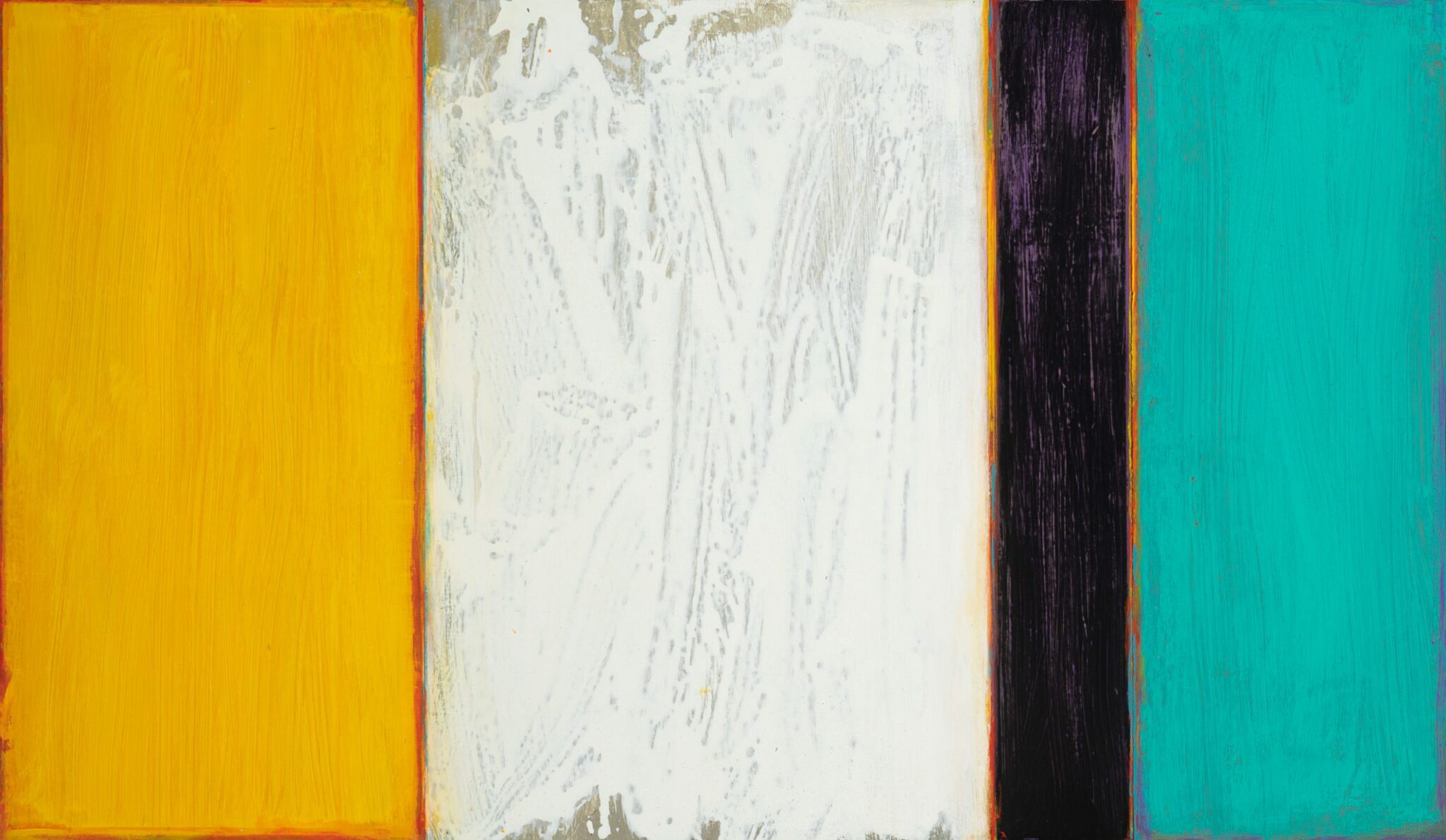 .
Rothermel // Hofmann
David Rothermel paints like a philosopher, creating and removing layers to explore the complexity of abstraction. Born in a small town in Pennsylvania, Rothermel has studied art at several esteemed academies across the country, including the Skowhegan School of Painting and Sculpture in Maine.
His time at York Academy of Art and at Skowhegan were incredibly influential to his artistic process and practice. Here, he studied under the masters and also under well known living artists like Josef Albers. He recalls a specific memory of visiting The Met in New York City that was a pivotal moment in his artistic career:
I walked around the corner into the contemporary section, and there was this big Hans Hofmann. I didn't even know who it was, but all of a sudden I started tearing up and the hair on my arms stood up—I just sort of wept in front of that painting. Then I got on to studying about him—his concepts of painting and the breath of abstraction. Somewhere along the line I absorbed it. It was an indelible experience, and I tried to stay close to that as I evolved in my own painting.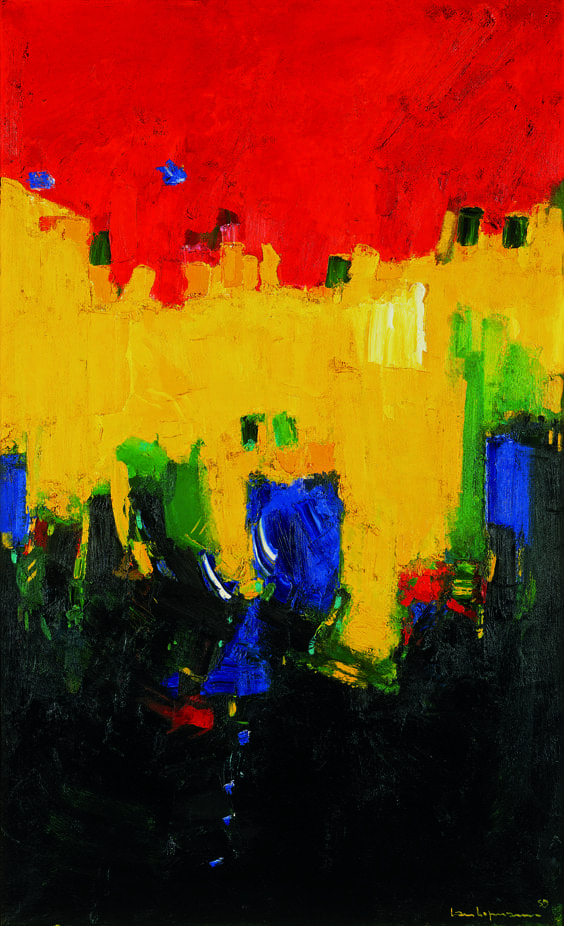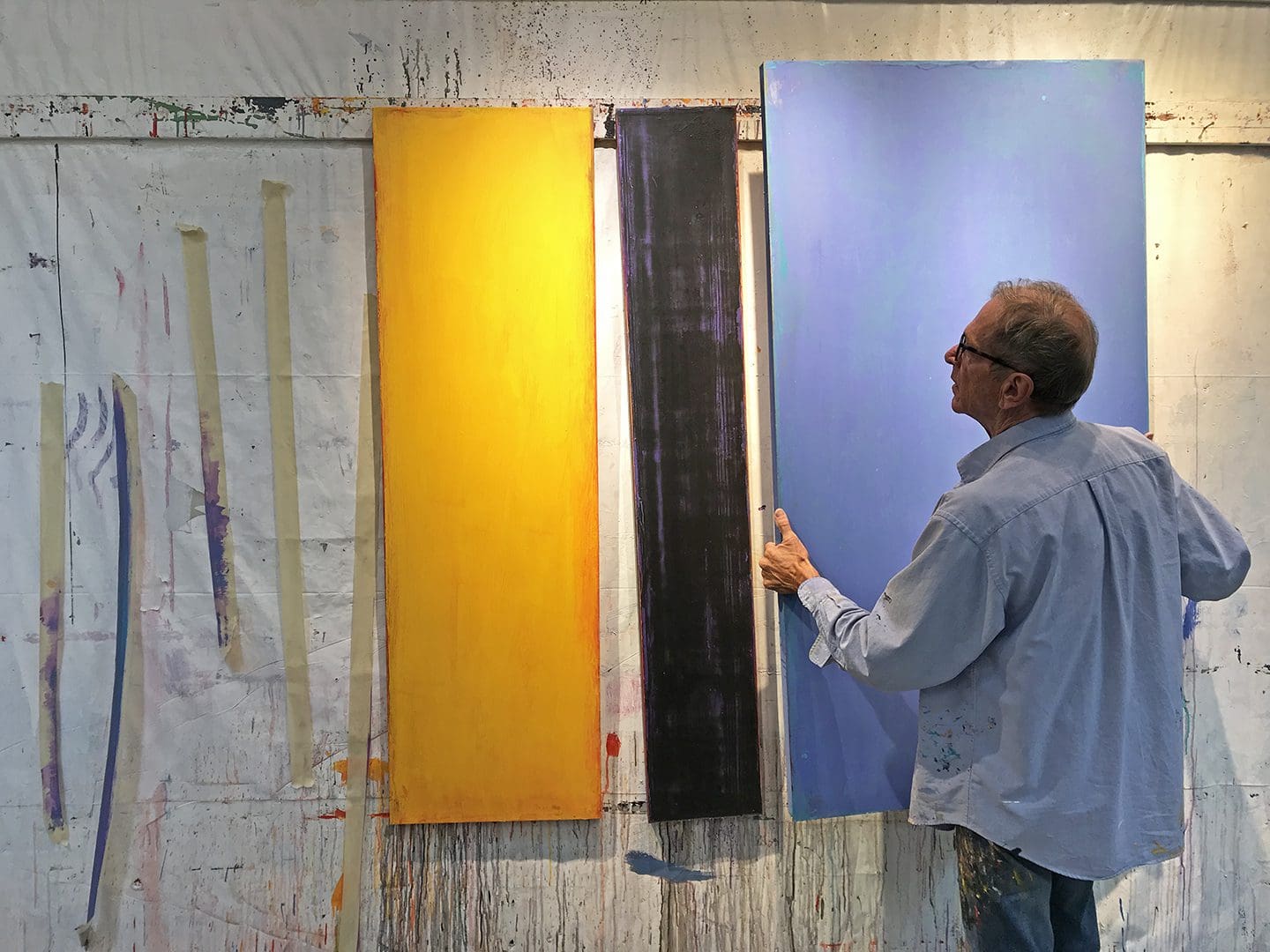 Hans Hofmann's influence is visible in Rothermel's work, particularly in his use of color and layers. Hofmann developed a technique called "push and pull", a process which he described as creatively exploring the interdependent relationships between form, color, and space. Rothermel experiments in a similar way in his color field paintings, pushing and pulling layers of paint and rearranging bands of color in an investigation of harmony and dissonance.
David Rothermel: View More Work
---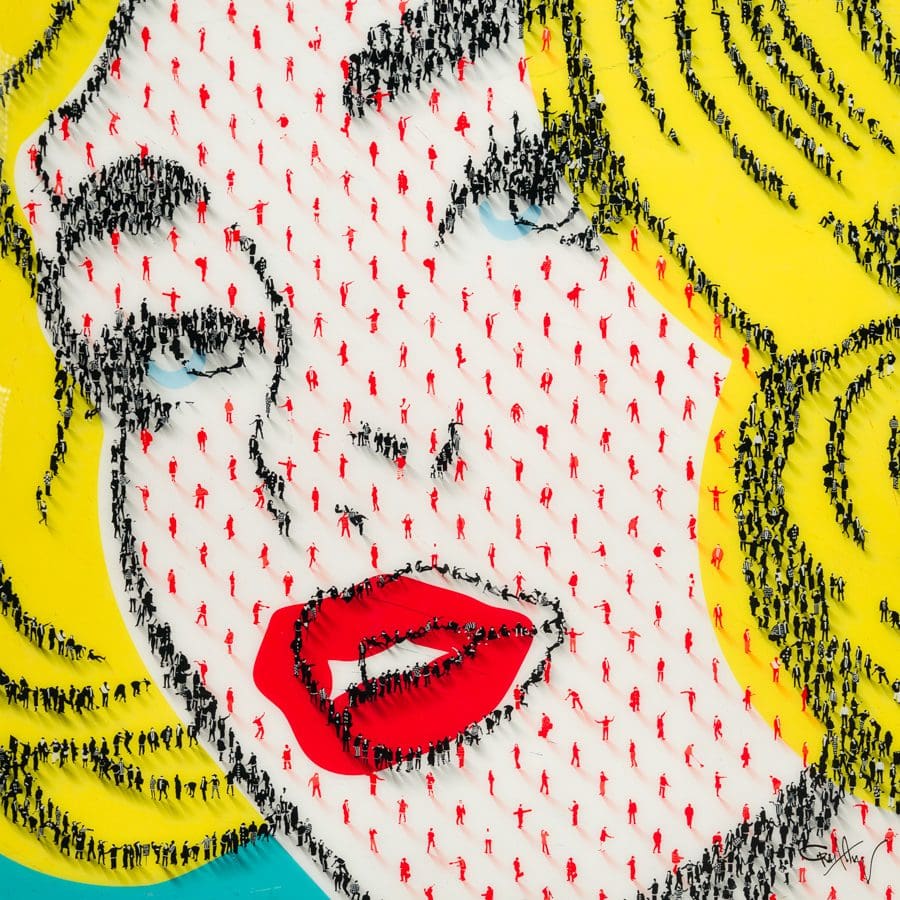 .
Alan // Lichtenstein
Roy Lichtenstein is most well known for his highly stylized pop art portraits of women. He created these paintings from images of women in newspaper clippings and romance comic books, highly circulated media in postwar America. His use of appropriated imagery became a staple of the pop art movement.
[The kind of girls I painted were] really made up of black lines and red dots. I see it that abstractly, that it's very hard to fall for one of these creatures, to me, because they're not really reality to me. However, that doesn't mean that I don't have a clichéd ideal, a fantasy ideal, of a woman that I would be interested in. But I think I have in mind what they should look like for other people.
—Roy Lichtenstein (from Gagosian's exhibit Girls)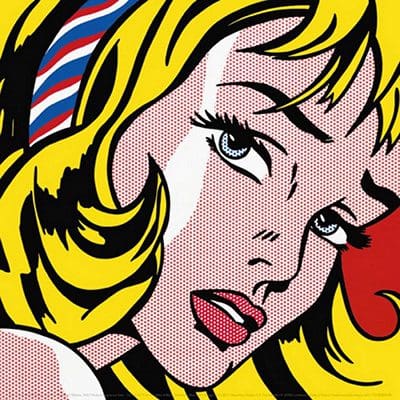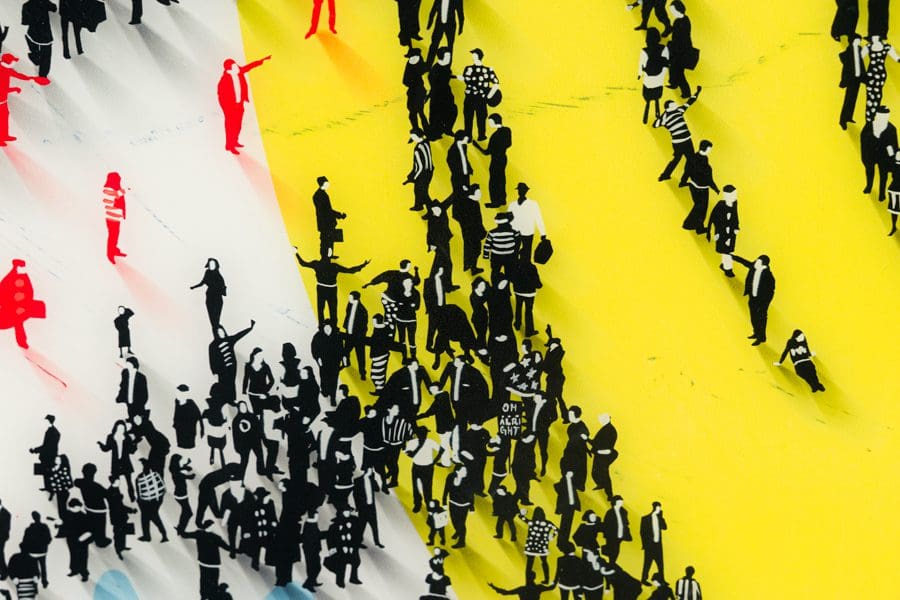 Craig Alan's
No One's Perfect
pays homage to the famous aesthetic of Roy Lichtenstein. Alan's mixed media piece depicts a closely cropped portrait of a woman composed of multiples of smaller fragments making up the whole image. From standing back, this piece looks like it could be a Lichtenstein. However, upon closer inspection, this piece is definitively Craig Alan. Whereas Lichtenstein used groups of dots and lines to create a portrait, Alan uses swarms and lines of figures, small miniature people, to flesh out the portrait. Alan is emulating Lichtenstein's technique, style, and subject matter while bringing his own unique flair and artistic vision.
Craig Alan: View More Work
---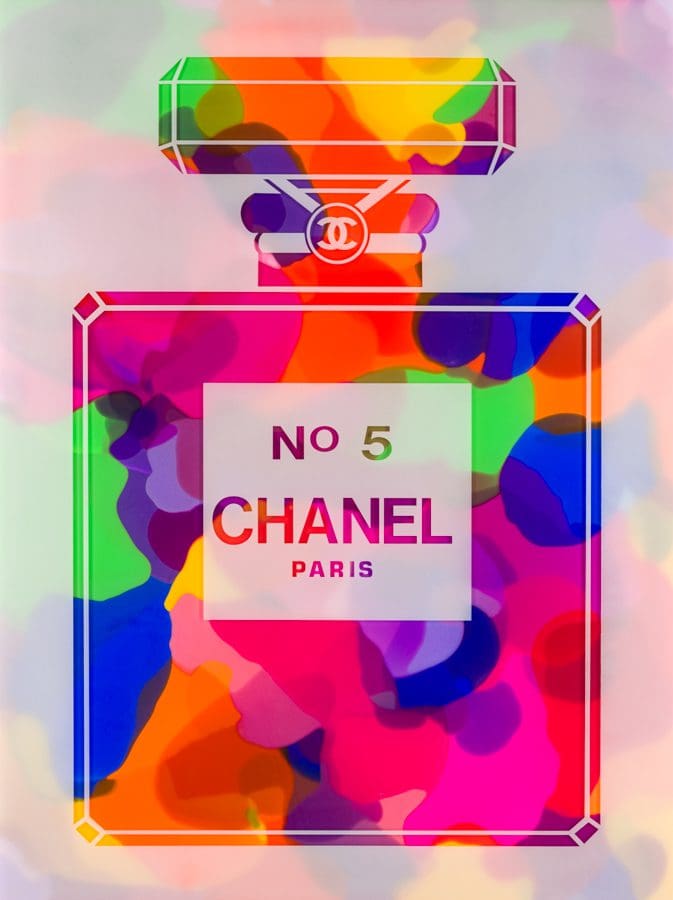 .
Murillo // Andy Warhol
Alberto Murillo creates vibrant compositions, concentrating areas of bold color by pouring and pooling paint onto panels. Murillo's interest and influence is divided between abstract expressionism and pop art. Much of his abstract compositions of blocked color are inspired by the architecture and moods of Spain. However, his series Just Two Drops clearly pays homage to the great pop art giant: Andy Warhol.

Andy Warhol had a fascination with fashion, fame, and celebrity from a very early age. He found escape from his ordinary suburban world in teen magazines about Hollywood and movie stars. When Warhol first moved to New York in 1949, the art editor of Glamour fashion magazine bought one of his drawings and commissioned a series of shoe illustrations from the young artist. This experience would catapult Warhol into the world of fashion and celebrity. As he functioned as an artist in the spotlight, Warhol became interested in how money, merchandise, and art functioned together. He explored this interest by making work about consumer culture, focusing on every day, universal products. His graphic representations of these ordinary products became iconic images that symbolize American life.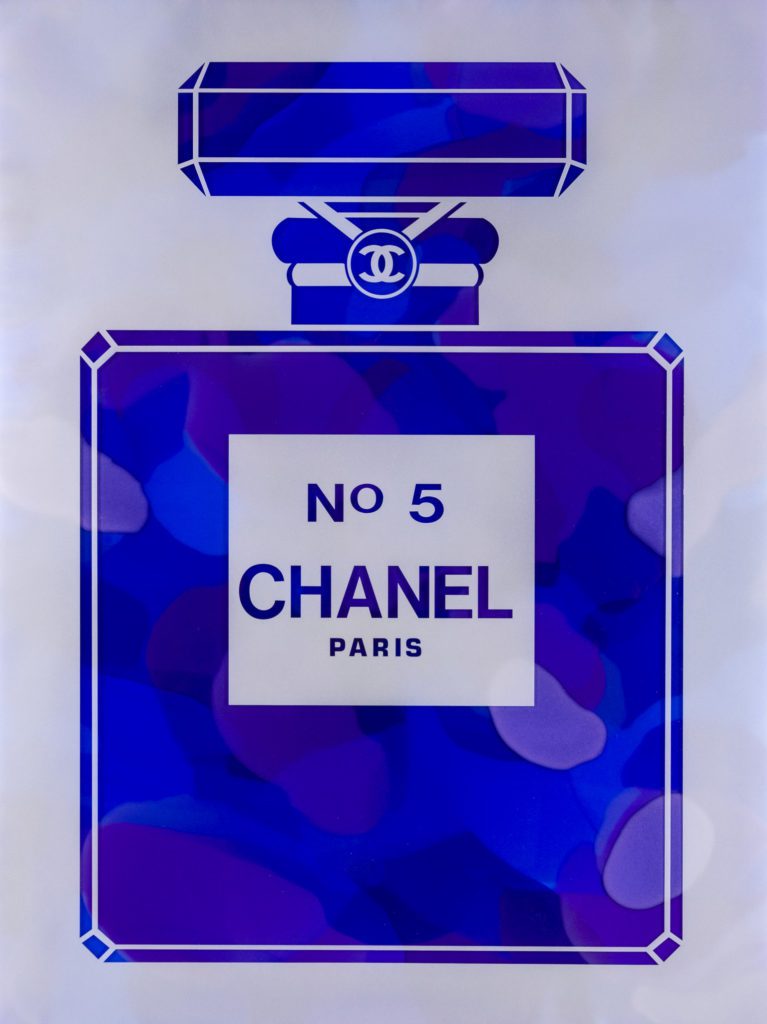 In both paintings from his Just Two Drops series, Alberto Murillo has rendered a bottle of Chanel No. 5 perfume. This variety of fragrance is iconic in pop culture—the name is associated with mystery, decadence, and seduction. Murillo's decision to paint this subject matter in a bold, graphic way is reminiscent of Warhol's famous prints, notably his Chanel bottles, Campbell's soup cans, and Marilyn Monroe portraits. His decision to paint them as a series, the same subject matter twice, is also a nod to Warhol's method of duplication and replication.
.Alberto Murillo: View More Work
---