Two different perspectives from our expert consultants that will inspire the way you look at art and the world around you.
This serene, open floor plan living space parallels the concept of the ocean — sky blue ocean like walls lap against natural plank wood floors the color of sand. Large glass windows open up to the world beyond, boasting views of vibrant dune flora and a sandy beach within reach. A lovely space for colorful works of art that further the seaside aesthetic.
Liz Barber Leventhal's "River 2" adds vibrant color and texture to this simple, clean dining area. The colors of the sea in Leventhal's piece are complemented by the blues and grays in Van Winkle's two "Wonderful Unknown" encaustic pieces bringing natural colors inside this seaside retreat. The ripples of the water can almost be felt as you sit in either of these relaxing spaces.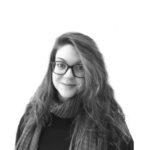 In the dining area, I chose Jinous Kani's "Kismet XXXII" to bring color into this room — "Kismet" is the perfect representation of tranquility and vibrancy that brings the room to life. In the sitting area, I chose the elegant hues and iridescent metallics within the "Bijoux" series. The sculptural quality of "Bijoux" breaks up the space between the windows which allows for an unexpected yet calming composition.