Artist Shivani Dugar was born in Calcutta in 1979, and grew up in Bangalore, India. Shivani now resides in New York City with her husband and two young children. Time Imagined is a series of paintings built on a successive strata of time, experience, and memory. Shivani's works' abstract language inspires viewers to explore the power of nature on their human consciousness and spirituality. Each painting captures an ephemeral moment in nature and conveys the artist's imaginative interpretation of this distinct time. Her objective for viewers is for them to experience the light as it enlivens the landscape, allowing them to embrace each mystical moment with hopeful wonderment.
When did you start creating art?
SD: My mother enrolled me in art lessons at the age of five. Through school I participated in numerous art events, designed stage backdrops and catalogs. I was involved in any creative project I could get my hands on! While at Georgetown University, I collected enough credits for a Bachelor of Fine Arts but I followed my father's advice and earned a degree in Finance. After Georgetown, I joined Pratt Institute to pursue my lifelong dream of obtaining an MFA.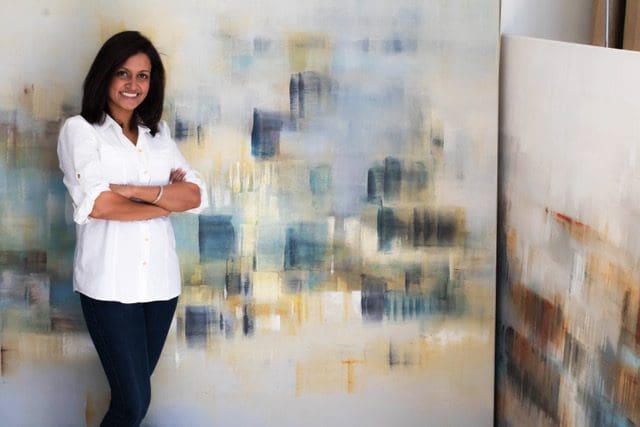 Describe your creative process?
SD: An idea for a painting may germinate with a feeling or experience caught in my mind, such as a certain time of day, when the light is just right or becoming familiar with a new landscape through my travels. I draw inspiration from colors seen in the evening sky or a cool breeze felt on a hot summer afternoon. Moments as small as these have a profound impact on my art practice.
I choose to recreate these specific moments using transparent layers of thin paint, going from light to darker layers and back to lighter layers. I often mix my own colors and play with contrasting tones to achieve various ambient effects.
During my art explorations at Georgetown I became intrigued by the art of printmaking and chose to integrate the techniques into my paintings. I am fascinated by the intricate lines and crosshatching of etching, engraving, and the soft lines of lithography. There is a difficulty with predicting the outcomes of my work while it is in process. The art of making the 'gestural' line, dividing up the space and creating a mood, coupled with the element of chance are the basis of my work.
What are sources of inspiration for your work?
SD: My inspiration is the essence of nature and my work celebrates its luminescence and abundant beauty. To reflect nature's power on the human consciousness and our spirituality, I use the lights, sights, sounds, colors, and textures of the natural world.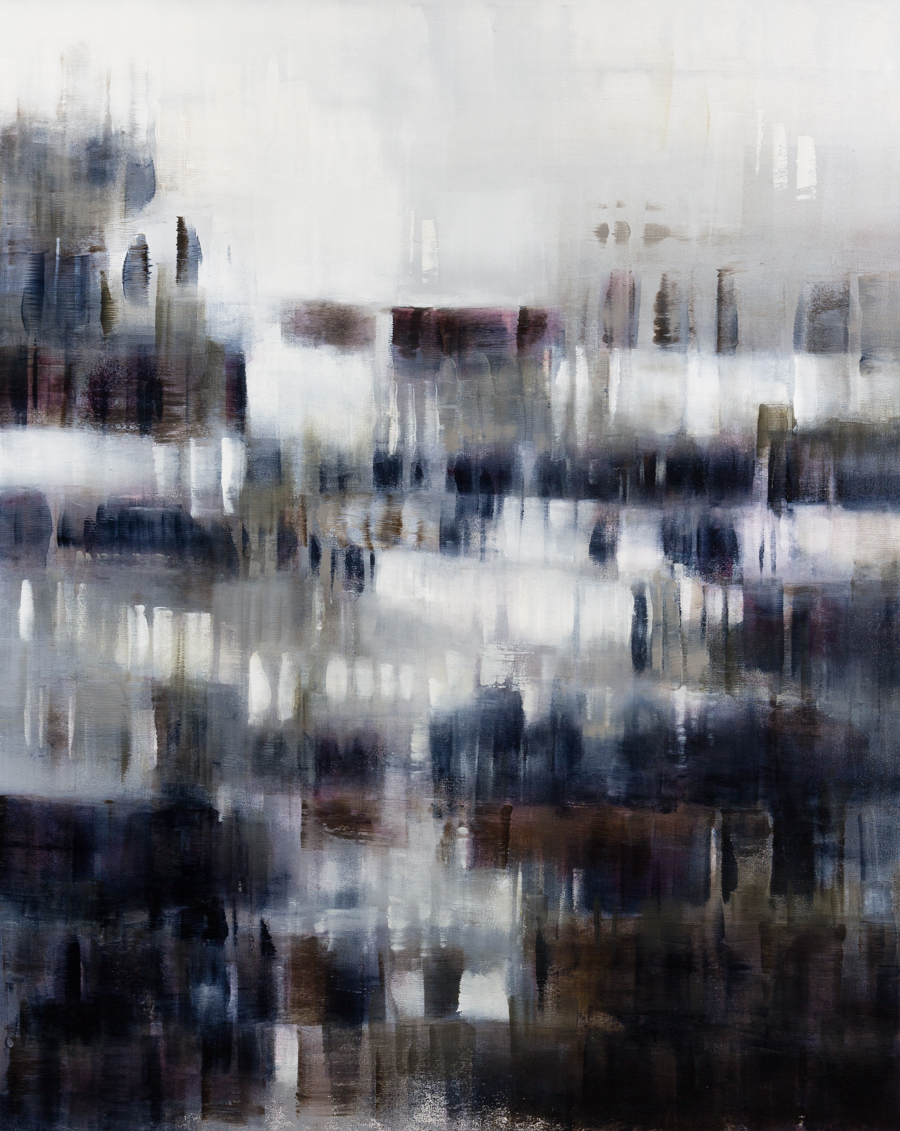 What do you hope others see in your work?
SD: Through art, I aim to create a sacred and tactile space where others can connect with the raw and vivid power of nature. I hope for viewers to travel through the canvas to a moment in time where they were overwhelmed by wonder and mystery. My work intends to communicate the visual beauty of the natural world and its feelings of energy and hope, by pivoting between past memories and projections of the future.
How has your work evolved over the years?
SD: My fascination with the elements of nature expressed itself early in my works. In the past, I was still including illustrative elements to create a quasi-narrative. My colors were monochromatic and my works were an abstract representation of nature featuring leaf patterns, sunlight, and the bark of trees. Today my work is more colorful, more dynamic, less representational, and more experiential. It is more than just about the elements found in nature; it is about the inspirational energy of nature.
Visit the Events page for dates & times to meet Shivani Dugar in person
View the Exhibition Lookbook for her upcoming exhibition, Time Imagined: