A few weeks ago we had the pleasure of chatting with Rose Masterpol and hearing all about her inspiration, style, and studio practice. Masterpol lives and works in Santa Fe, NM and has a beautiful home studio where she spends every day creating her expressive and energetic abstract paintings.

Gestural vs Geometrix
In describing her practice, Masterpol identifies two distinct bodies of work that come out of very different processes — her gestural works and her Geometrix series. Though these processes are separate, they inform and are essential to one another.  She describes creating her gestural pieces, which she sometimes refers to as "pure painting" or "action painting," as an intuitive process. They are quite fast and once she starts they begin to take shape on their own and flow in a very natural way.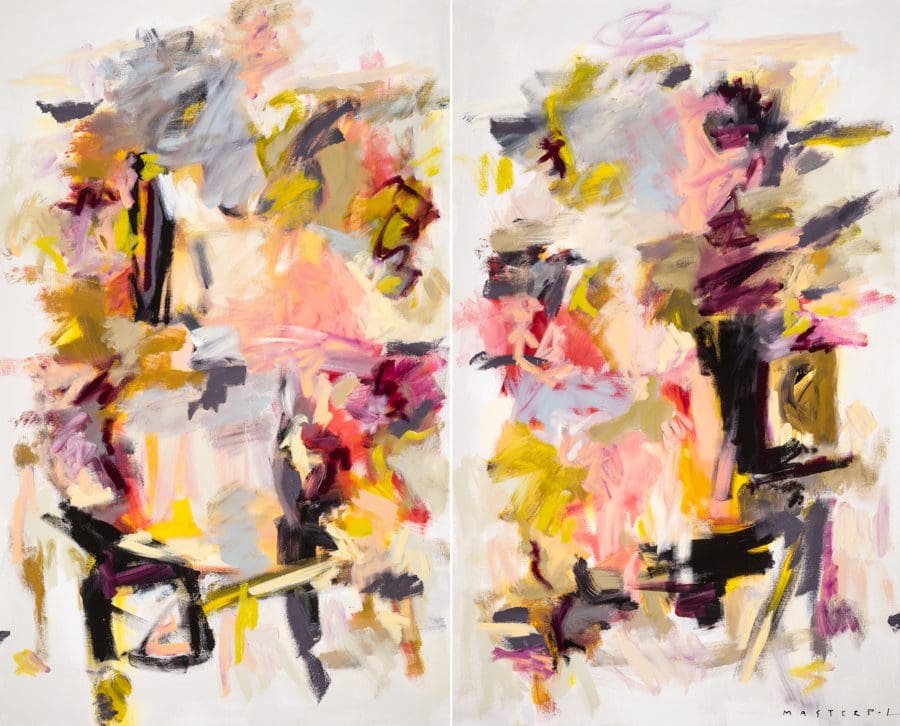 Masterpol's Geometrix series is influenced by her design practice. She has been a graphic designer for 30 years and only in the past few years has begun to merge her design and painting in the form of these structured paintings. Unlike the gestural process, these paintings are carefully planned out beforehand and then precisely executed at a slower and more calculated pace.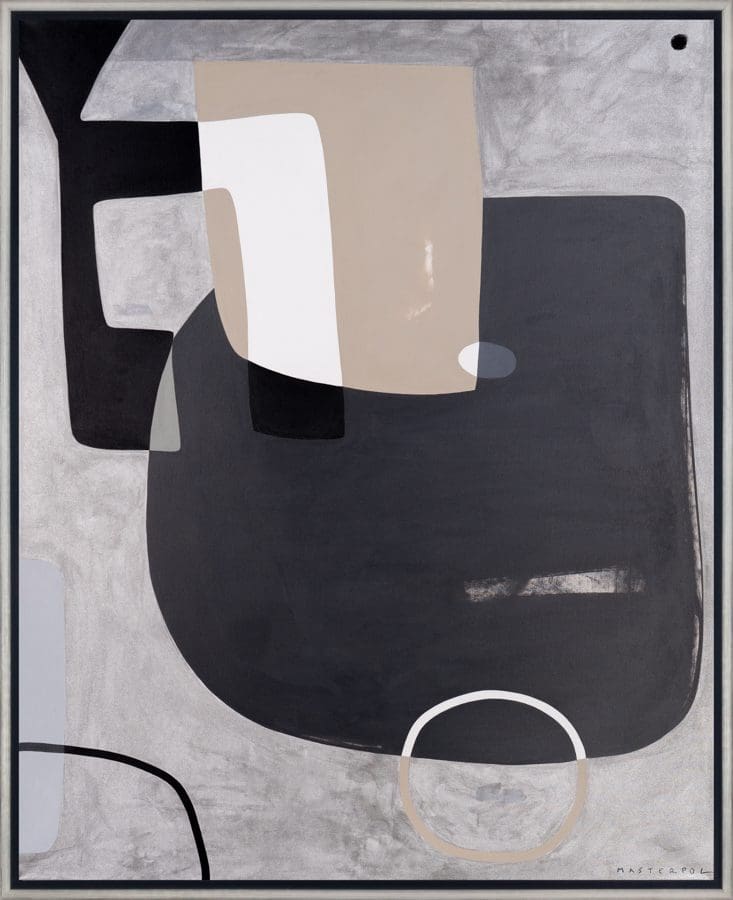 In The Studio
Masterpol's studio is located in her Santa Fe home. She spends every day there working on a variety of projects (sometimes focusing on one series, and sometimes going back and forth between multiple paintings and letting them speak to each other).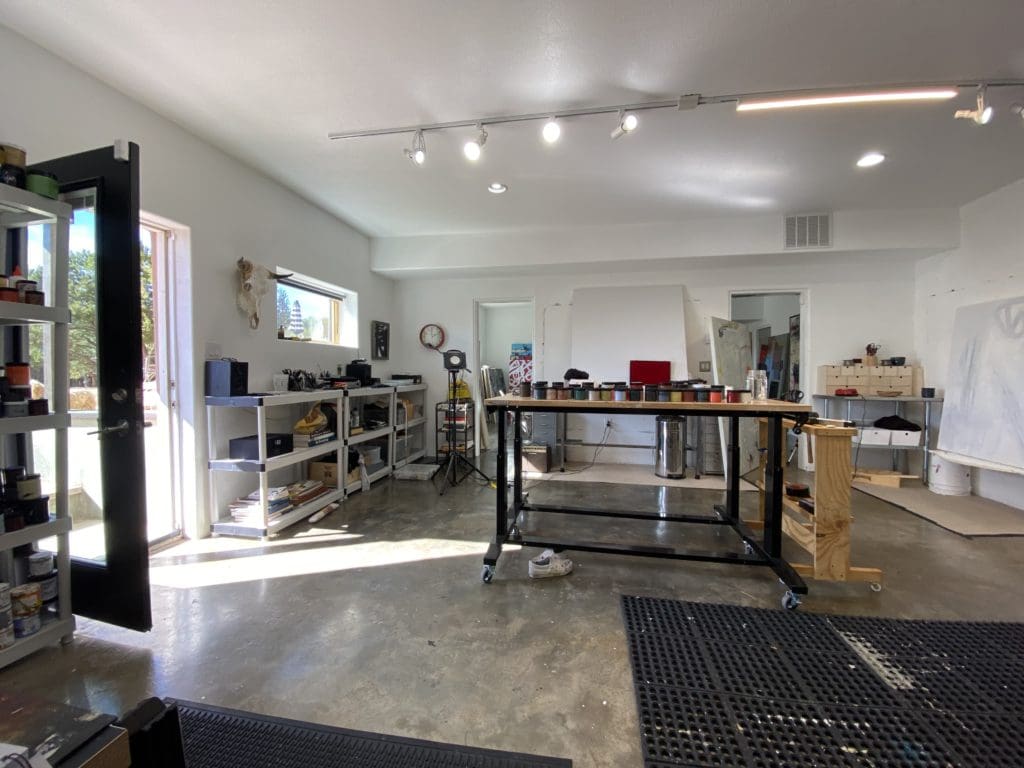 When asked what kind of music she listens to in the studio, she said it depends on what she is working on and how she is feeling. If it's a gestural piece, sometimes she needs faster and more energetic music, whereas if it's something that requires more patience and stillness, she will listen to more meditative instrumental music to help her concentrate.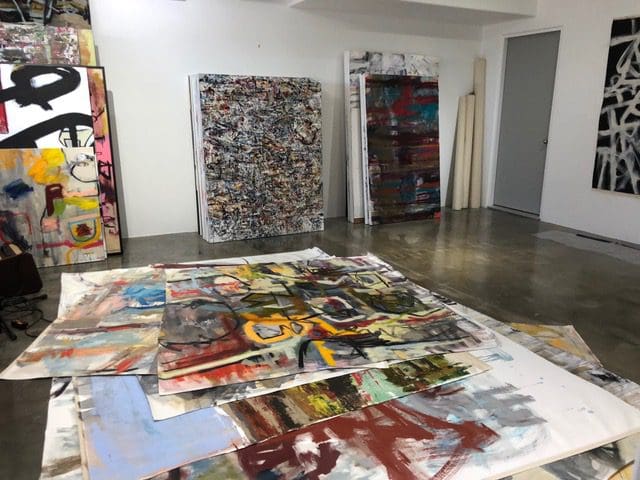 Influences & Inspiration
In addition to a variety of experiences that are sources of inspiration for Masterpol, she has said that her physical environment plays an important role. She is constantly in awe of the vibrant landscape of New Mexico and its beautiful skies. She describes herself as always having "a paintbrush in one hand and a camera in the other" and will often photograph the environment around her.
Masterpol attributes her inclination towards painting to her exposure to art as a child living in Syracuse, NY and often visiting galleries and museums in New York City with her mother. She has made art since she was a young child, and after seeing the work in museums knew that she wanted to make abstract art.
When asked about her particular style, she says that the beauty of abstract is that everyone gets to have their own experience to the work, and no one's response will be the same. Willem de Kooning and Jackson Pollock are just a couple of the artists that she cites as having inspired her and shown her how expressive and emotional abstract painting can be.
How does she know when a piece is finished? "If I feel like I'm in love with it then its done… There's an experience I get. A feeling, an experience, an emotion. And I know that if I have it someone else is going to get it."
View More Work | In the Artist's Studio | Learn More