Two different viewpoints on a bright and polished bedroom from our expert consultants that will inspire the way you look at art and the world around you.
With a minimal palette and crisp accents of apple green and sleek-lined bedding, this space beams clarity and rejuvenation. A geometric tiled headboard compliments the aesthetic of the modern structured lamps, while the soft-ribbed carpet and lush green bed throw introduce warmth and texture to the room. Chic and refreshing with tailored trim, this space is the perfect setting for a unique work of art.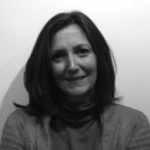 I chose Shay Kun's, "Broken Land" for this tailored guest room. Shay's ability to capture both memory and landscape is amazing. To me, this painting fits perfectly with the room's simple arrangement. Shay's color palette creates the feeling of the sun breaking through the clouds, bringing on light and joy. A perfect piece to begin and end any day's journey.
I chose McClain's "Groundling" for this space. It balances the rustic feel of the French Doors while also complimenting the neutral palette of the room. The piece exudes both strength and softness while adding a touch of vibrant color.