Two different viewpoints on a diverse and timeless study space from our expert consultants that will inspire the way you look at art and the world around you.
A diverse, imaginative study to retire to for creativity and contemplation, this space is full of possibility. An enriching piece of art to adorn the wall is the last touch this little niche needs to elevate its eclectic feel.
"Hint X" blends seamlessly into this study nook with its ancient, oriental atmosphere and decorative bamboo blinds, statuette, and artifacts. The palette of "Hint X" mimics the depth and contrast of the dark velvet drapes and wall color, while offering a pop of orange that parallels the hues in the space's furniture. Bold and characteristic, "Hint X" extends this space with a timeless touch.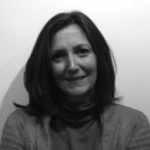 "Garden Party" by Charles Dwyer works beautifully with the rich colors and patterns of this room. Her captivating gaze captures the imagination and creates a focal point in this quiet study.