Renaissance Fine Arts was happy to play host to Baltimore's latest foodie craze, Dinner Lab, last night in our gallery! The crew started loading in early in the day, and the festivities, delicious gourmet food, and hard work extended late into the midnight hour. When we weren't busy admiring the amazing process & unique cuisine made on site at our gallery entrance, we were able to snap some photos to commemorate the successful evening.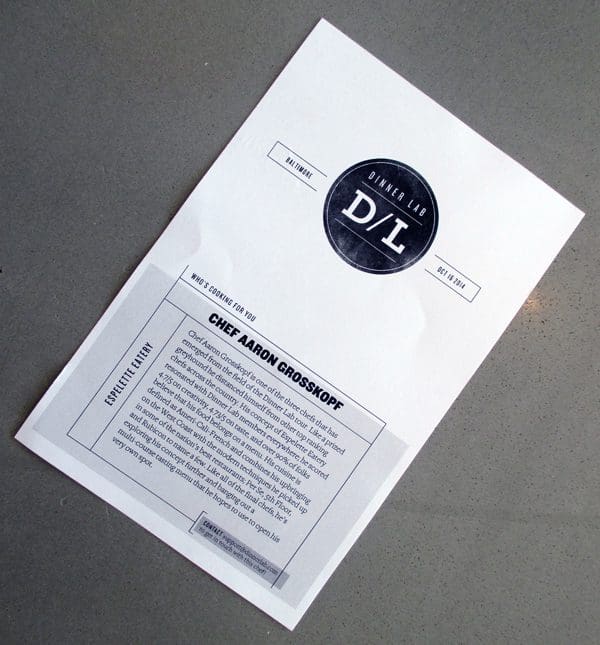 Chef Aaron Grosskopf was the curator of the 5 course meal, which included a start of romaine salad with pistachio oil, followed by stuffed mushrooms, spicy shrimp with pancetta and quinoa, caramelized pork tenderloin, and concluded with a lemon glazed cinnamon roll. The perfectly meticulous 5 star menu to complement the fine art that adorns our space.
The tables were set with rustic yet modern touches; evoking a sense of warmth and camaraderie. Each setting had a unique view of the current works we have on display; as pictured above with Dwyer photographs framing the long family style table, accented by the elegant Sheila Ganch sculpture against the adjacent wall.
Dinner Lab staff were busy putting on the finishing touches right up until guest arrival. Hyunmee Lee's "Writeon" [pictured above] was the perfect conversation starter for the evening.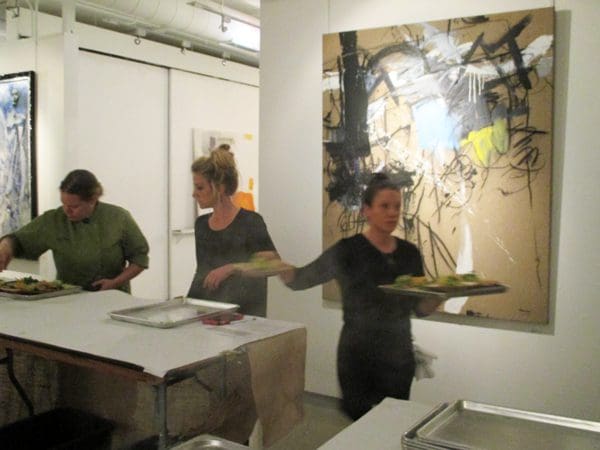 The cooks & wait staff prepped all the meals right within our main entrance, so upon entry, guests could admire the delicate process. Pezhman's "Boudoir V" and Guzman's, "No Lo He Encontrado" created the perfect introductory backdrop for the chefs to plate their beautiful meals as guests were greeted.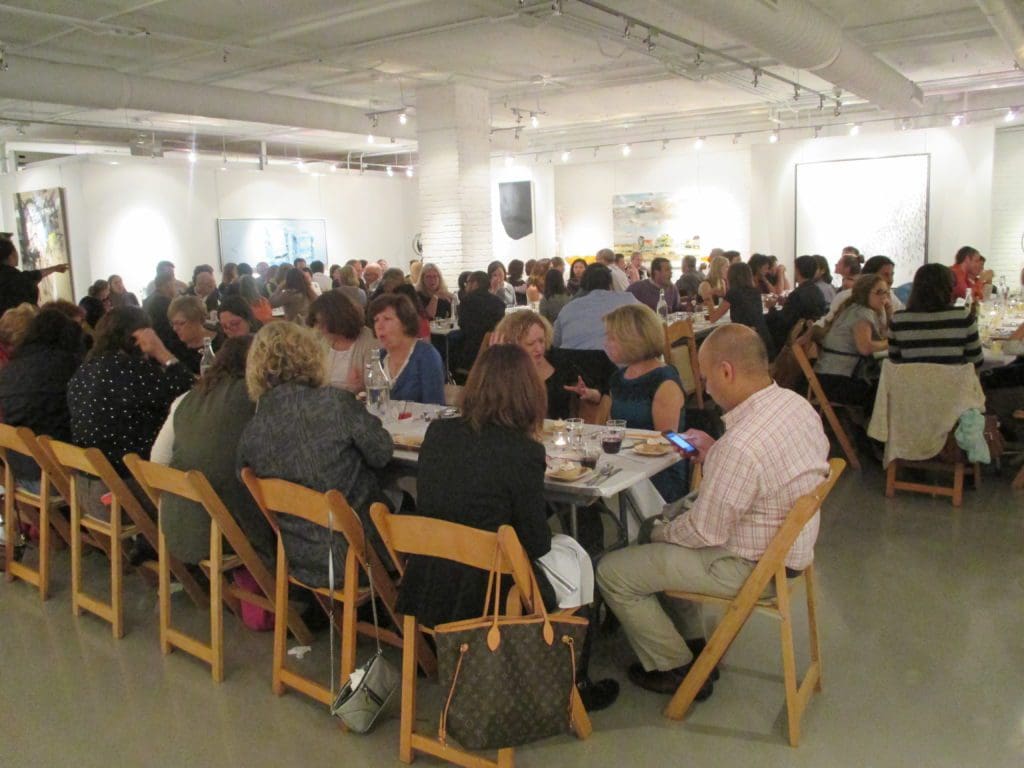 It was a full house in the gallery as approximately 100 food enthusiasts gathered to partake of this delectable multi-course meal.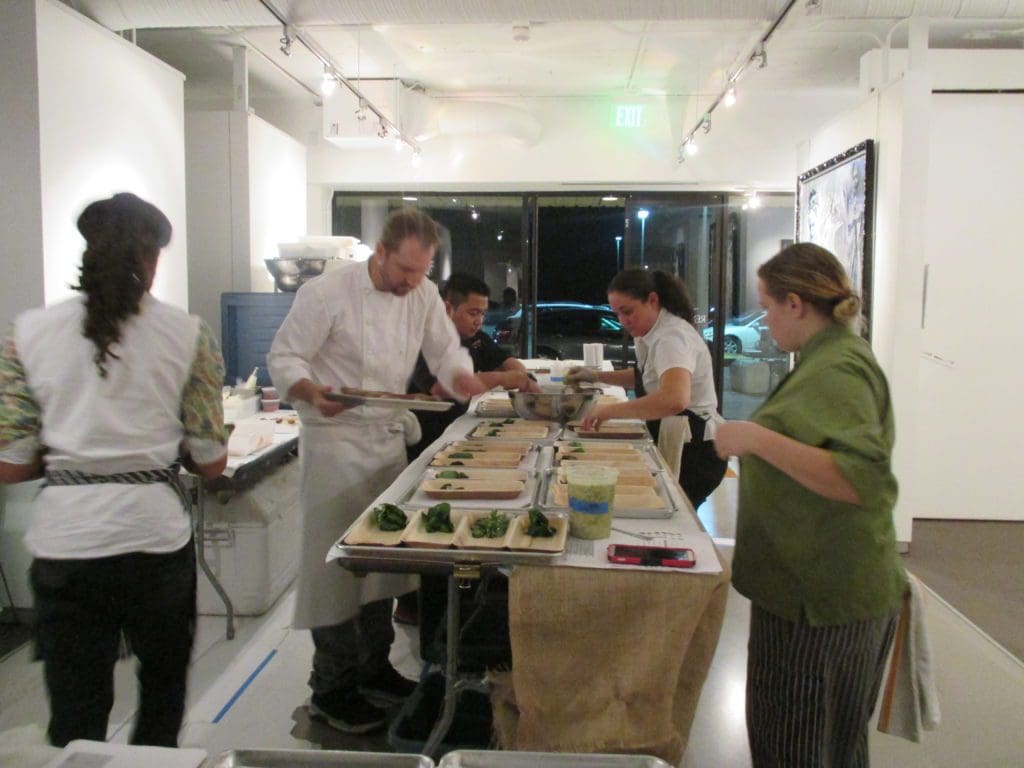 Chef Aaron Grosskopf was hands on, putting the final seasonings on fresh spinach as it was plated for the fourth course.
No meal is complete without a proper beverage pairing. Thankfully, Dinner Lab also set up a stocked bar complete with mixologist, conveniently placed amongst the gorgeous artwork of Charles Dwyer. Guests were able to enjoy a cocktail whilst mingling about the beautiful Dwyer muses that lit up the bar area.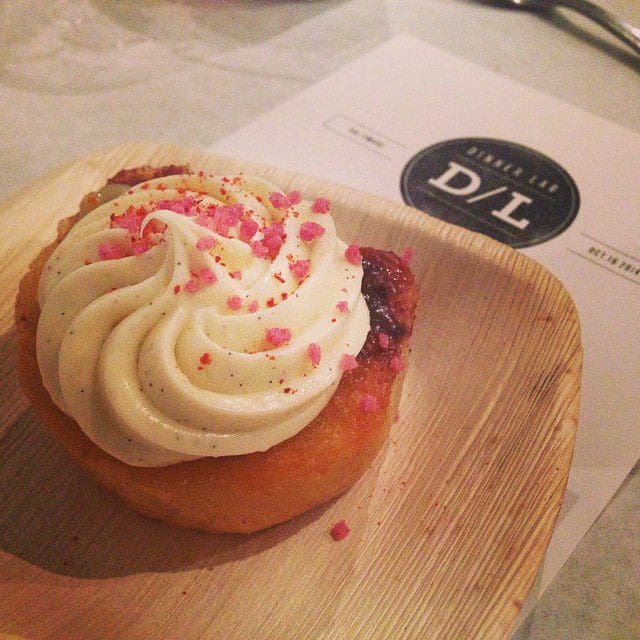 A treat almost too beautiful to eat, the lemon glazed, vanilla frosted cinnamon roll that Chef Grosskopf served as his fifth course was the perfect send off to a delectable evening.
[Photo courtesy of Instagram]