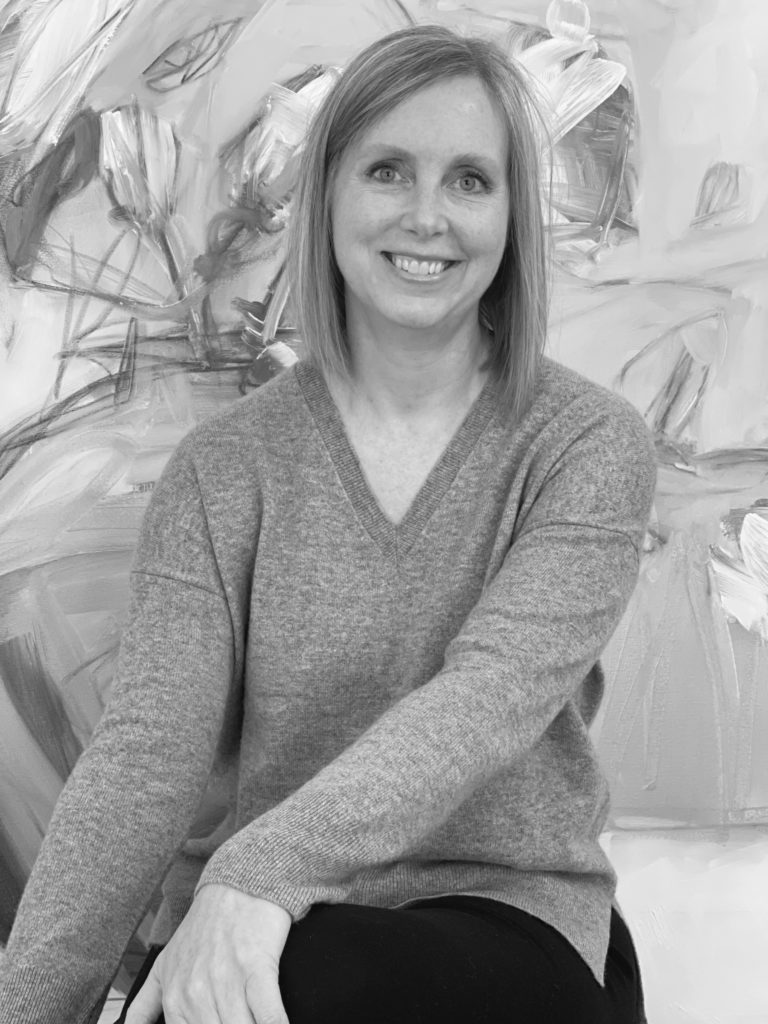 In contrast to the delicate florals she portrays, Lynn Johnson's process is anything but gentle: "I slap paint on the surface, pour it, scrape it, push it, and move it around with my fingers."  Letting intuition guide her, Johnson fills her large scale oil paintings with spontaneous and gestural mark-making. This feeling of movement, in combination with a limited color palette, gives the work a subtle energy and grace.
Discover more about Lynn Johnson and her work in our chat below.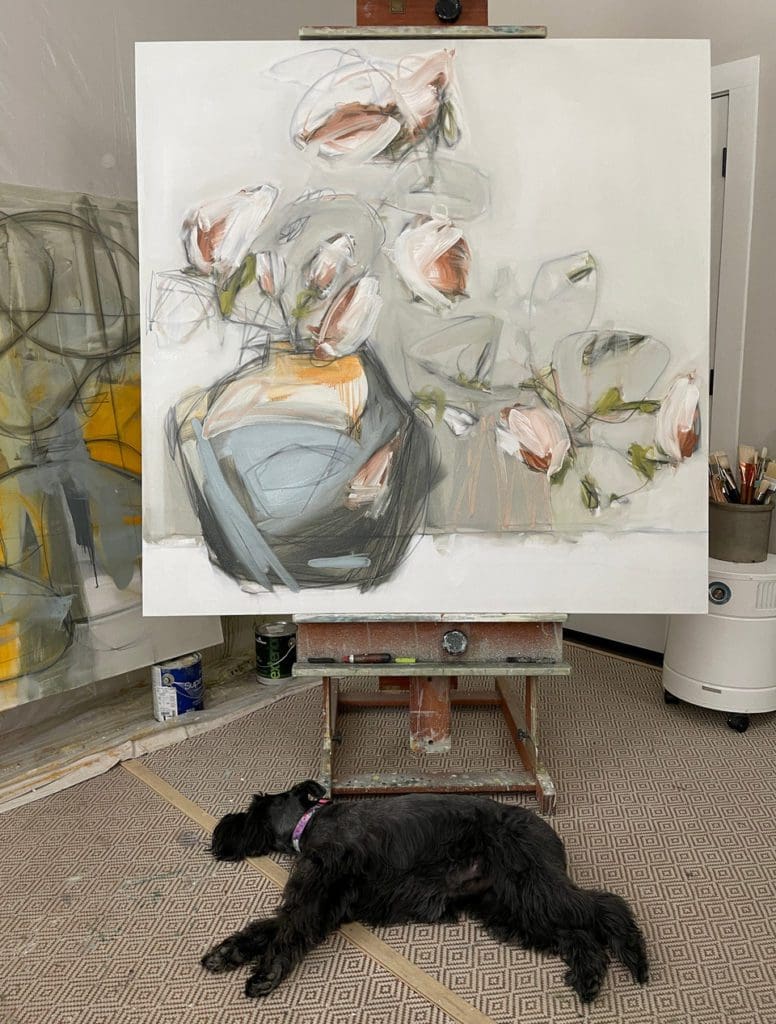 Can you describe your creative process?
LJ: I've experimented with different surfaces and materials over the years, but have always felt most comfortable with oil on heavy, toothy cotton canvas. I begin by laying down large areas of transparent and opaque color. I'll brush, scrape, pour, drip, add and take away.
I follow by making random gestural marks with various tools; wax crayon, oil sticks, graphite, charcoal, palette knives and fingers. This is the fun part, there's no plan or preconceived idea of what the finished painting will be. I'm simply letting the materials initiate some interesting moments on the surface of the canvas — whether or not these moments will remain visible is unknown, a surprise to me. I'll set it aside and start others, same process; I prefer to work on multiple pieces simultaneously.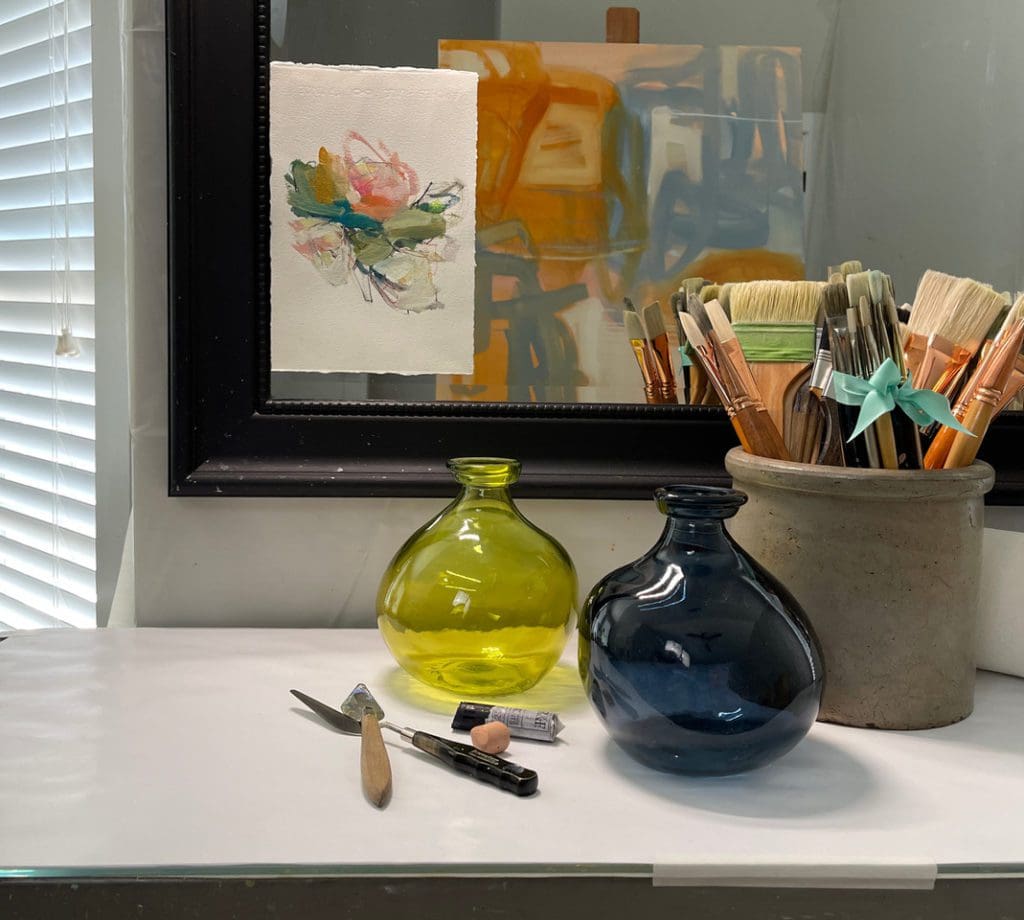 Next step is to carve out my subject and composition by adding additional marks and loose lines. I will rotate the canvas once, or maybe several times, as it begins to reveal itself. To finish, forms are blocked in, details are added using a variety of brushes. I will edit, stand back and take a good long look, maybe rotate the canvas again. I often hang a piece and live with it for a while in a well travelled spot in our home to determine if I feel it is truly finished.
My process is one full of chance, experimentation and intuition. At the start of a painting the only thing that is planned is my palette. I am most comfortable working on multiple pieces at a time so as not to overwork or get stuck in one area. If a piece is not coming together as I'd like, I will often scrape paint off or let it dry and start the process over. Some of the most fun surprises have come from painting over something which I felt was not quite resolved.

What do you hope viewers see in your work?
LJ:I have always had somewhat of a dry, quirky sense of humor. I'm forever an optimist, a glass half full kind of girl. My hope is that the work brings a smile, a sense of joy, to the viewer and that they might ultimately be able to lose themselves for a brief moment, let their eyes wander about the canvas and maybe find a little something unexpected.
My hope is that the viewer can see and feel the juxtaposition between the energy and spontaneity of the brushstrokes and the calm and quietness of the composition as a whole.

How has your work evolved over the years?
LJ: As far back as I can remember, some form of art, be it drawing, painting, photo excursions or visits to a museum or gallery was ever present. My college education focused on fine art, photography and graphic design. My pathway post graduation began in graphic arts — advertising design and printing. My paintings at that time were very tight, with hard edges and crisp lines. I worked in acrylic and gouache, often undiluted and straight from the tube. Influenced by the pop art movement, Warhol and Lichtenstein, I remember diving into print publications such as "Interview" and "W" magazines and relishing the design and photography on their then oversized pages.
Fast forward to my early career as an artist… I would set up a still life with fresh fruit and flowers or work from photos I'd taken for reference. Over the years I've evolved to working mostly from memory or quick sketch. I maintain a collection of objects and vases in my studio to use as a jumping off point, but the work has become much more organic and intuitive. I use oil paint and various other wax or oil based mediums, have limited my palette and never use a color straight from the tube. My work has loosened up, become more abstracted, gestural and perhaps even a bit messy as I strive to not stay in the lines.
I consider myself and my work malleable, a "work in progress". If there is one constant to my work, it is that I am always experimenting and challenging myself to try new things. As a result, I continue to discover something new with each and every painting, and I hope that never goes away!

What inspires you?
LJ: In everyday life… clean, simple, airy and uncluttered interiors. Architectural design, new and old. Mid-century modernism. Natural, unmanicured gardens and landscapes. The mountains, wide open spaces. Music.
In art… a visit to a museum, gallery, sculpture garden. Books on art, artists or art history. Artists… the seemingly effortless, free spirited expressive work by Joan Mitchell. The wide, buttery brushstrokes and thick paint from the likes of David Park, Paul Wonner and Willem DeKooning. The almost child-like minimalistic work of Cy Twombly. The rich color fields of Helen Frankenthaler.