Artist Sherri Belassen creates a unique conversation between color, negative space and whimsical pattern in her paintings. The palette of her works resonates with the rich landscape of her home in Arizona, and her figures have a dreamy quality within. In an interview with our galleries, the artist discusses the origins of her creative process, her artistic vision and the ever-evolving discovery each new work presents her with.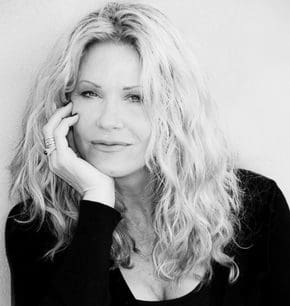 How would you describe the origins of your work?
Born and raised in Indianapolis, I started creating art at an early age. I always knew I wanted to be an artist and painted my first oil painting at age 8.
As a high jumper for many years, I had an early athletic background that taught me practice, focus and repetition – qualities that have woven themselves into my artistic process. This athletic background led me to a full Track and Field scholarship to the University of Missouri – Columbia, where I  studied art my Freshman year. I graduated with a BFA in painting from Indiana University and moved to Phoenix with the desire to paint in the sun. After college, I was fortunate enough to begin showing and selling my work in a prominent art gallery in Dallas at 23-years-old.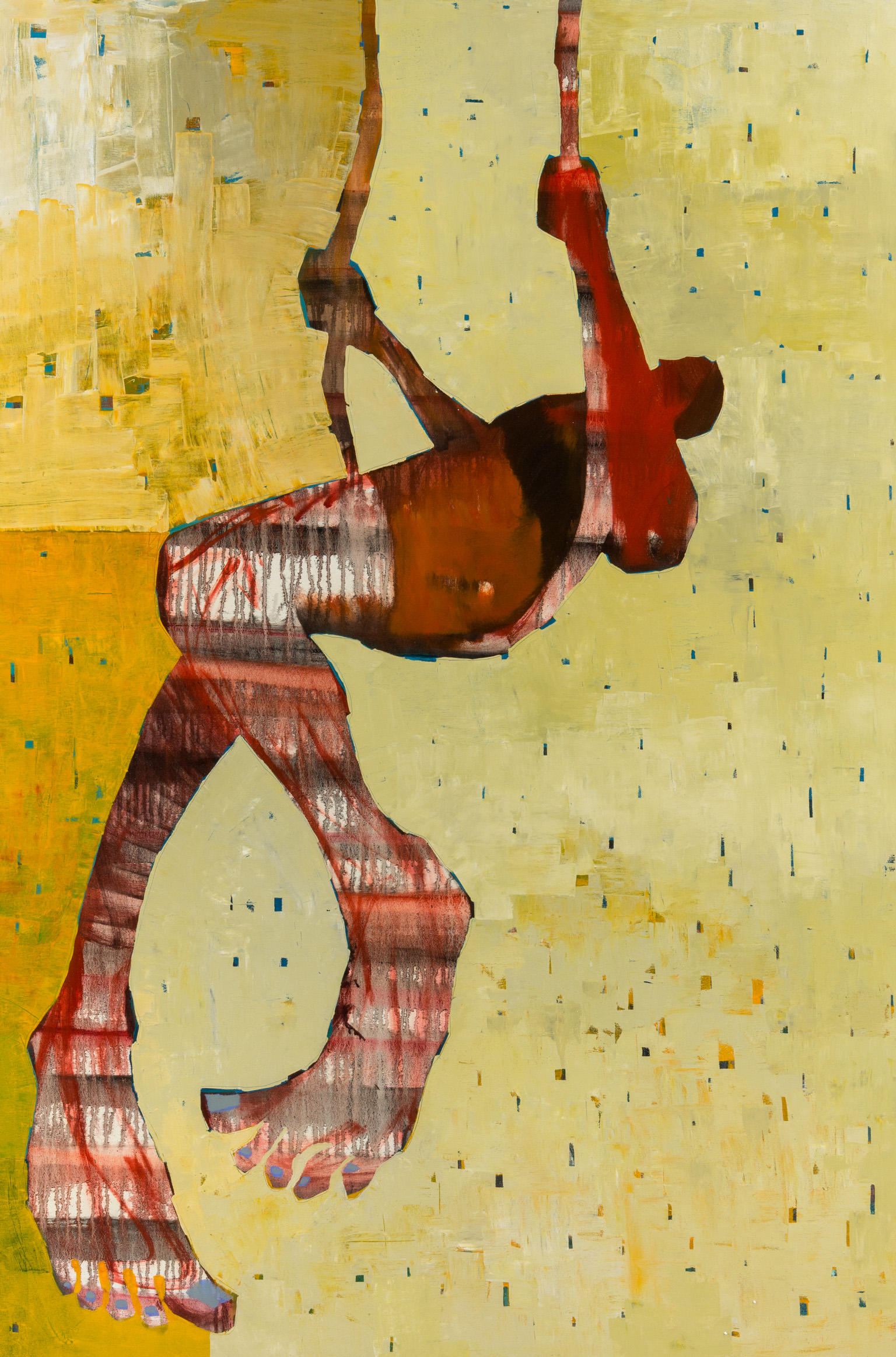 What inspires you?
My two sons, Gino now 22 and Lorenzo now 20, have been a gift of inspiration beyond measure, a major force behind what I do.
I love the process of painting and the physicality of the work – the layering, color choices, brush marks, palette knife scraping until I know when a piece feels right to me, until I feel I've said all I can say in that piece.
Describe your artistic style.

I believe within every artist exists their own mark unique to them. I paint and bring what I've learned from that painting on to the next. This way I push further as I learn something new – it is an ongoing process.
What might be unique to my work is my color sense and use of negative space. Flying in small planes at a young age with my father helped develop a sort of aerial view, a spatial awareness and balance while focusing on the horizon. These strong memories resurface in a sense of openness in my work.
What is your creative process?
Creative process for me is usually just going for it, really. I do make small ink sketches on paper prior to starting a brand new figure or idea before I take it to a large canvas, yet I'm still just working it out as I go. Underpainting is something I continue to start with. I use it as a jumping off place where I look to seeing something in it. From there I'm able to quickly brush by manner of gesture to intuitively make sense of it all.
The not knowing where I'll end up is exciting to me. Finding my way through each painting is always a unique experience. I build layers with brush and palette knife, carving out and editing areas, allowing my figures to exist either weightless or with a more grounded presence. I tend to think in terms of strength, power and dynamic for my color choice and treatment of negative space. The random pops of underpainting beneath the surface are necessary to show a sense of history left behind, while also lending the mystery of what could have been.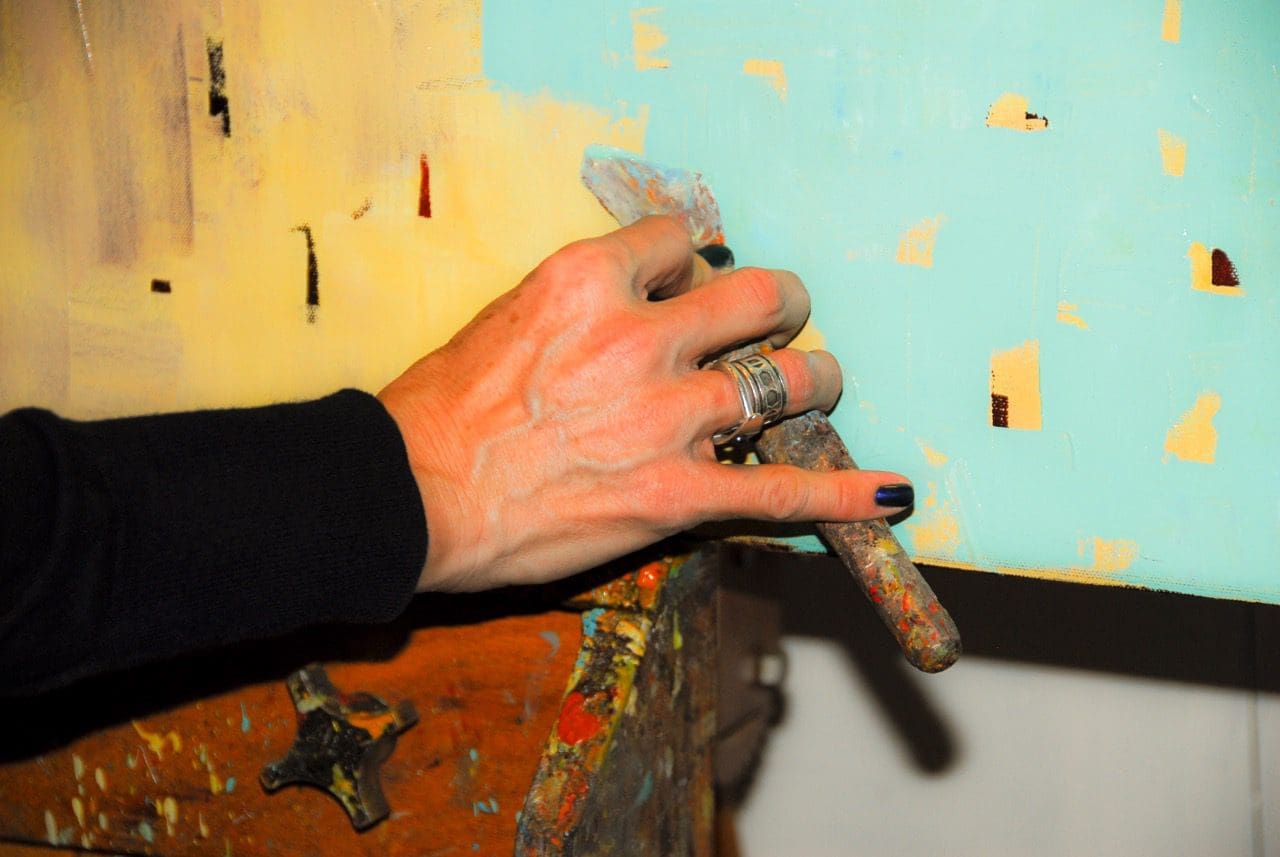 Describe your studio?
I have a studio with lots of light, high ceilings, music, and good vibes…along with my dog who accompanies me while I work.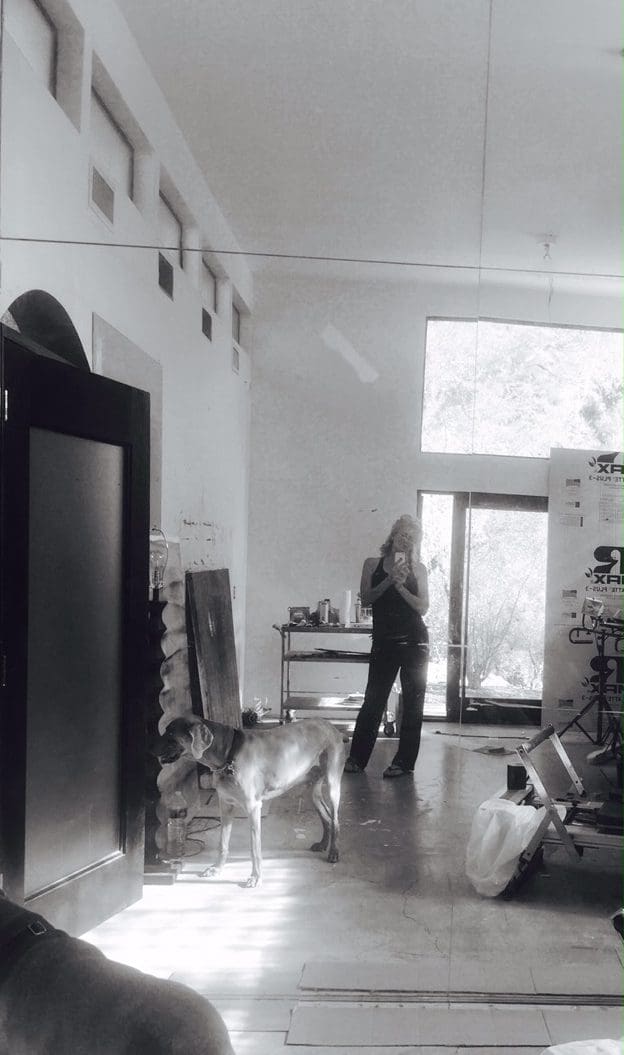 How has your work evolved? 
I believe my work has definitely evolved to have more of a sense of calm – calm carved out of underlying chaotic notes. I keep only what is necessary, simplifying and editing by scraping away what is not. I hope to paint a piece that one is happy to be around, giving off good vibes with a sort of soul. Enjoying the process of painting and where each new piece takes me is always a journey which keeps it fresh for me. I continue to grow and know that I've been the right path, grateful to be able to live my dream.
Belassen continues to live and work in Phoenix. Her paintings are collected nationally, internationally, and represented in galleries across the US.