Abstract painter, Charlie Bluett, is known for his affinity for the natural world. Based in Vermont, he is a sea glass collector and is constantly inspired by his collection, as well as his various beach treasures. His pieces are stunning focal points that provide a moment of peace and serenity for the viewer. Fluid and translucent shapes float and drift on top of one another, depicting the ebb and flow of life. Influenced by artists like Rothko, Andy Goldsworthy and Vicente, Bluett is continually pushing the elements of his process. 
Take a look inside Charlie Bluett's studio and learn more about his influence and creative philosophy.
"Finding various beach treasures as I call them, can over a few hours of strolling result in the best downtime and ideas for my work." -Charlie Bluett
What's your favorite thing to do when you aren't painting?
CB: When I get a free moment from painting or am on a road trip delivering my art, my absolute favorite past time is to stop at various coastal locations and beach-comb for sea glass, stones and pebbles and driftwood. The tranquility and switch off time as I wander along the varied coastlines of this amazing country is so blessed to have, and is a huge influence on my work. On longer breaks, I may also have time to play with the sand itself, using my hands to shape and form abstract elements into the beach and leaving the object to be reclaimed by the tides to come. Highly therapeutic!
Why do you collect sea glass?
CB: I collect and use them for my artwork coloration and form ideas. I also am fascinated by the stories each thing I find can tell me about its journey into my hand. A delicate green piece of sea glass may have been thrown over board from a ship in the 1800's and was originally a medicine bottle, for example. It's now been tumbled and turned, frosted and shaped until it reaches a far off beach that I am lucky enough to be walking upon and it tucked in amongst the pebbles. Who were the people? What were their lives? Where were they from? It allows the imagination to soar and connects me with colors and forms I use within my work, making it very personal and found. The art is then history and nature rolled into one, there for the viewer to experience.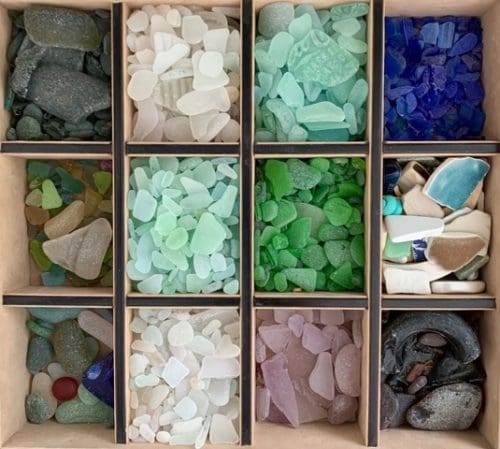 "As I paint I learn, and discover new ways of approaching a blank canvas." -Charlie Bluett
What do you hope viewers see in your work?
CB: My overriding hope is that my work brings them profound joy. That each day a piece asks them for a moment as they head off into their day, to stop and stare and go out of themselves. Overall I want to create a sense of ethereality and calm, and yet a moment of beauty and relaxation. In our busy lives it can be hard to do enough, and we often don't have the time to stop and fully appreciate. Like a great book, movie or piece of music, the work should allow a person to step away from reality and switch off the distractions all around us.It should bring the viewer to a moment in time of total calm that simply brings them joy.
How has your work evolved over the years? 
CB: I started painting as a child, but truly took it up while studying at Eton College in England back in the late 70's. As a serial entrepreneur with a variety of non-related start ups created over my life, I had always had a constant yearning to be a professional artist. It took time to take that final step, and perhaps I needed to go through these other parts of my life and build up the experiences I needed to take on this journey and become the artist I am so fortunate and so cherished being today. Sometimes I think it happens this way in life.
My earliest influences having studied art history as a school child, were the likes of Mark Rothko, Joan Miro and Alexander Calder. Perhaps my greatest influence is Andy Goldsworthy, as his work is all about the natural world. The shapes and forms he creates allow true imagination to soar and produce an enormous sense of being and beauty. Quite exceptional, in my opinion.
My work, I believe, is constantly evolving and changing in different ways because I like to experiment and try different genres of painting. Although I currently have certain styles for which I am recognized as doing, I feel this will come morph and evolve to compliment my work already achieved. A close friend in the art world once told me that he loved what I am creating today and so looks forward to seeing where I will be with my work style in 10 years… I too am excited by this thought.
What is your studio space like? How does it affect your process?
CB:
I live, in short, in the middle of nowhere in VT… and love it for the very reason that the majority of everything around me is nature. My studio sits amongst in my garden away from my house, giving me the needed separation of both. It's so important to have a division between different parts of our lives, something many who currently work from their homes during this awful Covid situation will understand. I like to go home after a long day in the studio, even if that means a 1 minute commute.
The seasons in Vermont are a huge influence on all genres of my work, and I get to see these every day.  There is such a range from the changing light and skies, shifts in temperature, blizzards, to summer evenings when fireflies dance through the garden. My environment is crucial to my work and I hope this is visible in what you see. I see all of this from my studio windows.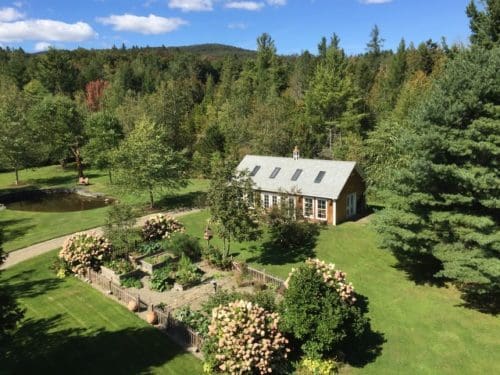 Is there anything else that you would like to share with us?
CB: Yes, very much so. Although I myself am on a learning curve as a professional artist, I feel it's important to encourage everyone to know that we all have a creative side even if we tell ourselves we do not. As I mentioned earlier, it took me time in my life to allow that creative gift to come out and be brave enough to take the step to become a career artist. So I say to anyone reading this who has those thoughts and may not have taken the plunge yet, as Nike always says, "JUST DO IT". Along with my other favorite motto, "NEVER GIVE UP".
________________________________________________________________________________
Bluett: View More Work l Meet the Artist l On the Wall