D.C. based designer Regan Billingsley is dedicated to creating spaces that are beautiful, functional, and reflective of her clients' interests. Featured in multiple publications along the East Coast, Regan's passion for design has illuminated many homes. Working with styles from traditional to modern, the multifaceted team at Regan Billingsley Interiors can help any client design a unique, yet timeless space.
Enjoy learning about Regan and how her work with textiles resonates within her designs.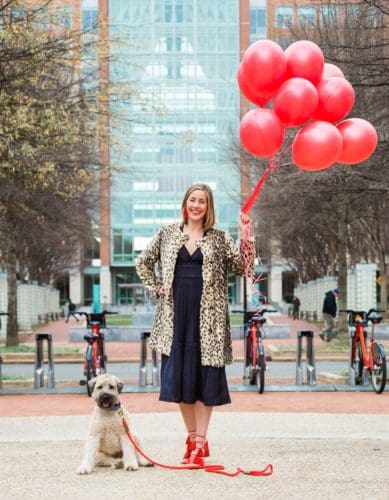 What inspires you as a designer?
RB: The thing that most inspires me as a designer is working with textiles — layering, mixing and matching colors, textures, and pattern. I scour the planet for boutique textile designers and artisans, looking for that unique, beautiful piece and I keep baskets stuffed to the gills with handmade fabrics.
Incorporating my love for textiles in our projects allows us to create a sense of individuality and ensures a space feels welcoming and inviting.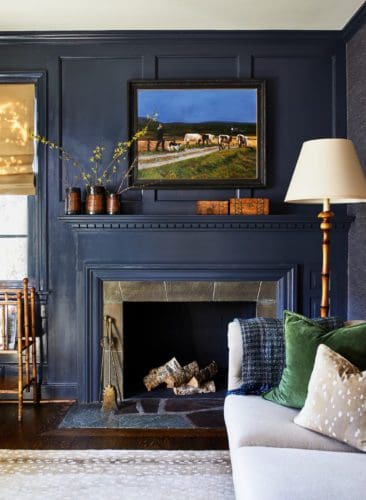 What is your design philosophy?
RB: We believe that homes should be a true reflection of our client's style, the way they live, and that beauty need not be sacrificed for practicality – so that you feel at home, every time you walk through the door.
What do you love most about what you do?
RB: What I love most about my job is that it every client and every project is different.  That keeps us constantly thinking, creating, and problem solving. Unlike other designers, we don't have a specific aesthetic that we adhere to for every project.  We make it our job to get to know our clients, who they are and how they live.  We spend time with them, their kids, their pets, so we understand not only their style preferences, but also their lifestyle.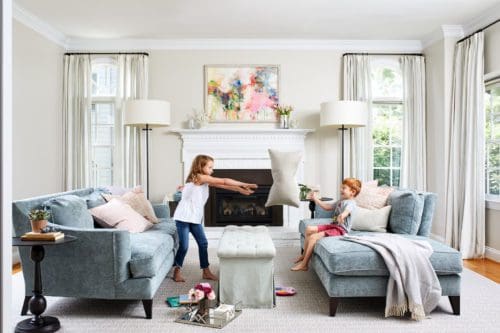 What's one thing that every room needs? Any top art picks from our collection?
RB: We believe that personal connection to your home is important, so every room needs something that has meaning, history, or a story.  Art is a great way to bring this something special into your space!
I love the piece in your gallery entitled, Reflection at Dusk, by Dennis Sheehan.  It reminds me of one of my favorite bike trails, a place where I go for fresh air, a seaside breeze, and to listen to the soft calls of migrating birds. For me personally, I am drawn to landscape paintings that take me to my happy place even when I can't be there.
On a more modern note, when I saw 3 Bars in Magenta, by Tom Bolles, hanging in your gallery it stopped me in my tracks. Although there is a simplicity in the scale and shape of this piece, the balance of color and light made it jump from the canvas as I walked around it.  I am always drawn towards art that has movement and texture, so that you notice something a little different every time you view it.
Were you always interested in design?
RB: Always. My mom used to take me antique shopping in Kensington on weekends and I used to cut up her design magazines to design my dream home as a young girl.  My mom was a foreign language teacher, but she had an interest in design and a good eye. I still have my mood boards.  I was always creating something, and it often resulted in spilling glue and paint on my bedroom rug, denting my bedroom walls, or ruining my clothes.  She never got angry with me for any of it, she let me take responsibility for damaging things and figuring out how to clean up after myself. It was a good lesson in learning to take pride in my work!
A city you would live in if you could?
RB: Antigua, Guatemala. My love for textiles has led to a collaboration with weavers in Guatemala. After traveling all over the country to learn more about their history and the production of their textiles, I fell in love with the community of weavers and the quality, construction and beauty of their work.
My very first trip there left me inspired about the opportunities to collaborate with the artisans in producing something that I hadn't seen in the interiors marketplace. Since then, my focus has been working with cooperatives to create top of the line, gorgeous textiles that will be used for my upcoming collection. It has been a very meaningful journey, and I cannot wait to feature the incredible talents of these masters of their craft.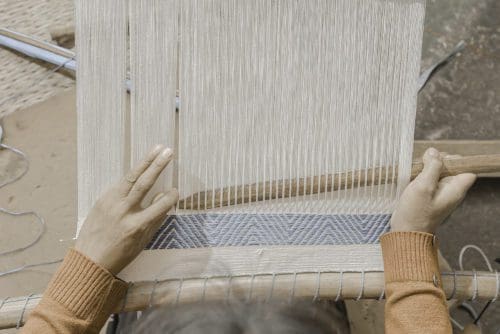 What colors are you loving at the moment?
RB: I love all colors, and for me the real love comes when you combine them in a way that is visually interesting, layered, and unique. This moment, and every other moment, my favorite color combination will always be teal blue and tangerine orange. Every home I've ever lived in has some variation of this color combination (currently vintage teal, indigo, and copper).  For our clients, when we find the perfect combination that speaks to them, that's our "ah ha" moment in the project.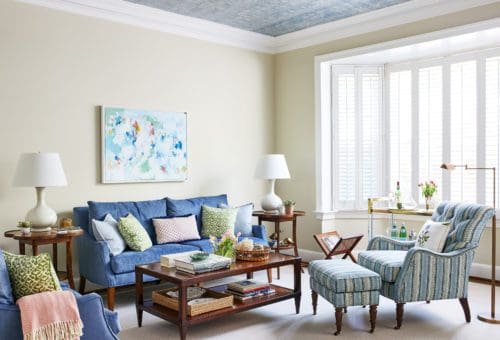 Passions other than design?
RB: As a lifelong swimmer, when I need a mental break or to get clarity on ideas, I head to the water. I started open water swimming years ago with a race across the Chesapeake Bay and I became hooked.  Last year I took a swim vacation to Croatia, where we swam a few miles a day between islands in the Adriatic.  My favorite place to swim is in the Gulf of Mexico, at sunrise, where you'll often be joined by manatees, dolphins, and spotted eagle rays.  Feeling the cool water on your face and the sunshine on your back is the best way to start the day.
Your go-to hostess gift?
RB: As a native Marylander, there are two things I think every house needs: Old Bay and Berger cookies. I have literally mailed boxes of cookies across the country ahead of a dinner party.
Describe yourself in three words.
RB: Energetic, Genuine, Resilient.
Check out more from Regan Billingsley Interiors on their webpage and instagram.