"Painting is not a decorative act, but rather a love story where emotion plays on motion, light and color, sending vibrations through the spirits of those viewing it" – Jean Duquoc
Stop by the gallery and meet Jean Duquoc this weekend!
Have a drink, mingle with friends and enjoy the collection of works on canvas and paper.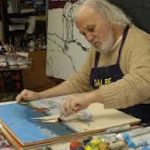 Meet Jean Duquoc in Person:
Chevy Chase – Thursday, April 3rd 5-8pm Baltimore – Friday, April 4th 4-7pm Haverford – Saturday April 5th 1-4pm
Jean Duquoc's works are available to view and purchase through April 12, 2014 in Chevy Chase, Baltimore and Haverford galleries.