When he isn't traveling the world, Josh Brown can be found hard at work in his New York City studio. Learn more about his creative process and inspiration in our interview below.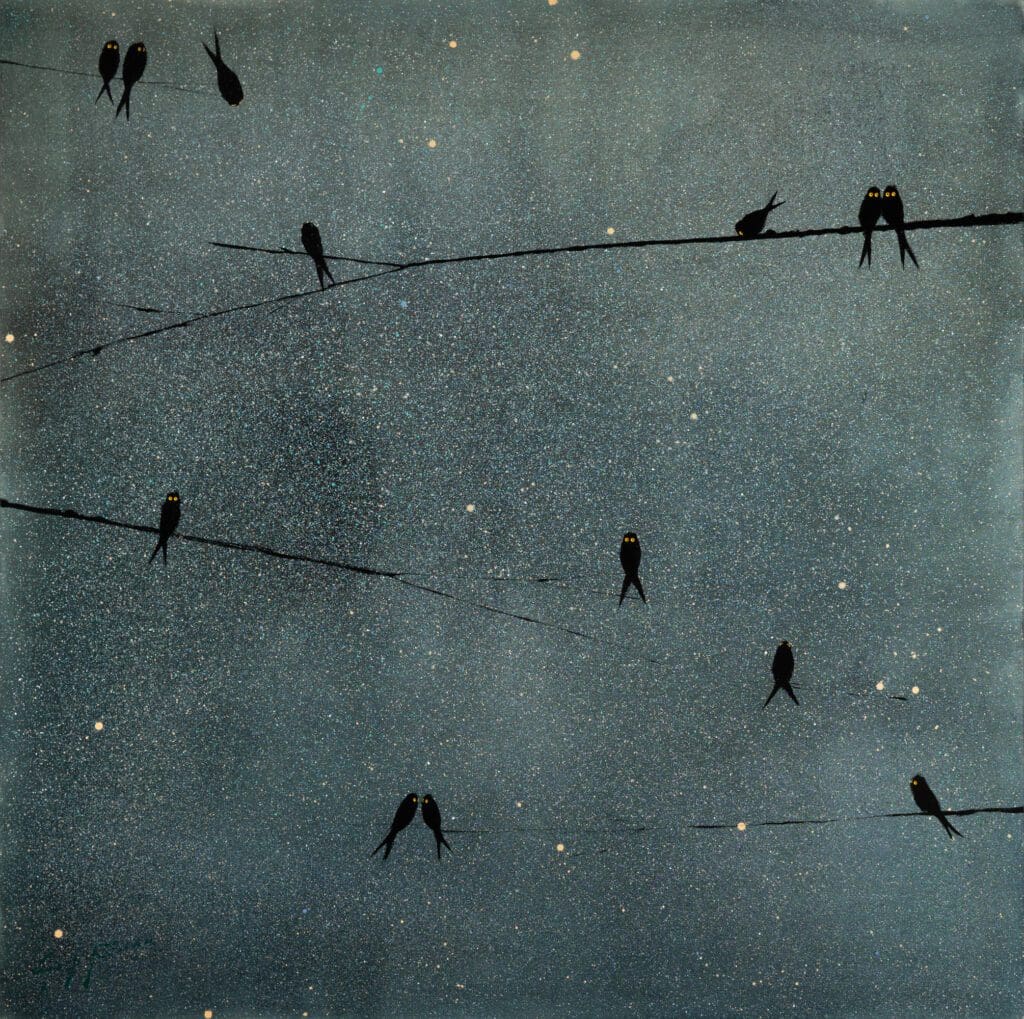 Tell us about your background. When did you start creating art?
I have created art from the day I could hold an instrument. By 3-4 years of age, I had an understanding of proportion and perspective. Drawing and sculpture have always come very naturally to me. And of course, many thousands of hours of practice have certainly helped to develop my skill and style.
At around 17 I presented my first works for sale in a gallery setting. My first gallery work was sold the day they received the painting. Funny enough I hadn't intended to sell the work. In a rush to send example paintings to the gallery, my mom let me send a painting I had given her for Mother's Day. With the work selling in a matter of hours, I didn't have time to take it back. Fortunately, my mom was very happy for me and I made a new Mother's Day work for her.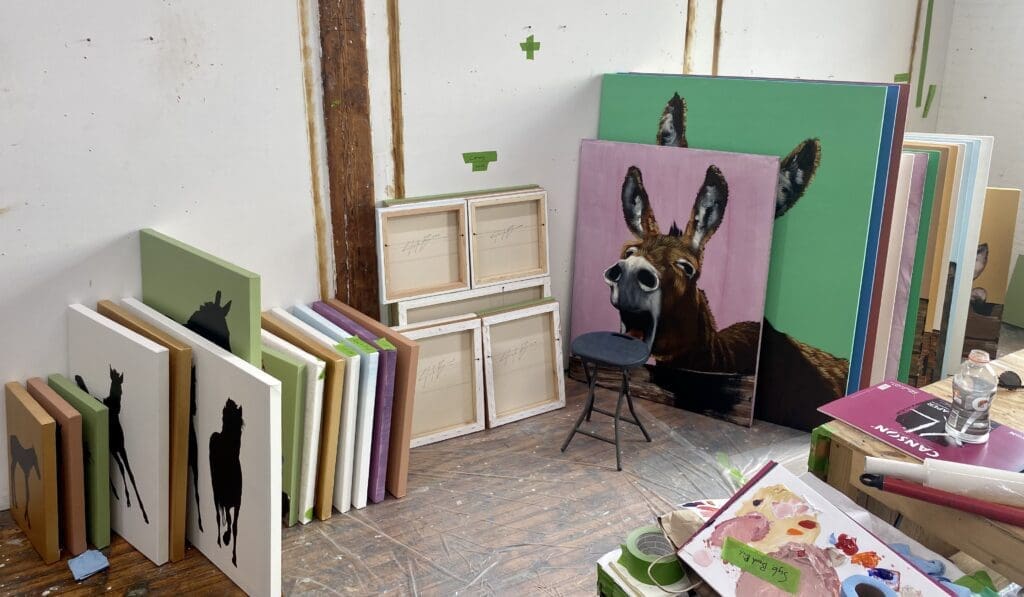 Can you describe your creative process?
My creative process often starts with a trip. I am most inspired while traveling. Many of my artworks' textures, subjects, and approaches are the byproduct of experiences traveling the globe. For example, most of the cows I paint are from time hiking the Alps in Switzerland, many textures and colors are inspired by time in Bali viewing traditional crafts, and the idea for the night owls and birds struck me while touring Japan, specifically while meditating at the Ryōan-ji Zen garden in Kyoto. This trend of traveling and painting provides a constant flow of inspiration. I also find inspiration locally while visiting zoos and farms across the US.
I keep extensive lists of the ideas I have while traveling and dream of capturing everything in my notes with a physical construction someday. When it does come time to create work I often prepare a breadth of canvases starting with a variety of background color and texture compositions that speak to me. I typically do not have a specific subject or composition in mind when I first make these backgrounds.
After the paint dries I review the color and texture of the canvas and decide how to best make use of the background to emphasize the subject in the foreground. This way of working forces me to respond creatively to the work.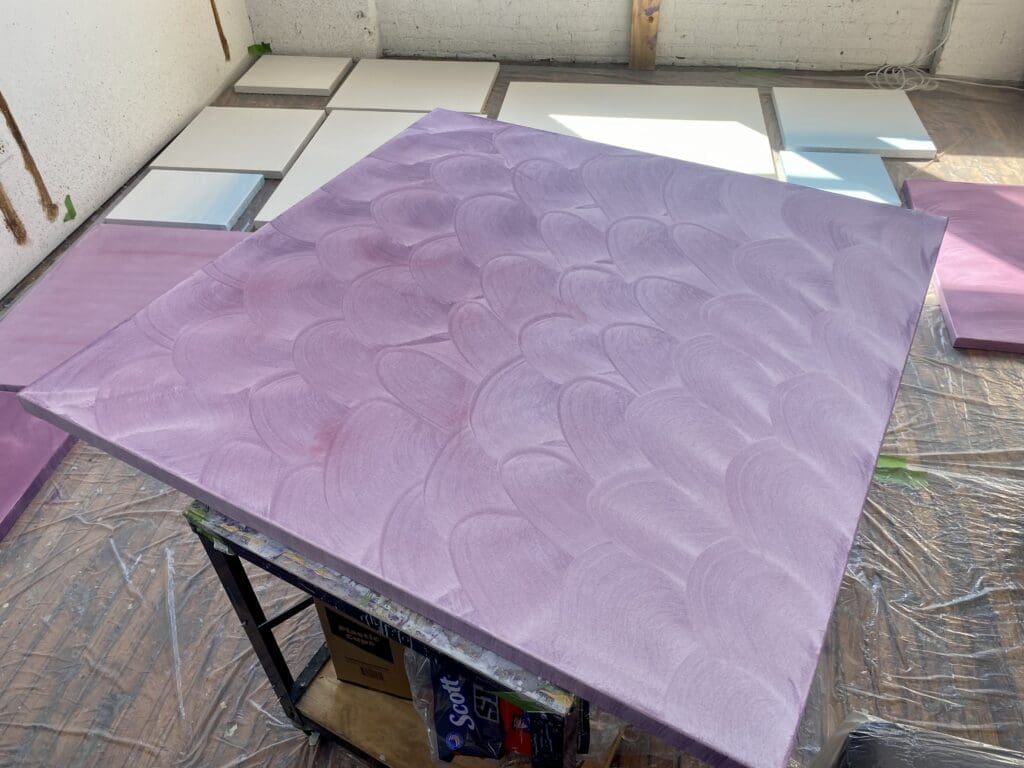 What is your studio space like, and how does it affect your process?
I am very fortunate to have a beautiful large studio in New York City. The studio has excellent natural light and I have outfitted the space with museum-quality full light spectrum lighting. It's truly a dream to work in.
This space is set up well for me to work day or night with little compromise. I can put 100% of my focus into the work.
I also have a great sound system. I am always listening to music while painting and often play music I have heard many times over so that I'm not too distracted by new sounds during the moment of painting.
What does a typical day in the studio look like for you?
I love to work and move, so a typical day in the studio actually starts at the gym. With a background in college athletics, I find that consistent exercise helps me to stay focused and energized in the studio. After the gym, I bike to the studio and start my day along with an espresso and a moment to go over my goals for the day. I try my best to balance impromptu creativity and an organized schedule, so every day has a touch of wiggle room if I decide to focus on something unexpected.
As soon as I have wrapped my head around the day's goals I get to work, prepping canvas, painting, photographing finished works, wiring, wrapping, emailing, etc. Each day is often very long and intense. I take few breaks and frequently skip lunch in the whirlwind of painting. I find this intensity keeps me from overthinking and helps to maintain a more instinctual application of paint. In a way, I feel the haste in which I work makes the painting authentic and honest.
My days end in two ways, either when I am too tired to keep going, or so energized that I start dancing too much to paint accurately. Years ago my work days were typically 16+ hours or so. Nowadays I have pulled back to have a slightly more reasonable work-life balance.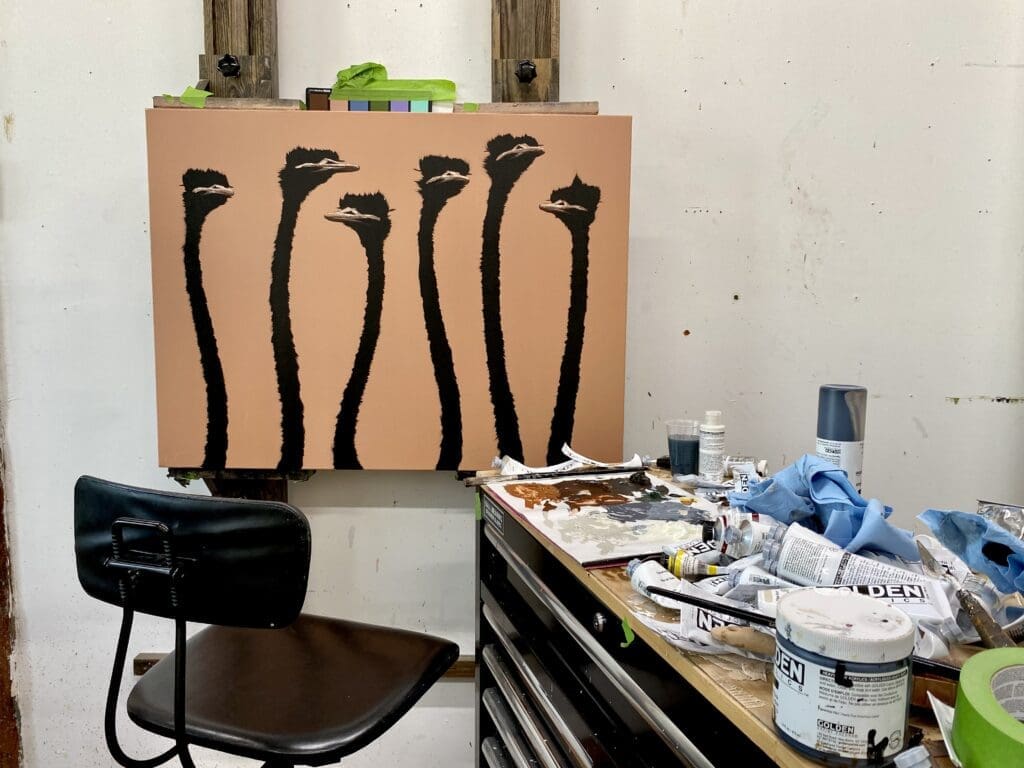 How do you describe your work?
I would describe my work as an expression of joyful curiosity through animal messengers. My works are lighthearted and friendly, but I think that at a deeper level they fulfill a natural desire to be seen, loved, accepted, and celebrated. I think of my paintings as the family dog that rejoices every time one returns from a day of work. It's a simple gesture that ceaselessly warms the heart.
I believe this is why my paintings are so readily collected. I wish for nothing but the greatest happiness for anyone who experiences my heartfelt artwork.
How has your work evolved over the years?
My breadth of subject and application has expanded over the years. It has been exciting to paint new animals, and new stories, and explore a world of color and texture. I see ceaseless potential in the works I am painting and planning. At the same time, I am very happy to know that animals and themes I worked on over a decade ago still make their way into my current paintings.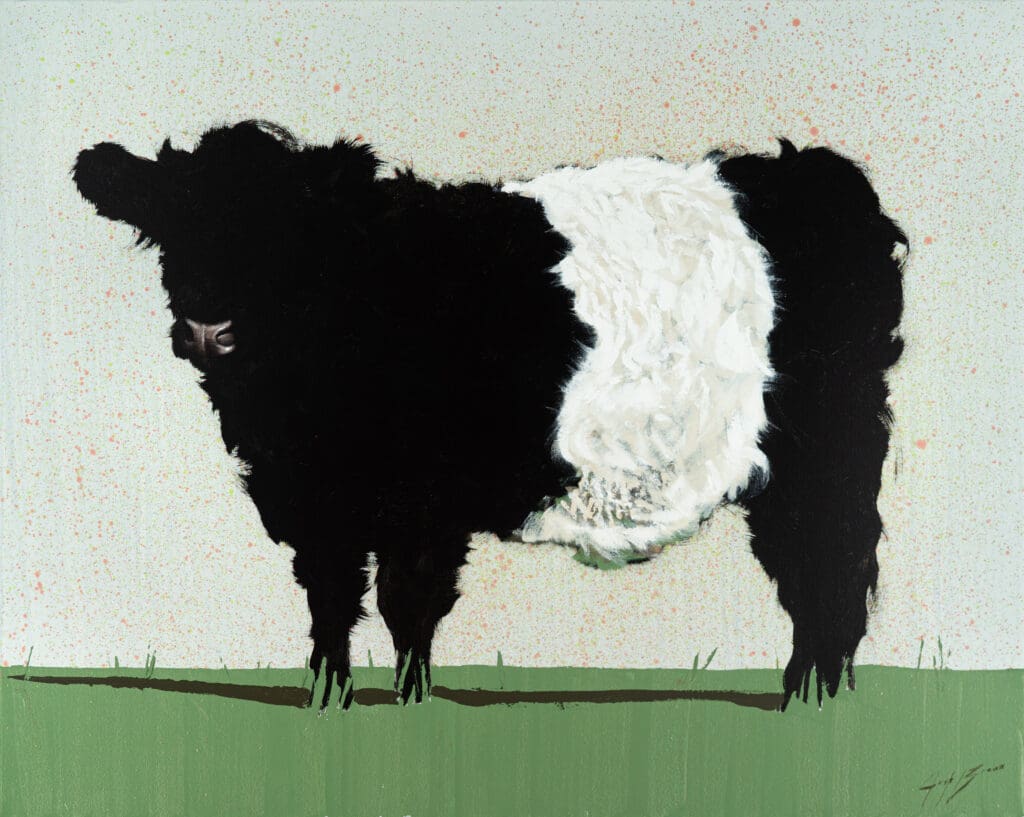 What's your favorite thing to do when you're not painting?
I have a few. I enjoy long runs and cycling trips. I will often go on a run or ride to turn my mind off for a moment.
After spending some time in Japan I've found an interest in the art of Bonsai. I'm certainly far from a green thumb and simply doing my best to keep plants alive at the moment!
Above everything else, I enjoy spending time with my wife and our pup. We travel frequently, love to enjoy great food, and spend time with good friends.
View our current selection of work by Josh Brown.
Learn More.