Trained in welding and metal fabrication, Matt Devine chose to combine his technical skill set with his creative side and became a full-time artist. His sculptures seamlessly weave together pieces of steel, bronze, or aluminum, transforming the metal into light, organic compositions.
We spoke with Matt about his introduction to metal fabrication, the evolution of his art, and the calming effects of working in the studio.
"My work is so repetitive that the process of making it is a daily meditation for me, an escape from the chaos of modern life and everything that we deal with on a daily basis."– Matt Devine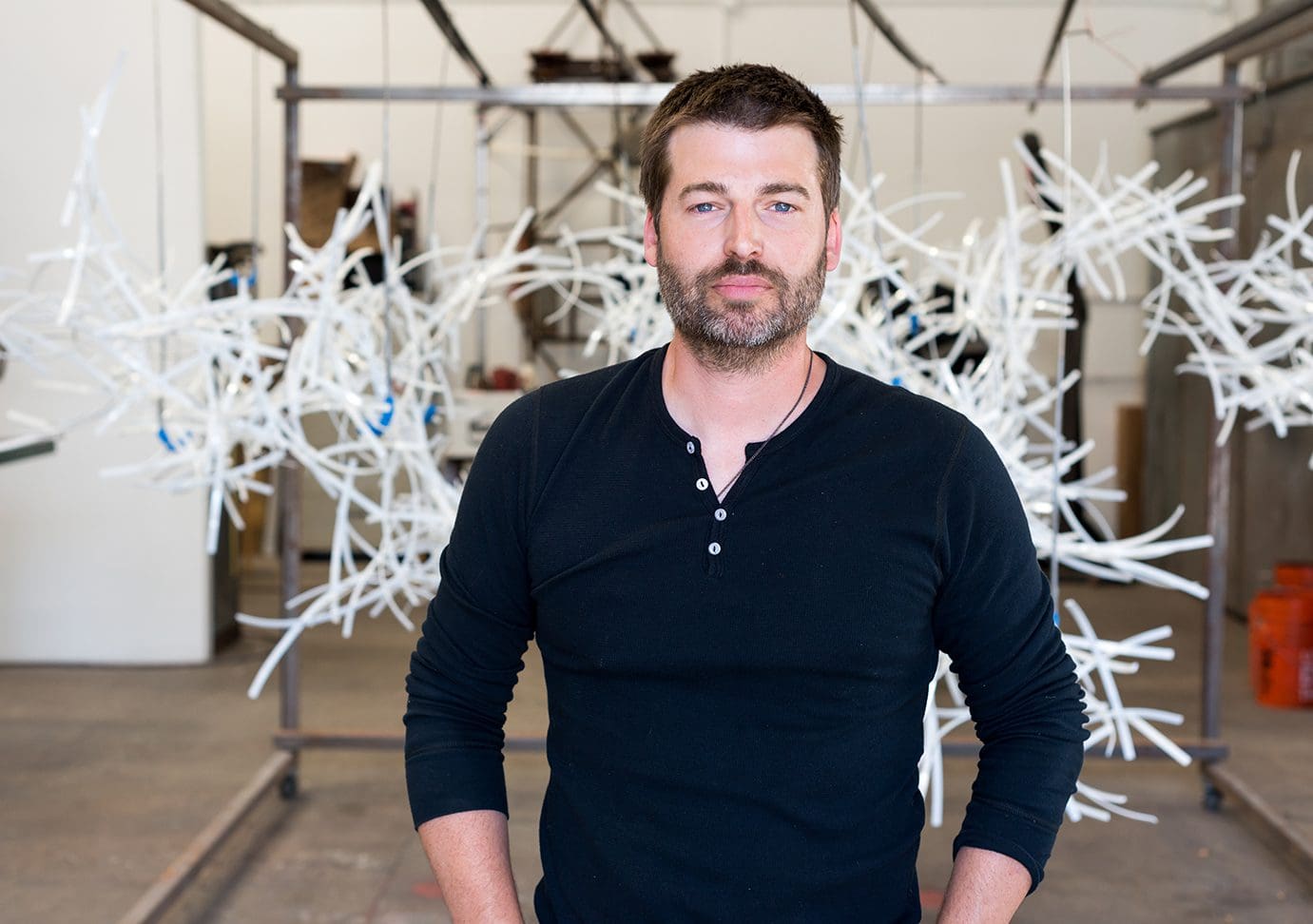 Describe your creative process.
MD: My creative process is about being in the physical studio working. So much of what happens creatively for me happens while I'm working, so it's very important for me to be in the studio doing the work every single day. From there ideas arise, problems are solved, and inspiration happens.
Another influence on my process is the materials: steel, aluminum, a little bit of bronze. I actually get inspired by just being at the metal yard where I pick the materials up. Seeing the different shapes and forms, the materials in their essence, is very inspiring. I really like the properties of metal, the immediacy of it, the strength, what I can get away with and push the boundaries of.
Sometimes a machine will cause inspiration, because it cuts the material a certain way and leaves a remnant piece that inspires a whole other series. It goes back to physically being in the studio working—having that touch on everything is really crucial to my process.
Matt Devine "Weightless" from Matt Devine Studio on Vimeo.
How did you get into metalwork?
MD: It wasn't a traditional path. I started working in the professional theatre when I was about 20 years old, working backstage building sets out of wood. They were fabricating a lot of the scenery out of metal at the time and taught me how to weld.
I was always into furniture design and art growing up, especially the midcentury modern style, so once I learned how to weld I started playing around and incorporating my own ideas into what I made. I would stay late in the shop building furniture and sculptures for my house.
Over a 9 year period I worked at a few different metal fabrication shops learning the trade and the skills that were required to do what I do now. I learned it from the fabrication end, which was pretty cool because there was no influence on the artistic end—it was all about the technical aspects. When I'm working on a sculpture now, I'm not really thinking about how I'm going to do it—it's really more about what I want to do. And from there I have the skills to produce what I want to produce.
Metalwork is extremely meditative for me. Part of the reason I gravitated towards sculpture was the freedom of it—nothing has a function, there are no limits to it—but it's also the meditative process of it. My work is so repetitive that the process of making it is a daily meditation for me, an escape from the chaos of modern life and everything that we deal with on a daily basis.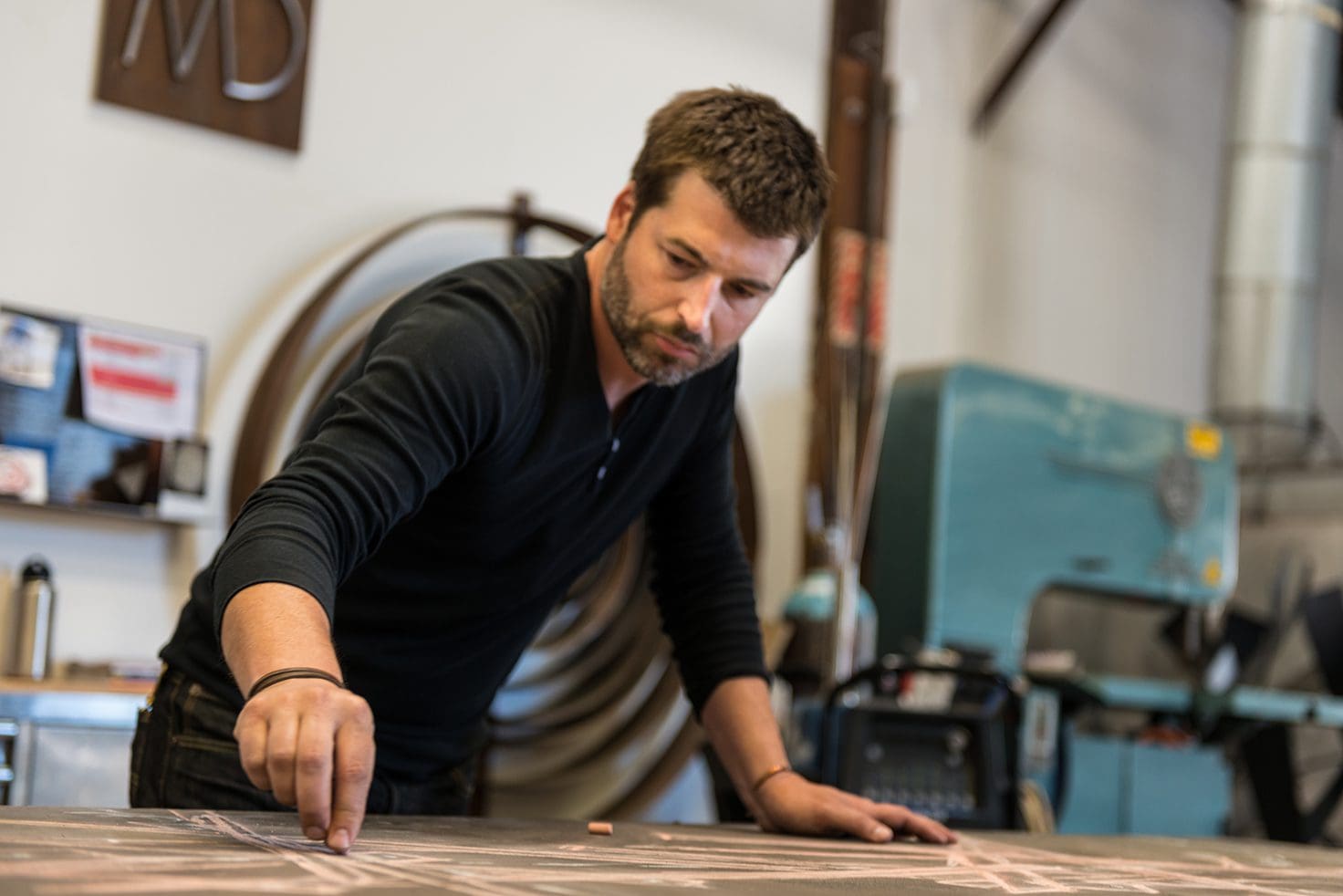 Can you describe your studio?
MD: I set my studio up like a metal fabrication shop. One of the reasons I did that was because the type of sculpture I'm producing requires a lot of large machinery and tooling.
The other reason was that when I got into sculpture, I knew it could be difficult to make a living as an artist, so I figured I could fabricate architectural work. Then at least I would have the shop and the tooling to still be able to produce my sculpture. But then I was very quickly able to make a living at sculpture once I started doing it full time.
So when people walk in they're like wow this looks like a full on fabrication studio, and it technically is, because I'm using all the same techniques and machines and equipment. I have large shears, rollers, cuff breaks, welders—and I'm using all those fabrication techniques and tools to produce sculpture.
View this post on Instagram
How has your work evolved over the years?
MD: When I first started out I didn't do any color at all. And it was just raw or patinaed steel, so it was a little more haphazard and not as repetitive. My work has since evolved to really powerful pops of color focusing on a repetitive theme. I recently just finished two bright pink pieces, and that's a brand new color for me. Twenty years ago I would never have imagined that. I've also been continuously refining my work over the years. In the early days it was rougher, and I feel like the end result of my work now is really really refined.
The other big change for me has been my lifestyle and family. When I first started I was a city kid, and now I live on a 15 acre farm in the middle of the country with tons of animals and I have a 7 year old daughter. So that has really been a big influence on myself, and on that daily meditative thing as well.
What do you hope viewers see in your work?
MD: I love when people see what they want to see, but really I want people to get lost in the meditation of the work like I get lost in it. Hopefully while they're viewing the work they get into some kind of peaceful state and are able to block out the outside world. I want them to have a calming and grounded central experience, because that's what I'm trying to achieve on a daily basis. So if they achieve that that's amazing, and if they see something else, something that I never see in the work, then that's just icing on the cake.
---
View Matt Devine's work in person at the gallery closest to you.