French Canadian artist Nathalie Boissonnault uses origami and balloon animals to illustrate ideas about human connection and the environment. To create her playful compositions, she combines acrylic paint with collage of maps and text. Boissonnault's background as both a graphic artist and a cartographer allows her to render her subjects with intense precision. Read on to learn more about how the artist works in her nature-surrounded studio space.
"When I first approach my canvas I know exactly where I'm going, nothing is left to chance." —Nathalie Boissonnault
When did you start creating art?
NB: Art has always been a constant in my life. As a young girl, I spent hours drawing, surrounded by felt pens, crayons, brushes and gouache. Between the ages of 6 and 10, my mother enrolled me in all the drawing, painting and crafting courses available in my area. At 11, I took my first painting course with adults and later, I studied visual arts and graphic design.  I held my first solo show in 1992, but the decisive year for me was 2001, when I became a full-time artist. 
What inspires you?
NB: Life, simple things, travel, human relations, the hope for a better world… I use origami animals and balloon animals in a naive and playful manner to express human emotions. Through them, I illustrate love and friendship between people who are different, either because of their origins, sexual orientations or beliefs, situations sometimes complex, often filled with taboos and prejudices. These artificial animals and the other objects or characters that I use also allow me to subtly express my great concern for the environment: population displacement, exile, climate change, pollution, etc. And yet, this does not make my paintings dark since they depict great resilience.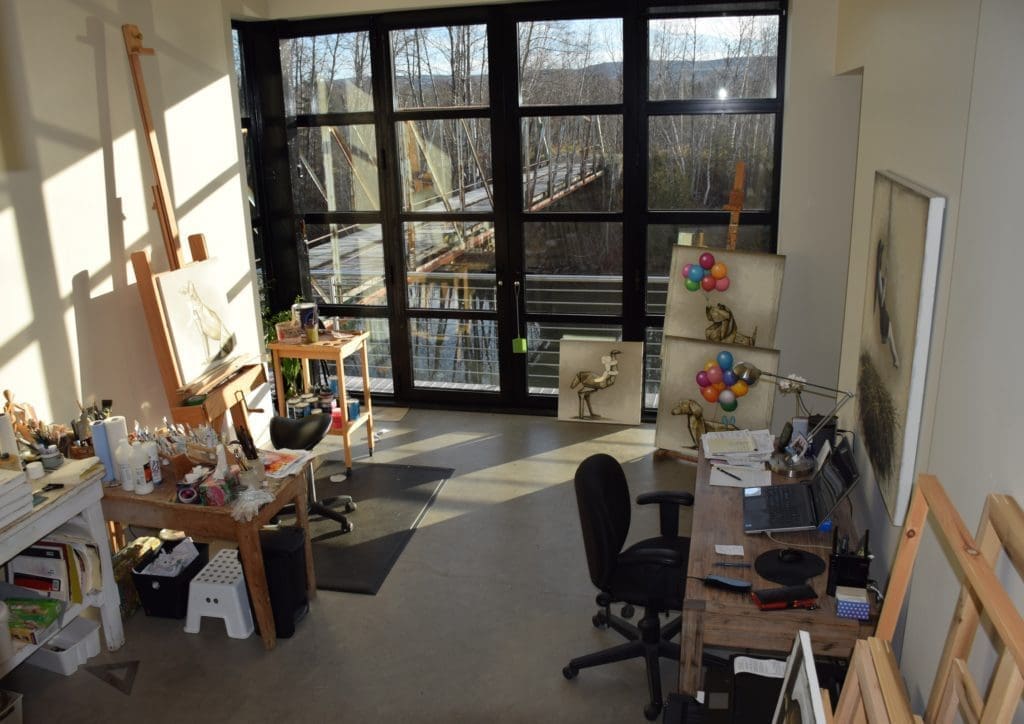 Can you describe your studio?
NB: In 2014, my husband and I acquired an abandoned water pumping station that we turned into our home and a studio for me. My creative space faces southeast and features a large windowed wall with French doors overlooking a salmon river. It is a privilege for me to be able to work in such an inspiring and peaceful setting. From my studio, I can observe several species of ducks and hawks as well as beavers, otters, muskrats and even seals at some times of the year! It can be hard to maintain my concentration! This is where I spend most of my life and it fills me with immense happiness. The quality of this setting is essential to my creative effort.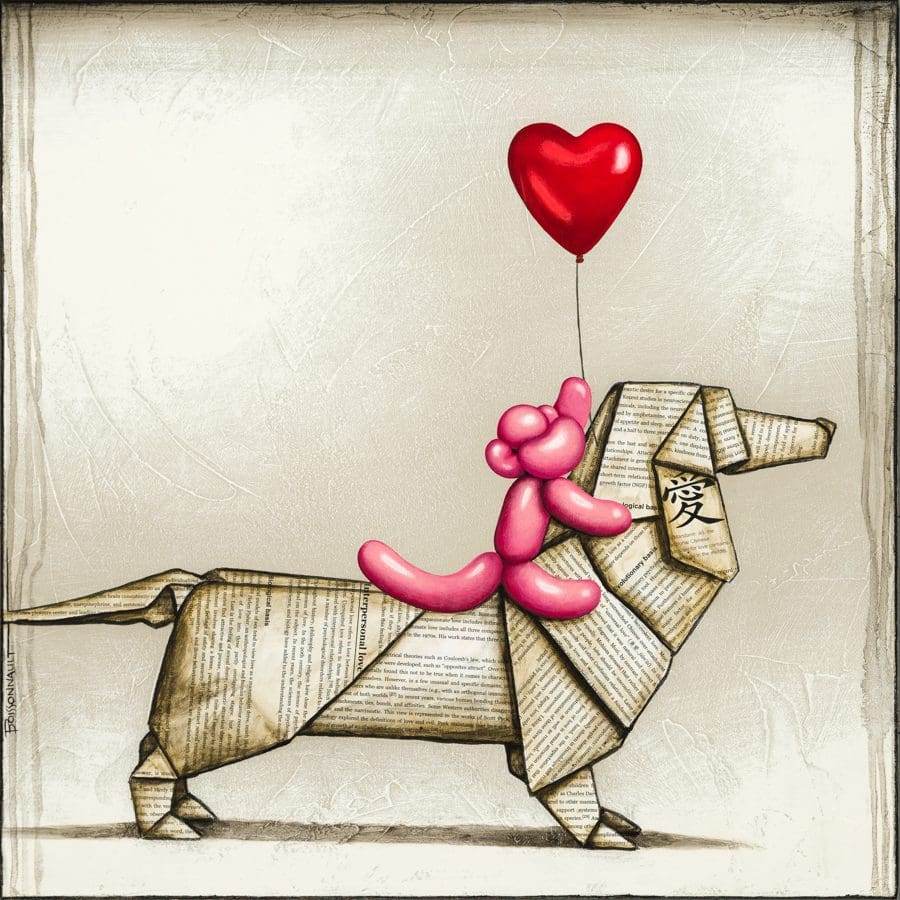 What does a typical day in the studio look like for you?
NB: I'm an early bird and I like to be in my studio by around 7 in the morning. I check my e-mail and then get to work. I'm highly structured in the way I work. Every piece I create first begins with a sketch on paper. When I first approach my canvas I know exactly where I'm going, nothing is left to chance. I may work on a single piece or I may start three or four or sometimes even more at a time. At noon, I eat quickly and go outdoors for some fresh air. A hiking trail runs along the estuary right next to my home and I try to go for a walk there every day. Back in my studio, I work until 5 or 6 o'clock. This is what my days look like from Monday to Friday. And then, on Saturdays, I can't help but spend a few hours in the studio and even occasionally on Sundays.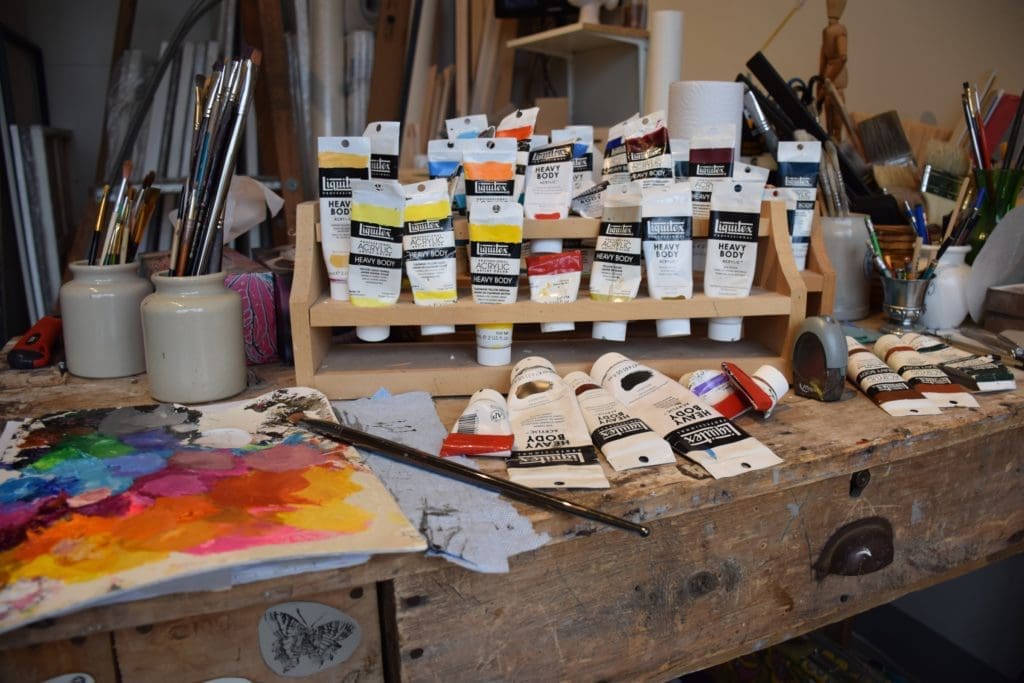 What role does collage play in your work?
NB: Collage serves mainly to illustrate my origami and obviously it plays a role in adding emphasis to my message. I use geographical and road maps to target specific locations, highlight journeys, build a feeling of belonging in the character portrayed in the work or in the person observing it, and create a connection to the setting. When I add texts or words, the idea is to draw attention to human feelings: love, friendship, seduction, etc. The mathematical formulae serve to translate complex situations and the architectural drawings are nods to strength and protection. The connection is sometimes subtle, but it's always there.  
To view Nathalie Boissonnault's work in person, visit the gallery closest to you.