Raul de la Torre is known for his unique process of seamlessly integrating paint and embroidery. These embroidered sections enrich each piece with depth and texture, melding with the paper or canvas to form a unified composition.
Inspired by literature, de la Torre expresses the feeling behind specific poems and verses through his use of color. Read on to learn more about his background and creative process.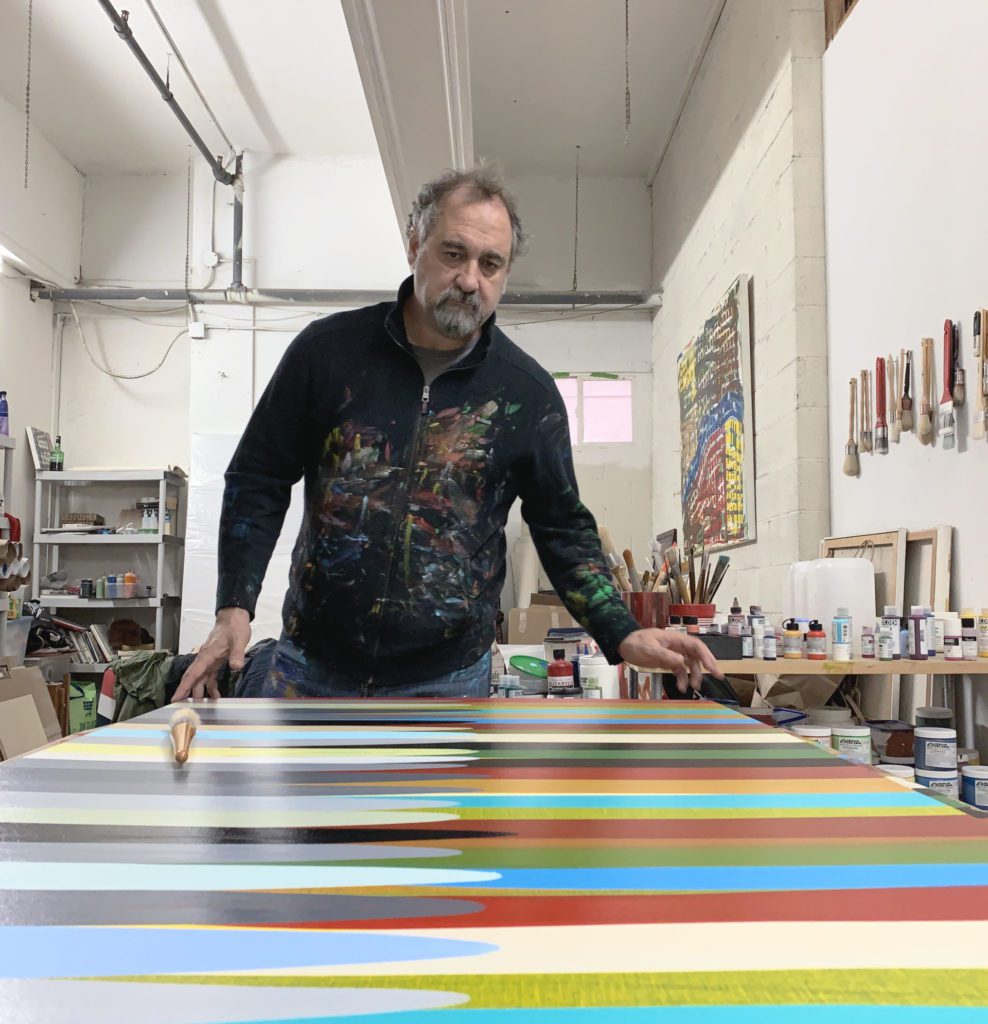 Can you tell us a little bit about the inspiration behind your work?
RT: For the series POEMES, I have been using different poets as inspiration. The initial inspiration for the first works were poems by one of my favorite poets, Miquel Marti i Pol. Other favorites are Benjamin Fondane, Seamus Heaney, and Pier Paolo Pasolini.
When did you first start creating art?
RT: I always loved art. As a kid my favorite things to do were: draw, write, reading adventure books, watch old Hollywood classics. And every sport you can imagine… not golf, it's not a sport.
The first time I had my work hanging at a show I was 12, it was an art show for kids over 13 but I lied about my age. The show was in a beautiful Barcelona venue, el Palau de la Virreina, in Ramblas. And it was organized by the Barcelona City Hall Culture Department. It was a great feeling to see two of my works hanging in the walls.

What's your studio space like?
RT: I have 600 sf studio in downtown Los Angeles. I've been there since 2006. It's an old building, circa 1900. Love the space. It's very quiet. I moved there because I had a commission for a very large canvas that didn't fit inside my old space. That was the biggest difference since I moved there—my paintings are larger than before.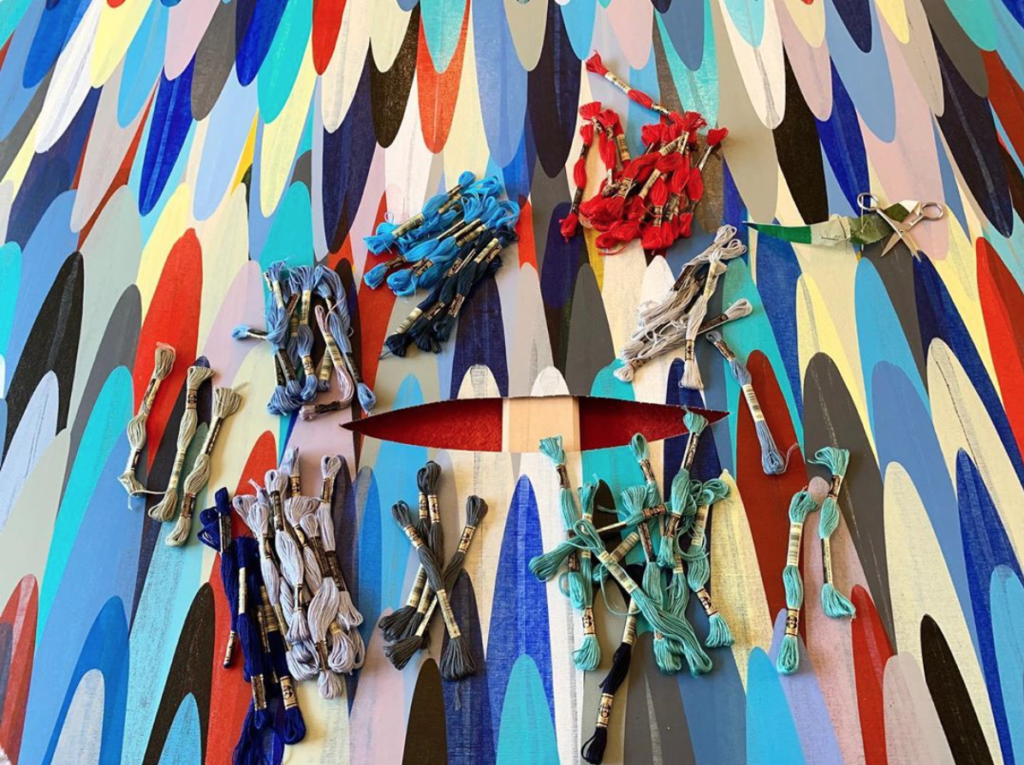 Can you describe your creative process?
RT: My process involves the use of acrylic and embroidery. I first paint at the studio, and finish the embroidery part at home. When I'm at the downtown studio I work on more that one piece. Usually listening music, or a podcast.
What I'm trying to do with my latest works is transform the written poems in visual poetry. Once I decide the title of the work I start to work on the color combinations on a sketchbook before doing it on the canvas. I don't leave much opportunity to chance.
I can see the palette of colors when I'm reading the poem, and I try to transfer those combinations I imagine in my head to the canvas.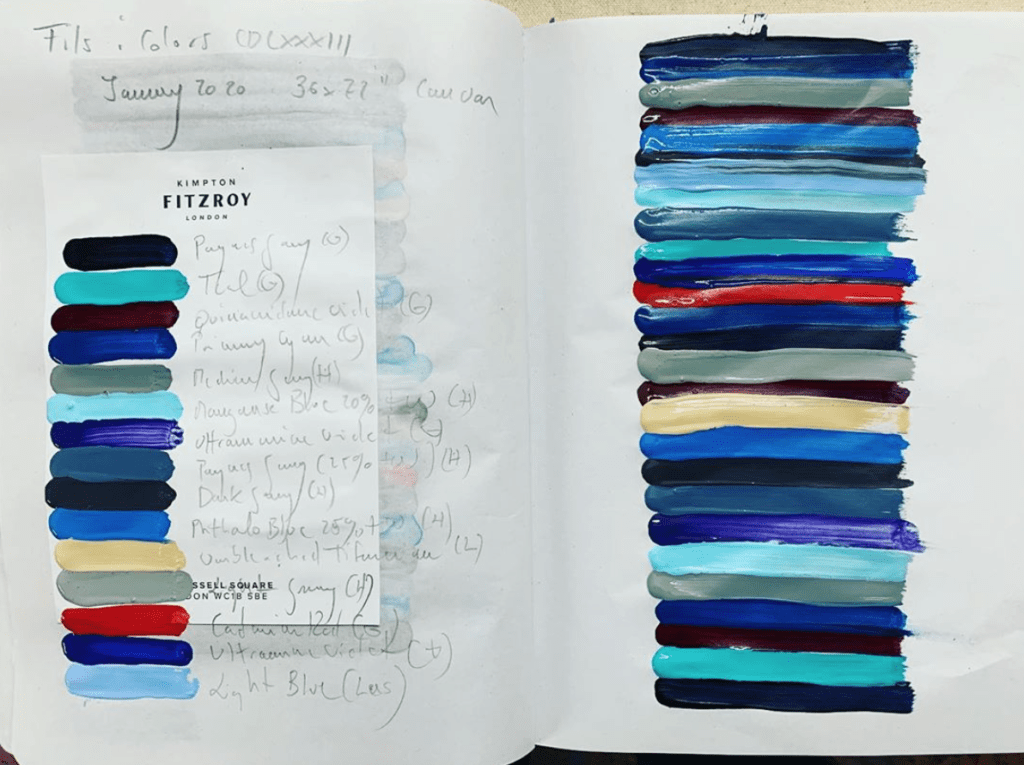 What do you like to do outside of creating art?
I love reading, learning new things. Lately I've been down the rabbit hole reading about the American Revolution. I love long walks. It's the first thing I do every day, walk for two hours. Traveling around the world with the family is another hobby.
View More Work | VLOG: Meet the Artist | Learn More