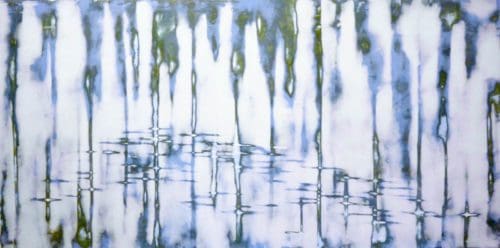 Los Angeles based artist Audra Weaser is known for her suggestive landscape pieces that focus on nature. Her abstracted scenes are full of layers of manipulation, adding and subtracting from a piece and leaving the viewer to question where it began. Weaser excavates her pieces to create an image of motion, an essence of what is unseen. She hopes to bring a moment of calm and self interpretation to her viewers. Her color choices form organic shapes reminiscent of watery landscapes, swampy bayous, forests, and clouds. Weaser's work reminds us that nature is larger than life, both in its scale and depth. Her process reveals intuitive accents, trusting that the core of her pieces will reintroduce themselves at the end.
In a conversation with our galleries, Audra Weaser gives us further insight regarding her artistic process and development as an artist.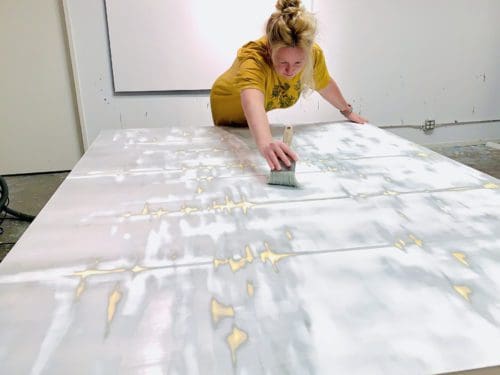 "I still refer back to those early childhood memories of vibrating waves, reflected sunlight and sand excavations in my own work." -Audra Weaser
Tell us about your background. When did you start creating art?
AW: I spent my childhood in Orange County known for its namesake orange groves,1970's tract homes, the Pacific Ocean and Disneyland. From the age of four, I started to "make things" from whatever I could find: drip paintings, block houses and particularly sand sculptures. I was obsessed with finding hidden treasures in the form of seashells and arranging them on the beach. Disneyland was my only reference for what commercial artists make to share creatively with the world at large, and it wasn't until I visited the Norton Simon Museum (where I later worked as an art preparer after graduate school) in Los Angeles that I came to understand and be inspired by "high art."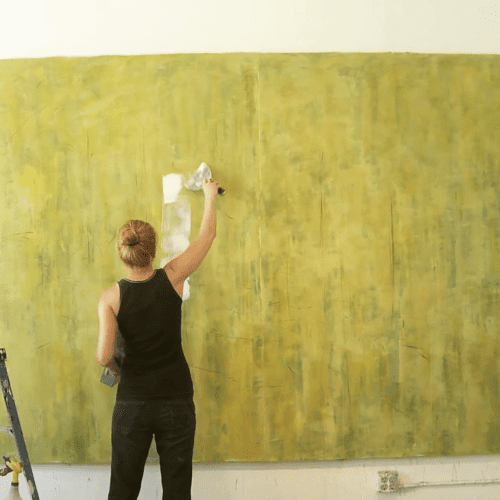 How has your work evolved over the years?
AW: My body of work out of art school was minimal white plaster wall sculptures: smooth, sanded shapes with an abstracted figurative reference that were quiet and austere. I then came to a point where I wanted to see more color and create a landscape with a suggested horizon. Over the last ten years, I've refined these landscapes with watery reflections and vibrations. But I've also continued to utilize a sanding or "excavating" process from my earlier sculptures.
How would you describe your studio?
AW: My studio is a bright white space with large storefront windows in an artists' compound. Since the 1970s it has housed painters, sculptures, glass artists and ceramicists. The combination of solitude and proximity to other artists as well as an industrial space in a quiet neighborhood with large oak trees works well for me.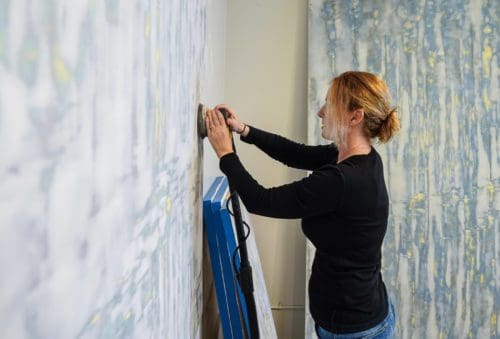 "Color is very visceral for me and often refers back to nature: calming "sea" blues, yellow-white rays of sunlight or forest greens. And I recently began incorporating metallic pigments that reflect the light and add dimension to my abstracted landscapes." -Audra Weaser
What do you hope viewers see in your work?
AW: What I like to see from my favorite artists: something that makes me pause, feel a certain "presence" and then travel in my mind to a place that resonates in a specific way.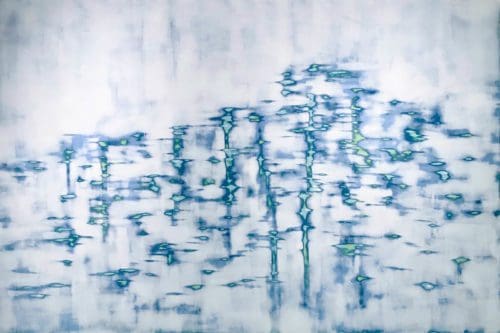 Visit one of our galleries to view our stunning and serene collection of Audra's work in person.
Audra Weaser: View More Work l On the Wall