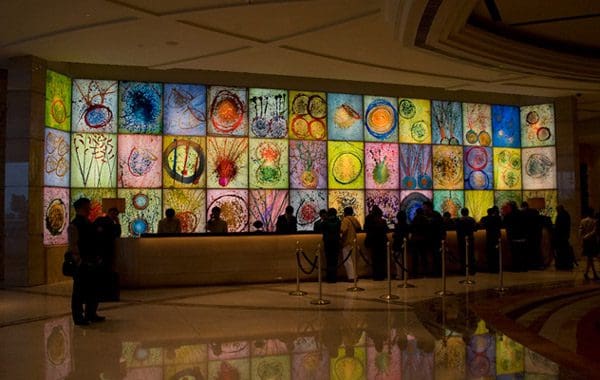 Chihuly started drawing after a car accident in the late 1970's left him blind in one eye. He gave up the physically demanding glass blowing and began drawing as a way to communicate his ideas with his team of glass blowers.
Chihuly's drawings have evolved over the years from black and white charcoal drawings to vibrant acrylic paintings on paper, acrylic and glass. Chihuly uses fluid acrylic paint in bottles to capture his movement and energy. He enjoys the spontaneous act of drawing. Chihuly's drawings have become a creative outlet that has helped him develop the ideas for his future glass sculptures. The drawings are now art themselves as seen in the installation of Chihuly's drawing wall in China.
"The drawings have given me a new freedom-if I can do it on paper, I can do it with the glass."
Like his glass sculptures, his works on paper exude a sense of life, boldness, immediacy and motion.
Chihuly Drawing Clip