Christopher Peter's work explores the relationship between ourselves and our surroundings. In his ethereal silhouette pieces, nature becomes one with the figure experiencing it. Incorporating unconventional materials—handmade papers, vintage roadmaps, and repurposed book pages—Peter's work is filled with organic texture and patterns that invite a closer look.
Learn more about the artist in our interview below, and make sure to check out our new arrivals!

How would you describe your studio?
My studio is a 500 square foot gallery space on the street level of a historic piano factory, and I'm surrounded by galleries, design showrooms, and clothing boutiques. There are four southern-facing windows and beautiful track lights that cut the mix of light perfectly, and this room is where I spend all of my time.
I typically work five days a week and the space is full of pieces that are just getting started, work in progress, work that's finished, and paintings that are packaged up and being shipped out.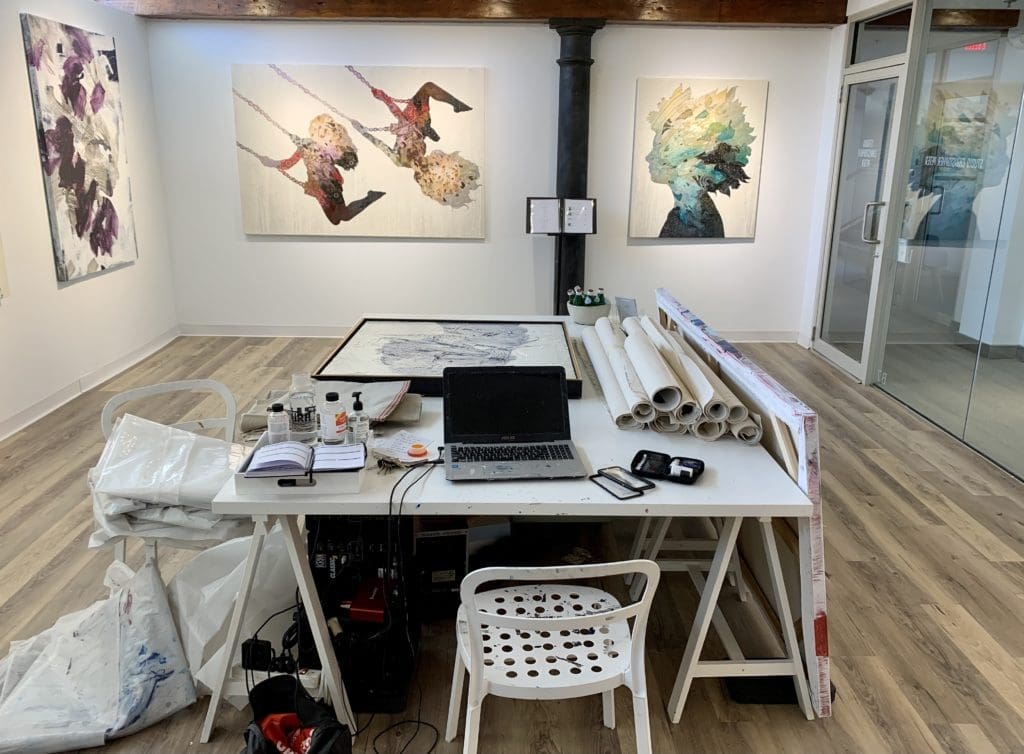 How does your studio space affect your process?
My studio space has shifted dramatically over the last few years, and my relationship to my space has certainly shifted depending on the situation! In the beginning I was working from home; starting out was a painting area in my bedroom and then the spare bedroom once I moved into a slightly larger apartment.
In 2018 I moved to New England and my studio expanded into a retail showroom in the Boston Design Center. Scale was no longer such a limiting factor; I hired an assistant and I was able to really refine the element of my practice that collaborates with professional design projects.
I recently got the opportunity to operate my studio in a gallery space in Sowa, which is the heart of the art and design district in Boston, and I've been thrilled with the results! I do private studio visits, wild First Friday event openings, and everything in between. I've even been able to host an arts-themed day care center where I make artwork together with the kids. It's been wonderful!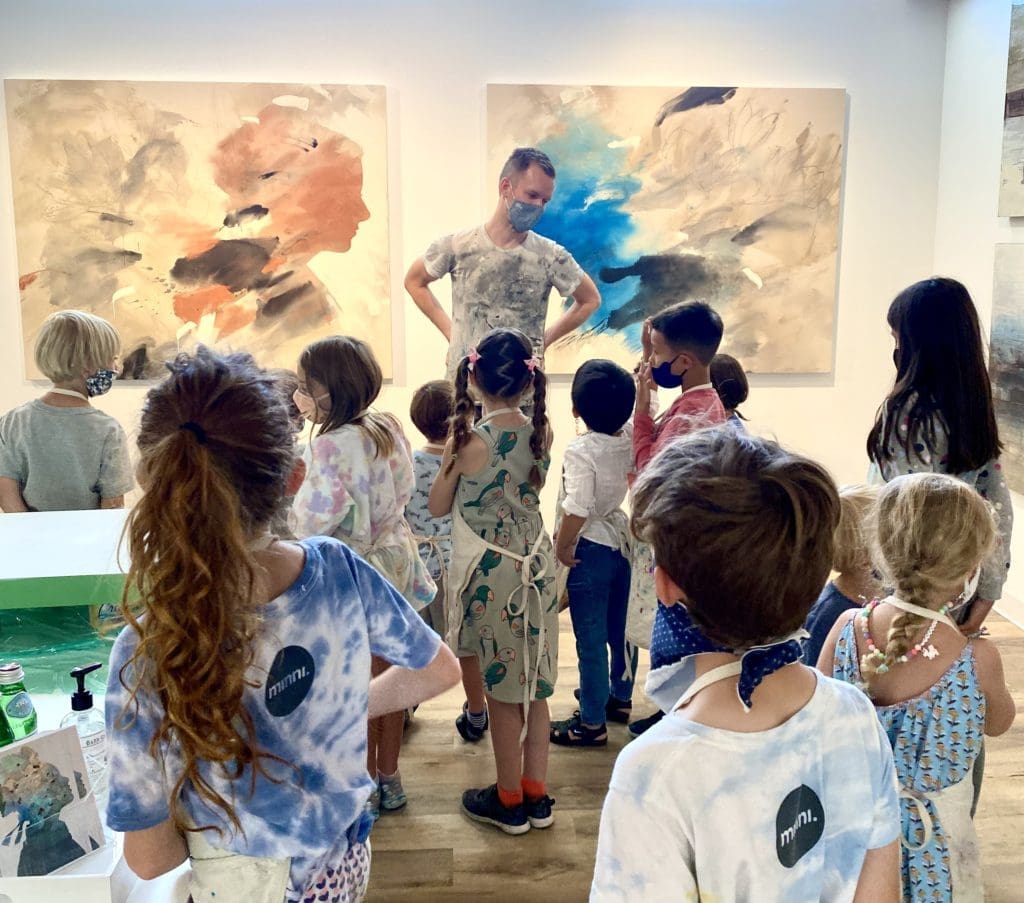 What does a typical day in the studio look like for you?
I live nearby and I ride my bicycle to the studio every day. I arrive between 8:30 and 9:00 and I change into my "work outfit" immediately and start painting. My work outfit gets a lot of comments… for me it's jeans, sneakers, a t-shirt, and a sweatshirt, all COMPLETELY covered in paint. It borders on ridiculous, but visitors love it and I get offers to buy my work clothes fairly often.
Each day is different, but I try to get in at least 8 hours of painting per day, and I listen to the public classical music station and lots of jazz. Chet Baker and Bill Evans are currently heavy in the rotation!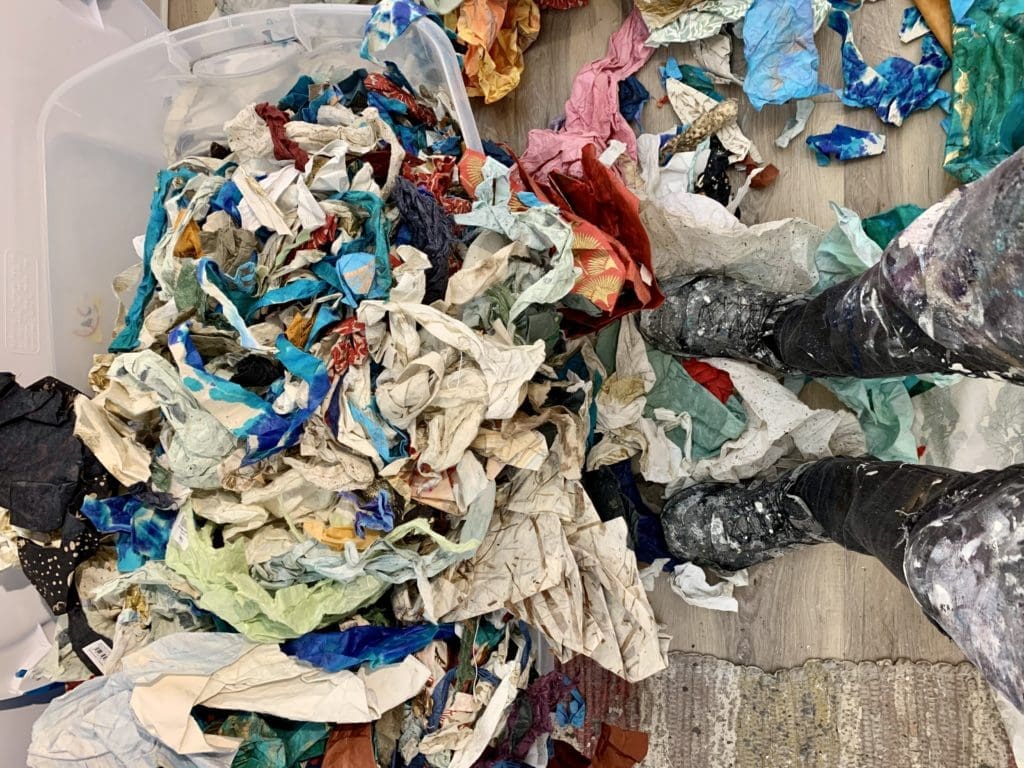 What inspires your color choices?
My color choices are made intuitively based on the piece, and Boston comes fully into bloom in the Spring and the colors of the flowers in the neighborhoods influences those choices as well.
If I'm working on a commission piece, I love the opportunity to collaborate with designers and clients on their vision for their spaces and what will be perfect just for them. So on my desk right now are swatches from the Holly Hunt and Phillip Jeffries showrooms and I'm incorporating those colorways into pieces for specific projects using those fabrics.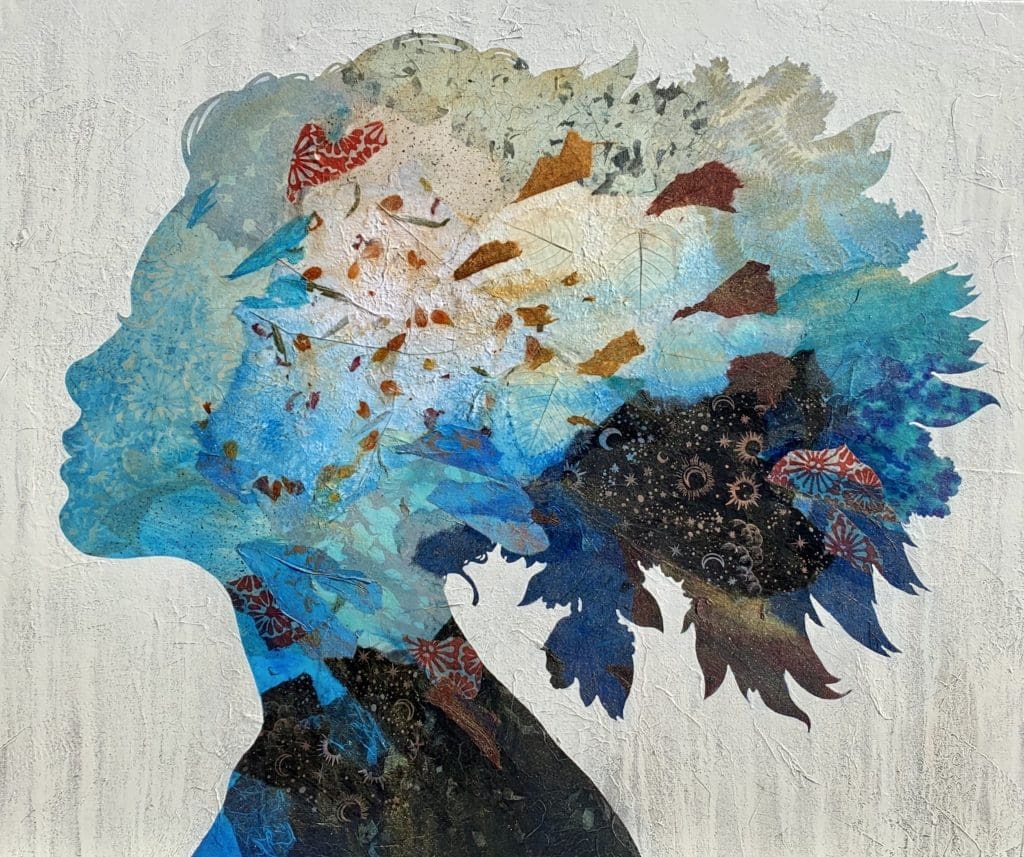 View more work by Christopher Peter.