Working with dyed papers, cyanotypes, and other hand cut materials, Deborah Weiss puts a contemporary spin on traditional botanical drawings. Learn more about her process and inspiration below.
How do you describe your work?
My work is a contemporary interpretation of historic botanical illustrations. Aside from being visually alluring, botanical works of the past were intended to be scientifically accurate. The botanical collages that I create are intended to be visually engaging with a nod to existing species.
I choose to focus on silhouettes and unique color palettes. As the work progresses I am also including vintage papers, cancelled postage stamps and antique books/pages. This has added an "imagined" provenance and narrative quality to the work.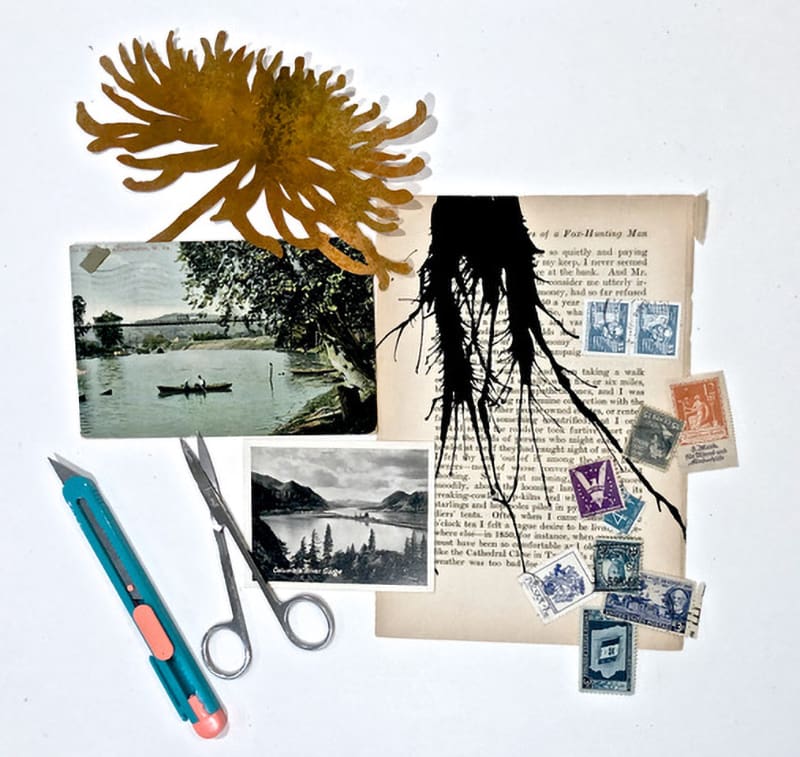 Where do you acquire all of your different collage materials?
My collage materials are for the most part self generated. I dye and paint light weight Asian style papers with inks and gouache.
The Evening Blooms Series include cyanotype papers that I have created. Cyanotype is a simple photographic process that uses natural (UV) light for exposure.Two chemicals (Potassium Fericyanide and Ferric ammonium citrate) are combined in equal measure and painted onto paper. Botanical material is then placed onto the chemically treated paper and exposed to sunlight. After rinsing the paper, the resulting imagery is a variety of blue and blue/green shades with the botanicals appearing as white. Sometimes, I will include vintage papers that are sourced from book sales, flea markets and antique stores.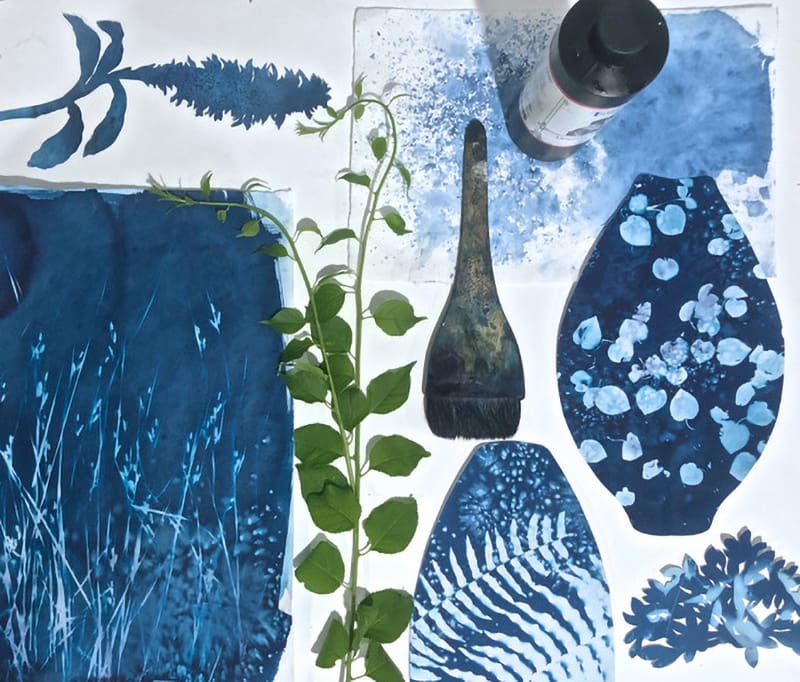 Can you take us through your creative process?
Aside from creating the botanical works on paper, I am also a painter. If I am working on the Blooms collage series, I would usually spend time at the beginning of the week painting and dying papers. Once I am certain I have the range of colors I need, I will start to cut out the botanical shapes. I usually work on several compositions at once (up to 4 or 5). This allows me to move the botanical shapes around until I have found the right relationship of balance, color, and textures.
The final step is to adhere the cut botanicals to Fabriano Hot Press paper. This is the most time consuming and delicate part of the process. Viewers often remark on the challenging aspect of cutting, however it is the gluing process that is the most demanding.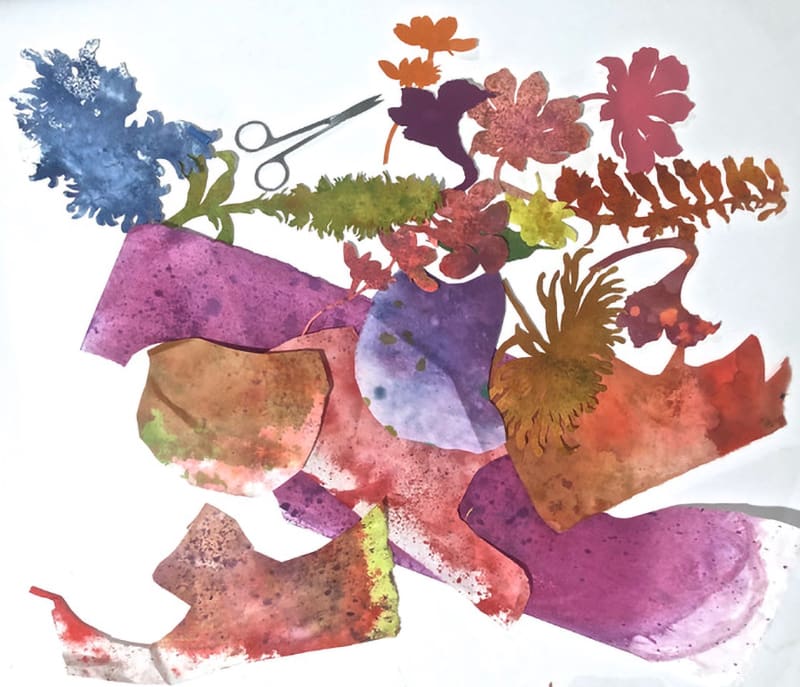 What do you hope viewers see in your work?
It is my hope that viewers enjoy the work based on their own experiences in the natural world. I know that sometimes there is a focus on the technical "how to" of the work and that is fine also. One of my intensions with the Blooms Series is to bring the "outside in" and offer a garden experience all year long….after all these cut botanical collages are everlasting!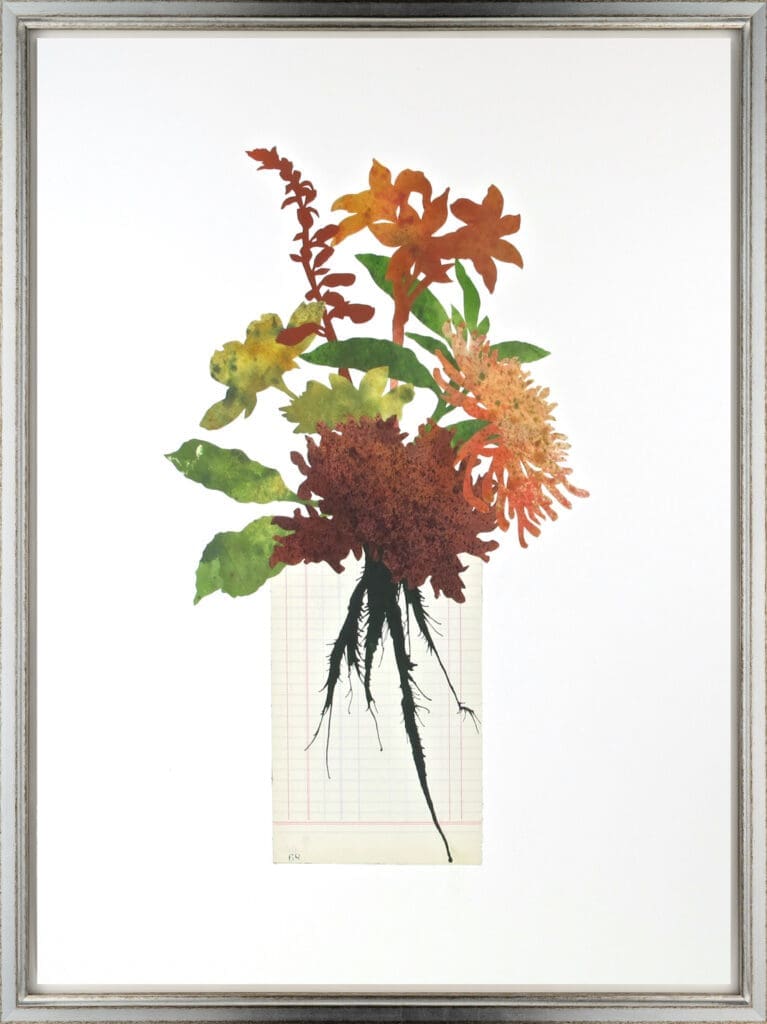 View more work by Deborah Weiss.