Hunt Slonem's paintings of bunnies, birds, and butterflies have been exhibited in museums and galleries all over the world. One of the elements that makes his work distinctive is the symbolism behind it, influenced by Slonem's travels and spiritual beliefs. Read our conversation below with the colorful artist to learn more about his inspiration and process.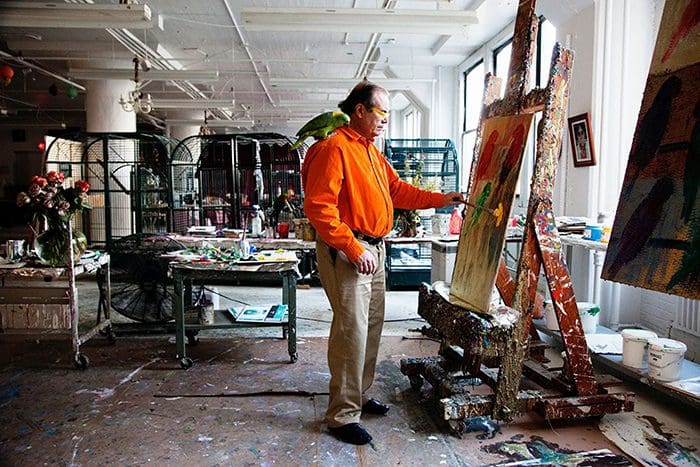 What's your favorite thing to do when you're not painting?
HS: Spend time in my historic homes and work on them. And place antiques and furniture that I've purchased to fill them up.


What was it like being a part of the New York art scene in the 1970's?
HS: I moved to New York in 1973, and it was very lively. It was a very vibrant, exciting time—there was a lot of nightlife and fashion. The art world was not as big as it is now. There weren't as many major galleries; artists interacted a lot. It was just a very interactive, crazy period of time. We stayed out late, went to millions of openings. Just trying to get my feet on the ground was hard, but interesting. There were many worlds at that time. It was a great education.


How did that time period influence your work?
HS: Everything influences my work. The energy of New York is the main influence I would say—I don't feel it anywhere else in the world. And everything comes here, which is great. 
There are so many influences it's just unbelievable. You know I'm a painter, but there's also an installation aspect to what I do in my houses. My saving of historic homes has become like an installation project—actually a part of my art.
I've always had a travel component to what I do. In my travels I've come up with new themes in my work. Haiti, the Philippines, India was a big influence, Japan, Norway, Sweden, Spain—you name it. My life has been extremely colorful, and filled with meeting great people. I'm just constantly surrounded by inspiration.
I've created my unique little ecosystem in my loft—I have 40 or 50 pet parrots, I have gardens. I've kind of liked the idea of the conservatory. People say, "Why are you doing that in New York?" Well, why did Russo do it in Paris? You can do whatever you want.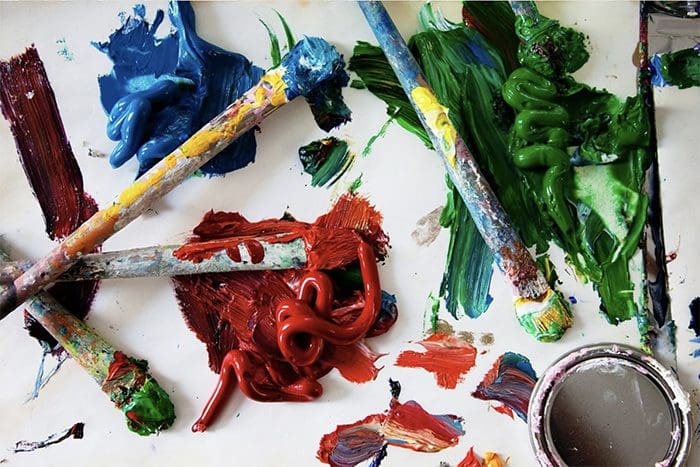 Describe your process—what does a typical day in the studio look like for you?
HS: Well I live in the city, and I come in every morning. I walk in, change my clothes, and start painting. Then we have meetings, about shipping and commissions and preparing materials for the next project. Currently I'm working on a 28 ft. sculpture in metal in Louisiana, which I'm going to work on Saturday after my opening in New Orleans.
I'm either in the studio till late at night, or many nights I have to go out to a dinner. Lots of stuff to do in New York, just endless activities, so I often leave around 6:30, 7 for a dinner or engagement, or whatever it is. I do a lot of charity things. I'm just working all day.
I have lots of visitors. Today I had Manhattan Magazine here to do a shoot; tomorrow I have the New York Housewives coming to film Bethany choosing a painting of mine. The Kardashians want my work…many Hollywood people have. What else? Next question…
Mysticism plays a large role in your work. How did your interest in mysticism come about?
HS: It just came by osmosis. I grew up a bit in Hawaii; there was just such intense spirituality surrounding me all the time, and I had birds and raised orchids as a child. I went to everything from Kamehameha festivals to the Bon Dori dances of Japan. I mean it's just like India—you just breathe spirituality, so it's kind of been a part of my life from an early age.
I visited Japan and the temples, and the great buddha of Kamakuru in the 60's with my family. We also went to Quebec, and I visited the shrine of Sainte-Anne-de-Beaupre. I almost died 12 years ago, and the nurses gave me the card of Sainte-Anne-de-Beaupre—it really almost saved my life. I just remember the crutches hanging and all the miracles that had occurred surrounding that place. I have followed Indian spiritual saints, too. I'm now with Mother Meera, a born avatar, who's in Germany. I go see her many times a year. 
I work with healers a lot—energy workers—and we've done clearings in some of the historic homes. So I'm a total believer. I'm never really depressed; I have such a strong inner faith, which keeps me going! I hear from other people that my work brings them a lot of joy and that remarkable experiences have happened to them. I love to have my work in hospitals to uplift people.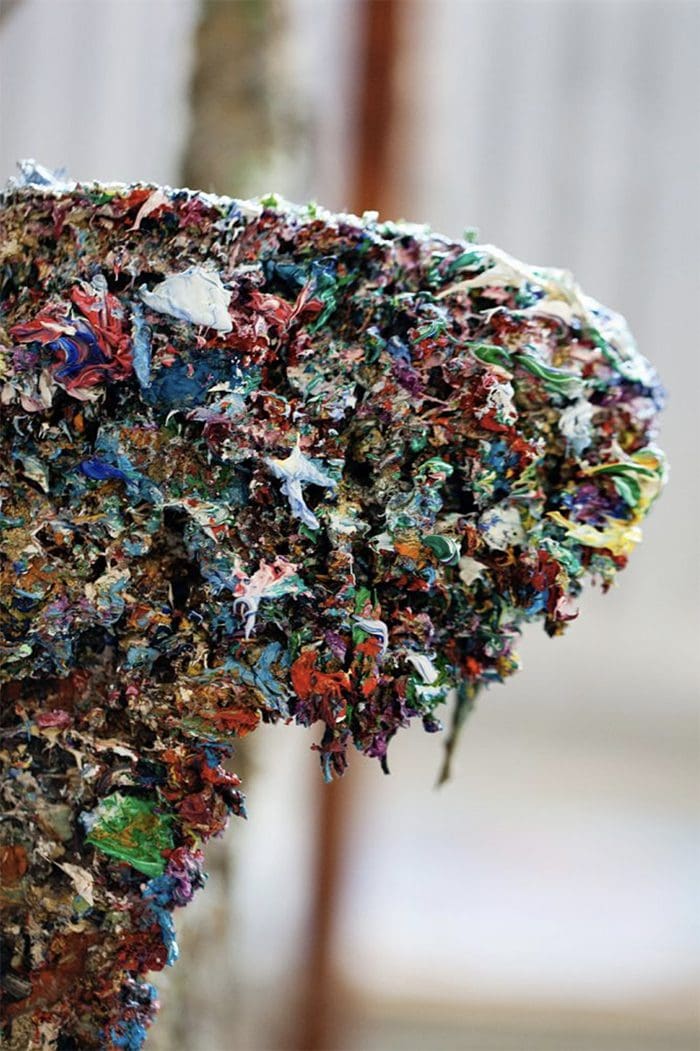 What do you hope others see in your work?
HS: I don't hope anything—hope implies doubt, so that would imply that they see nothing. I just want them to experience the joy and healing that can come through the work. It's a difficult age we live in. I refer to the exoticism and extraordinary beauty of nature and its myriad forms, great beings that have made great painters on our planet, and saints.
The rabbit has kind of entered my work in a big way, which is about luck and prosperity, and about productivity and reproduction. I see the repeat message in my work as like saying a rosary or a japa mala, and repeating a mantra of some sort. People in altered states see things that just amaze me. My paintings actually talk to people a lot, in a spiritual way. Actually, there are messages that come through in art sessions with my energy people, so it's on many levels. 
I like mixing my work with antiquities and adding a time travel element to it. And I like the idea of the studio as the art form—they're all works of art in themselves.


---
View our lookbook of Hunt Slonem's paintings, or visit one of our galleries to see his work in person.