A wide range of new works has arrived from Hunt Slonem's studio and we are so excited to share a few recent paintings from this iconic artist. The hand-selected, gilded antique frames, use of glittering Diamond Dust, and the magnificence of an aviary have dazzled and delighted our three galleries. Read on to see more of what's been recently uncrated.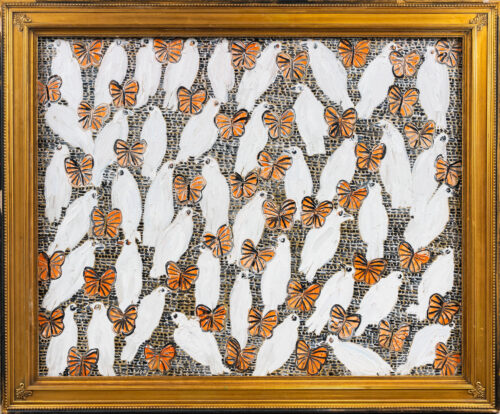 Peace Plan Now
Inspired by his 60 pet birds, Slonem often paints figures from his flock. In this stunning work, he hit the trifecta: birds, butterflies, and a beautiful antique gold frame. As can be seen, the crisp, white birds and the background's neutral tones balance the vibrancy of the Monarch butterflies. With a playful use of space and enticing details, this large-scale work is even more impactful in person.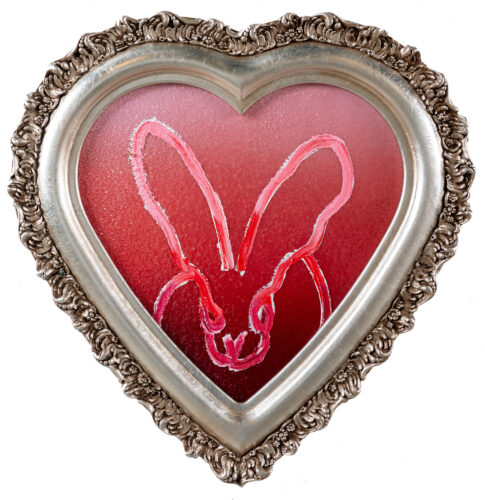 Savannah
Looking for a statement piece? Adding to a maximalist gallery wall? This glitzy heart-shaped bunny portrait is sure to stand out and make an impression. Slonem's use of Diamond Dust in the ombre background heightens the sense of glamour as the sparkling, captured light evokes all the luster of a ruby.
Shiva
In addition to being the first of its kind at Merritt Gallery, this painted peacock has certainly enamored us with its darker color palette and technical splendor. The thick oil paint swirls together thoughtful jewel tones for a mesmerizing, radiant effect. Lush blues and greens are accented with careful touches of white and yellow to highlight this regal display of feathers and plumage.
Learn more about Hunt Slonem or browse additional work.