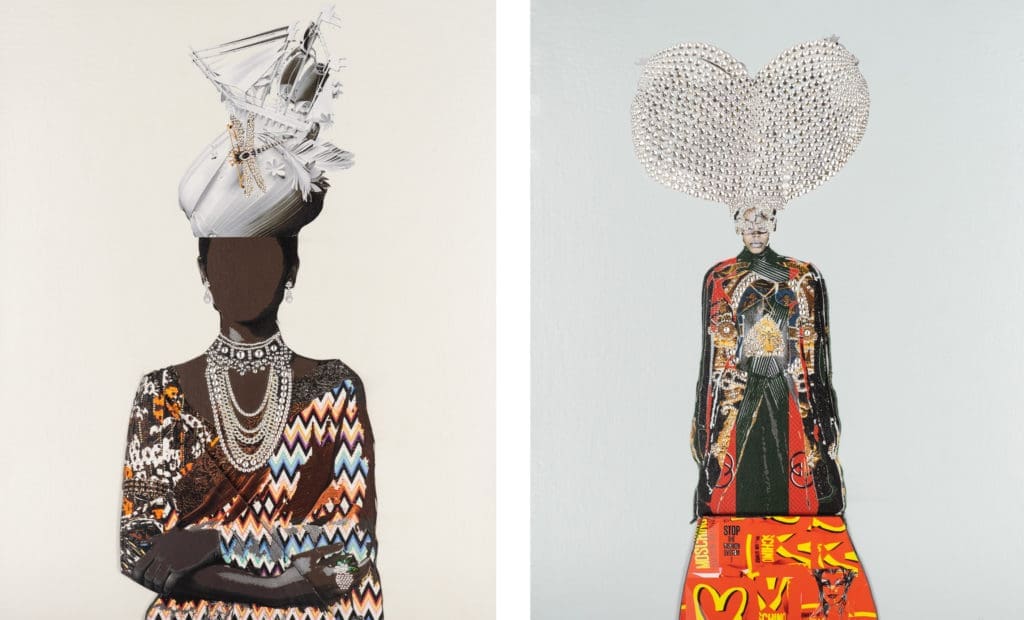 Heads of State by Gavin Benjamin
These are just two of many new pieces from Gavin Benjamin's Heads of State series. Benjamin's collages are an ode to pop culture—striking figures adorned with elements of fashion, media, and politics. Heads of State No. 39 incorporates imagery from Moschino's playfully irreverent McDonald's fashion collection.
Both works catch your eye with their dimensional rhinestone accents, avant-garde headdresses, and empowered poses. We love the understated neutral backgrounds in these two pieces, as well as the more ornate Kehinde Wiley-esque backgrounds in some of the others.
Take a look inside Benjamin's studio and get a closer view of the sparkle and dimension in his latest works:
View this post on Instagram
Vintage Bouquet 1 by Emily Filler
In Vintage Bouquet 1, Emily Filler balances whimsy with structure to create a vibrant, effervescent composition. The flowers in her work are photographed in her father's garden and then screen printed in vibrant colors. Filler began silkscreening canvas after attending a Warhol exhibition, which later evolved into cutting the prints up and painting on top of them to add her own spin.
Filler combines a variety of materials in her work: fabric, images from books and magazines, and the her own photography. This behind the scenes shot shows the beautiful chaos that happens in her studio:
View this post on Instagram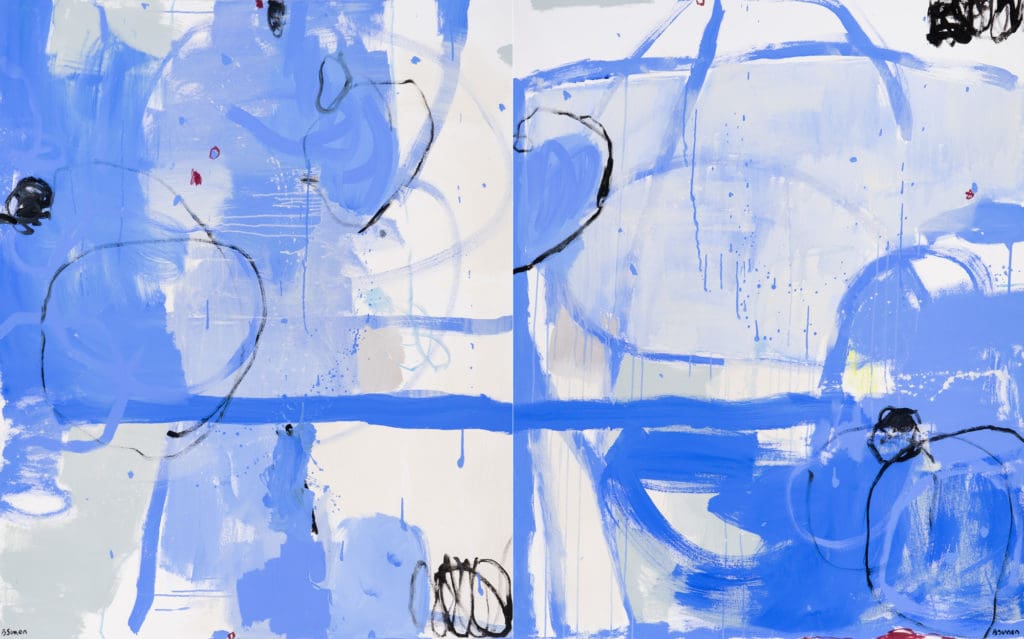 Blue 1 and Blue II by Beatriz Simon
Beatriz Simon's process is spontaneous and intuitive, allowing inspiration to flow through her through drips, gestural marks, expressive strokes of color. In person, the large-scale pair Blue I and Blue II surround you with peaceful cerulean. These pieces can stand on their own or be displayed as a diptych.
"My studio is a very special place full of inspiration. It invites meditation for the silence, light and the smell of art materials." Catch a glimpse of Simon's beautiful studio:
View this post on Instagram