This boho
-chic dining room calls for an eye-catching statement piece that will pop against the dramatic wall color. Take a peak at the three works I have selected as possibilities for this beautiful and eclectic space! Which one catches YOUR eye?
–Patricia
Mark Beck | Land of Cotton
Mark Beck's Land of Cotton has a powerful presence in this room. The figure is beautiful and commands your attention, but she also has a deeper story to tell. Inspired by a book he read—The Half Has Never Been Told: Slavery and the Making of American Capitalism—Beck weaves together a narrative about black Americans and their role in shaping our economy. I think the dining room is the perfect spot for a thought-provoking piece that's sure to start a conversation.
Mark Beck: View More Work | On the Wall
Dennis Campay | Three Divas
Dennis Campay is always an avid storyteller. His dynamic cityscape Three Divas offers so many interesting details to take in, from the statues in the foreground to the sailboats in the back. Campay's lively, gestural style harmonizes perfectly with the eclectic decor.
Dennis Campay: View More Work | Inside the Studio | On the Wall
Matt Devine | Leland #2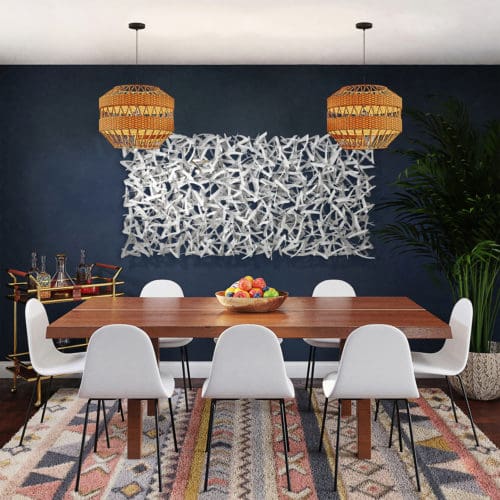 Matt Devine's wall sculpture Leland #2 pops on the wall and adds a dimensional element to the space. The piece is inspired by modernist sculptor and architect Malcolm Leland, who was a mentor to Devine. There's a singular gold element within the interlaced white metal, picking up the subtle gold details in the table and bar cart! Can you see it?
Matt Devine: View More Work | Inside the Studio | On the Wall