Not just a painter, but also an Emmy award winning documentary filmmaker, David Skillicorn has dazzled clients with his textured and colorful abstract work for years. Within his ever-evolving style remains a common theme: nature. Skillicorn paintings are not simply based off the nature that he sees, but rather the experiences of the natural world that are a part of him.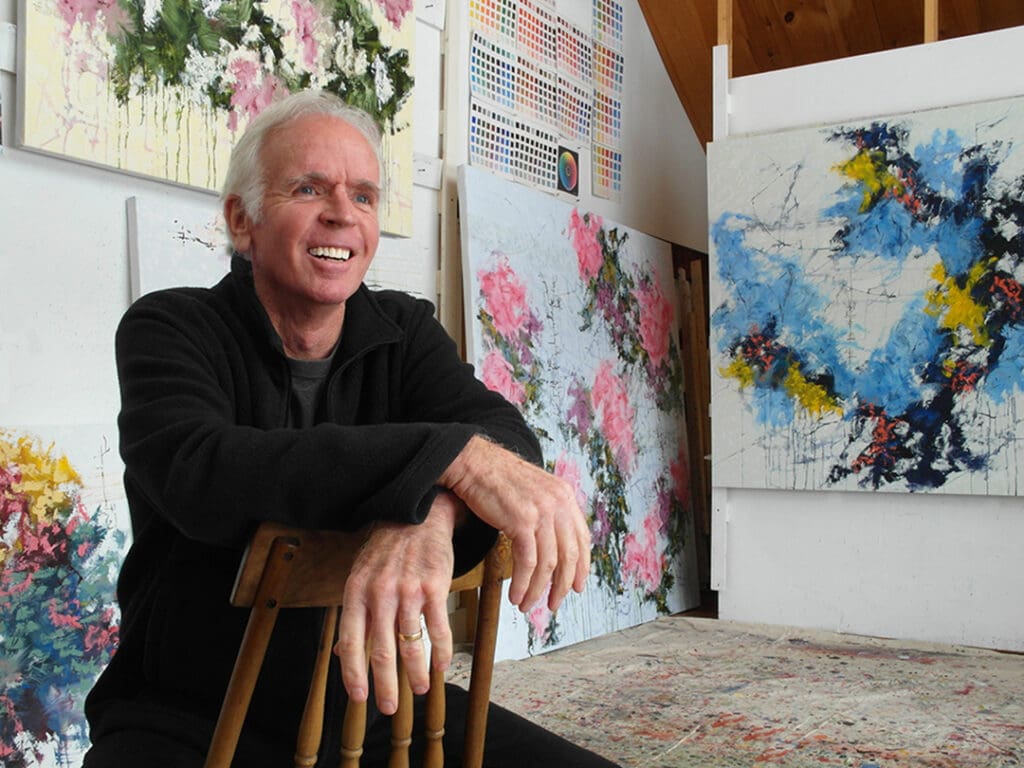 "There is no question, Nature, with a capital N, is by far the best art of all. Infinite in variety, detail and interest, never ending, always changing."
Tell us about your background. When did you start creating art?
I had a long and extraordinary career making documentaries for television, traveling all over the world and having more amazing adventures than I can even remember at this point. But like many things, after twenty-five years I sort of felt like I'd "been there, done that", and just wasn't feeling the "juice" anymore.
Then one day I was filming a documentary about artists on Cape Cod and met up with a master painter out on the dunes of Wellfleet at dawn. Having literally no inkling, knowledge or interest really in painting myself up until that moment, I literally had an epiphany looking over this artist's shoulder as he created "magic" on canvas right before my eyes. It was amazing! I knew in that instant that I had to become a painter, even though I had no clue where to even begin! And so I did, one step in front of the other, day after day, year after year, and I've never looked back.
Now after more than twenty years painting, I can also say, there is no end in sight, and the challenge and interest for me is as fresh as the first canvas I ever attempted.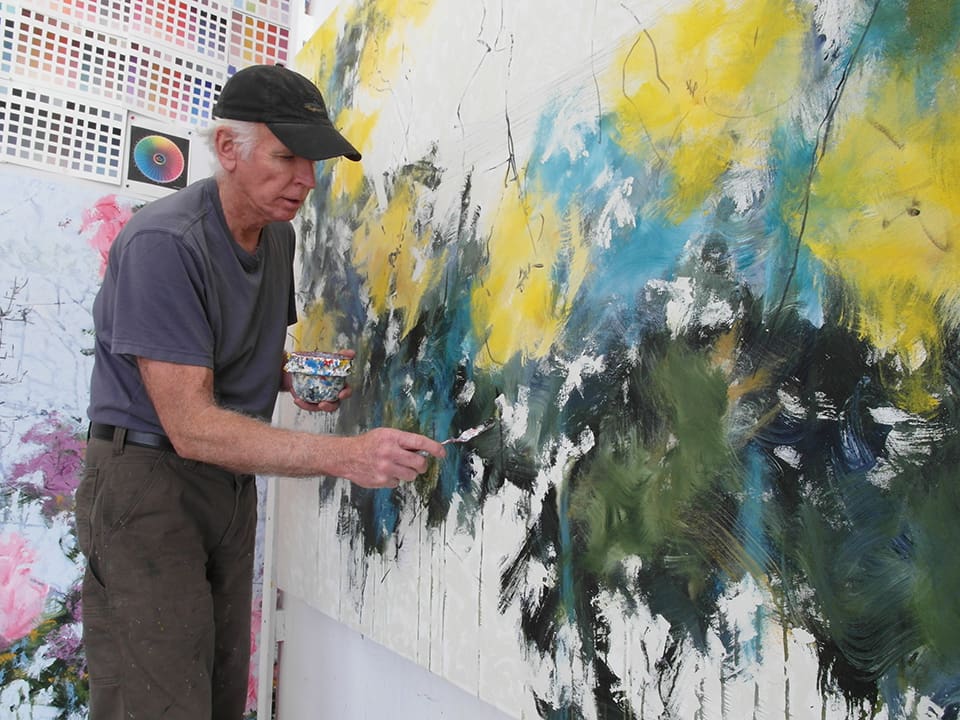 Describe your creative process.
I would say that I "channel" intuition and "discover" painting along the way more than I "make" it.
Having said that, there are certainly parameters and techniques I've established through trial and error and often years of exploration in any given series I do, but all of those "techniques" are just baked into the DNA now. I don't think about them literally while I'm working, they are just there to use, like breathing in a way. The literal mechanics of taking a breath just happens automatically, we don't think about it as we go along. So when I'm painting, far far and away intuition and feeling are the driving forces in the creation of the work. I want to be surprised and delighted with the result.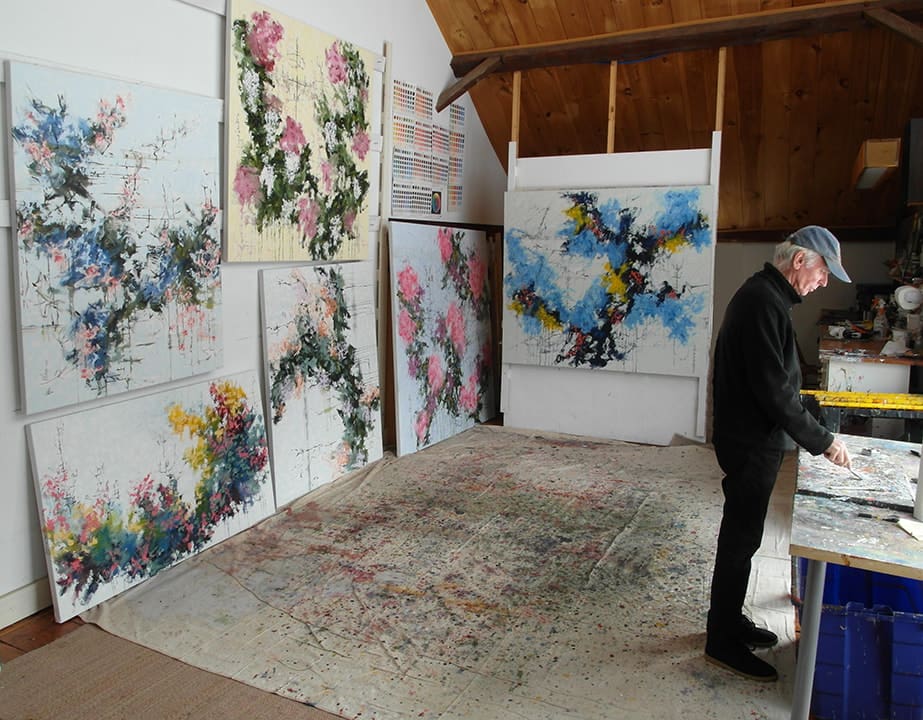 What is your studio space like, and how does it affect your process?
I am fortunate enough to live in a large 1840's Victorian house in a small New England village, which often seems more aligned with the pace and sensibility of the 19th century than anything else.
My studio is on the second floor of an old three story barn attached to the house. It's all old wood, has a soaring ceiling and a wall of windows facing out to our gardens, meadows and the pond beyond. Needless to say, it is a soulful and peaceful space to clear the mind and open up to creating new work.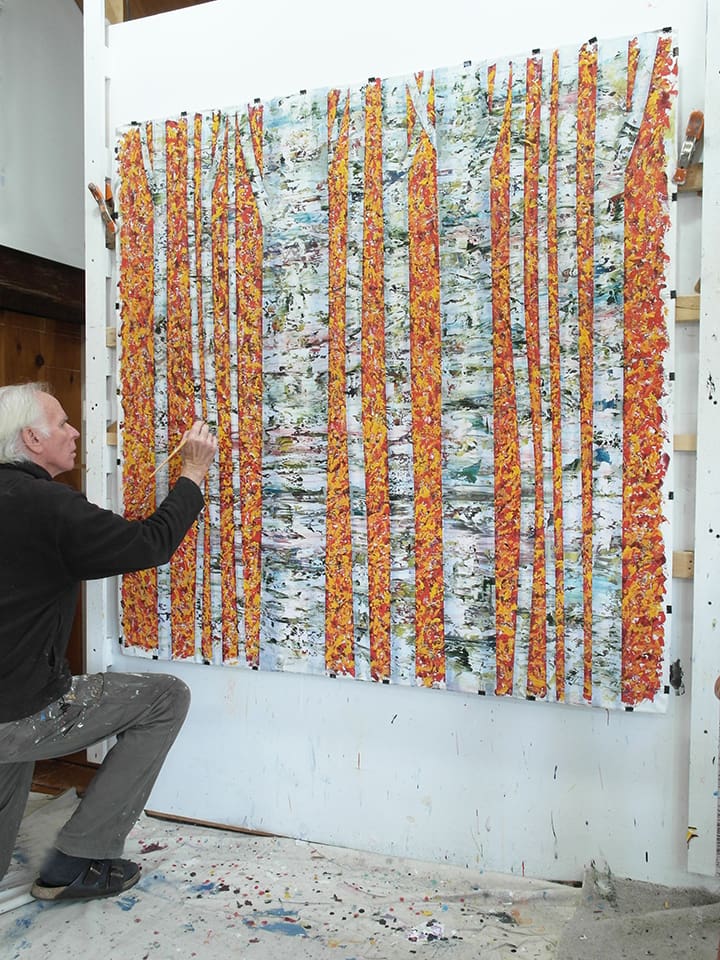 Can you tell us a bit about the inspiration behind the Botanica and Nel Bosco series?
There is no question, Nature, with a capital N, is by far the best art of all. Infinite in variety, detail and interest, never ending, always changing. What all artists attempt to do, pales in comparison. While my work is abstract and intuition driven, how could I not be deeply influenced by the natural world? The view from my studio itself is full of nuance and ever evolving interest, all of the time.
The Nel Bosco and Botánica paintings are clearly nature based works referencing trees and flowers, etc. While I do not literally look at a tree or flower, and try to render them abstractly, ALL of those images and my experiences of the natural world are within me. They come out as they do, entirely intuitively.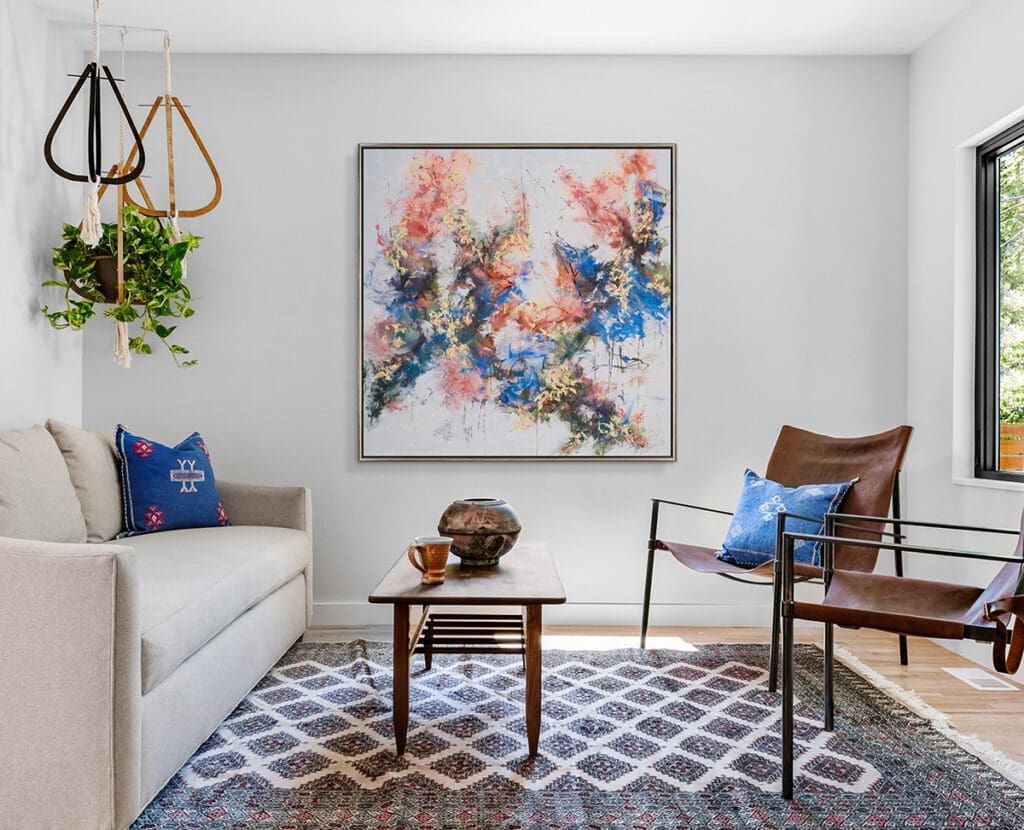 What do you hope viewers see in your work?
For me, the paintings I make are not "about" something, or art "objects" per se, as much as they are an opportunity to set in motion the imagination of the viewer and perhaps trigger an emotional response. I hope that the paintings have a sense of presence about them which can bring a bit of feeling or soul into the space they end up in. Something intangible that is felt viscerally, even in a small way, each and every time one looks at it.
That is the hope, and it's a prospect worth shooting for each and every time I start a painting.
More from David Skillicorn:
View our current selection of work.
Explore additional blogs, videos, and installation photos.