We've all heard the saying "art imitates life," but more often art imitates art. Art is referential, and almost any contemporary piece you see will have some sort of reference to art history. The colorful, abstract piece on your wall could have references to something made over a century ago!
Here are some stand-outs from our collection, and the masterpieces they remind us of.
Monet / Gersten

While these paintings are stylistically very different, the feelings they evoke within the viewer are the same – a sense of tranquility and nostalgia. Gersten's beachscape has a photorealistic quality to it, suggesting that you're looking at an old family photo. Monet's has more of a painterly look, but the subjects still feel like they could be one's family. Although one piece is in color and the other in greyscale, they both bring a feeling of warmth and a longing for summer.
See more of Geoffrey Gersten's nostalgic figurative works here. 
Giacometti / Hansen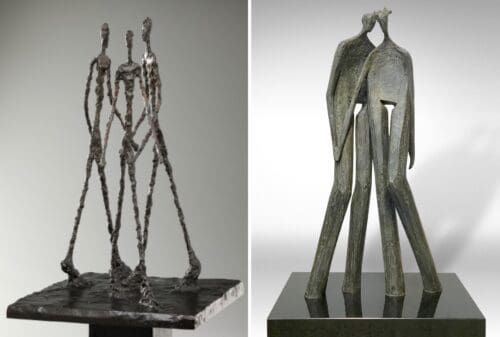 Made roughly 70 years apart, both of these bronze sculptures feature elongated figures interacting with one another. Giacometti's figures are a bit rough around the edges, giving them a more chaotic, almost confrontational feeling. Hansen's figures are much smoother, exhibiting a peaceful and harmonious quality in their interaction. 
Click here to see more of our masterful sculptures by JD Hansen.
Frankenthaler / Masterpol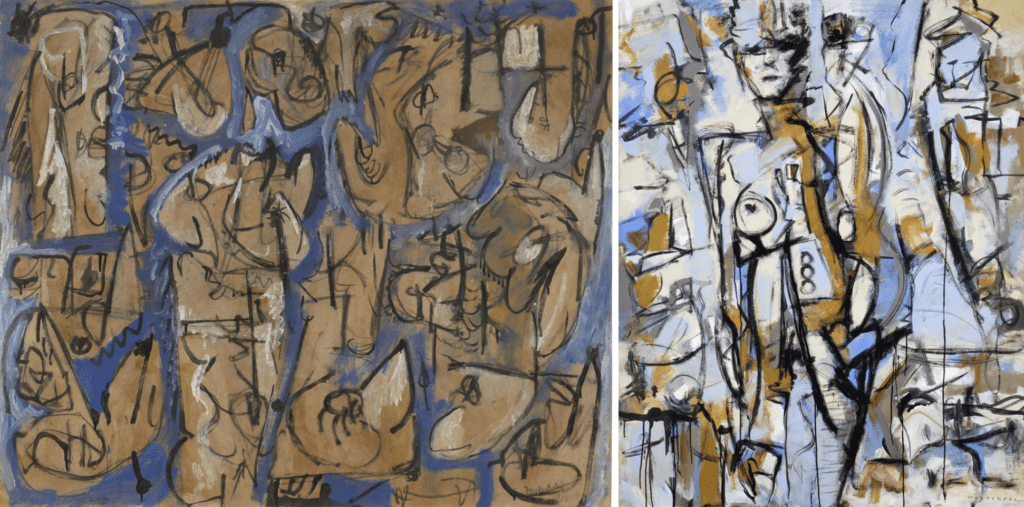 Although made decades apart, these two pieces tell a very similar color story. Both Frankenthaler and Masterpol have placed various shades of blue next to a neutral sepia, giving each piece striking contrast. Frankenthaler's forms seem to be purely organic, while Masterpol's have hints of representation to be found – such as the feminine form that this piece is named after. Both artists carve into their composition with powerful brushstrokes of black. 
See more of Rose Masterpol's intriguing compositions here.
Next time you are admiring the art on your walls, take a moment to consider what came before it and what made it possible!
---
Image Sources: National Gallery London, Dallas Museum of Art, Helen Frankenthaler Foundation