Tying the Knot? Celebrating an anniversary? You've planned the big day down to the minute. Why not invest in the preservation of those precious memories? Protect your wedding-related keepsakes with custom framing! 
Many cultures have marital traditions with tangible treasures. Read on below to see options for enshrining a precious memory. 
Ketubah
For thousands of years, Jewish weddings have incorporated these marital contracts as a key element of the nuptial process. While the bridal couple is required to review the document with their Rabbi and sign it ahead of time, the document is later read as part of the wedding ceremony and often displayed during the reception.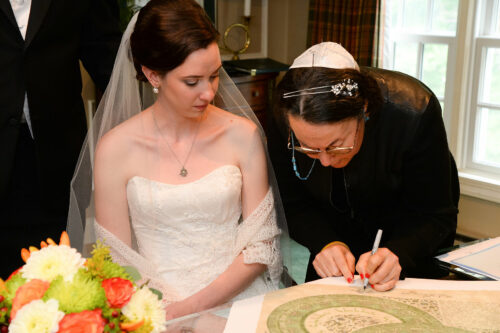 As many Ketubot are hand-crafted, they should be treated as works of art and framed using archival materials. Important documents like this also benefit greatly from anti-reflection acrylic or glass, to eliminate glare and UV damage as well as to maintain readability. Ensure the longevity of your Ketubah as quickly as possible to prevent damaging this precious contract.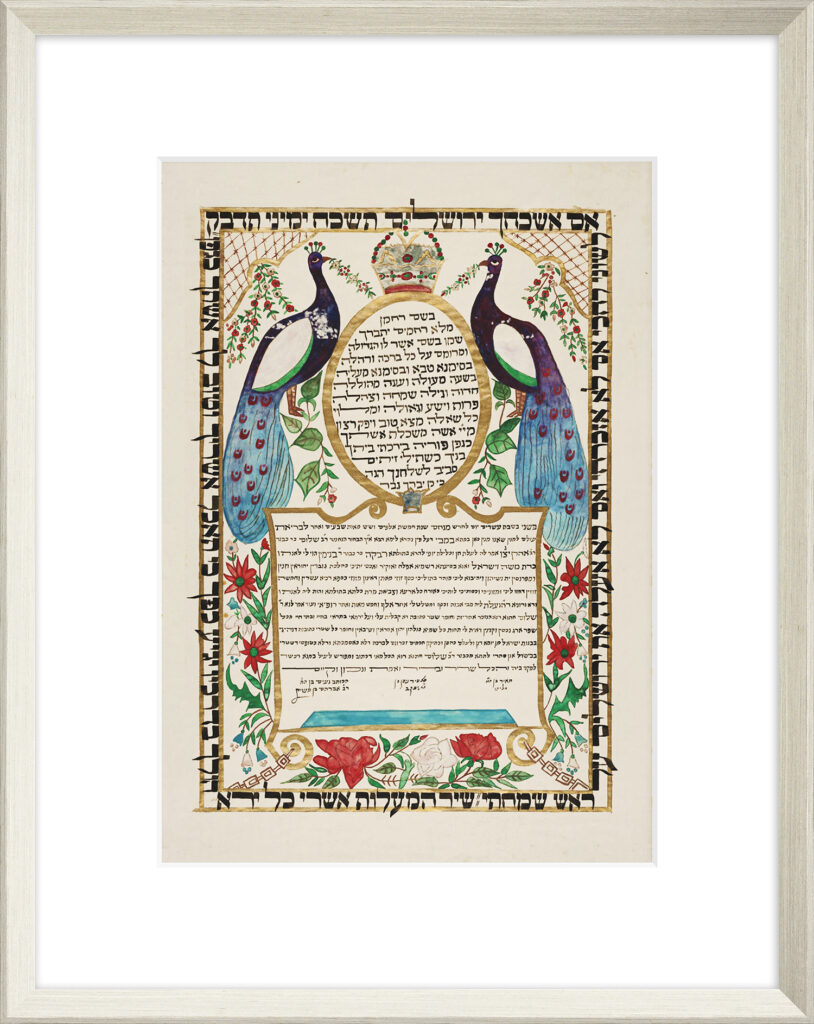 Select your mat and frame options ahead of the signature ceremony. We can mount your ketubah with a mat for a polished look to display at the reception (Mazel tov!), and then return it to our shop to add the glass and fit into a custom frame while you're away for the honeymoon. Our custom frame shop has decades of experience accommodating such traditions and would be pleased to help make your day that much more special and seamless.
Hand-Fasting Cords
Hand-fasting is an ancient Celtic tradition that celebrates the unification of the Bride and Groom by binding their hands with cords. This is where the expression "tying the knot" comes from! While the materials for the cords can vary—sometimes they're braided ribbons, sometimes they're placed by parents or witnesses—most traditions hold that it is bad luck to ever untangle the knot created during the ceremony. Recently, we helped frame a set of hand-fasting cords along with the wedding invitations and photos for a custom keepsake shadowbox.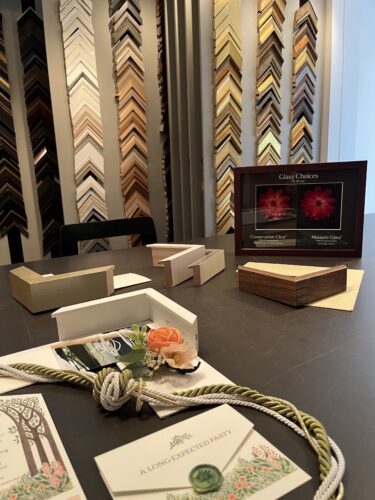 As pictured, we played around with mat and framing options that would complement the color scheme of the invitations. But in the end the client selected a white fabric backing coupled with a clean white cap frame to allow the items to be the focal point. Additionally, the inclusion of the invitation suite also created a more engaging composition, allowing the cords to be a dynamic centerpiece that ties it all together.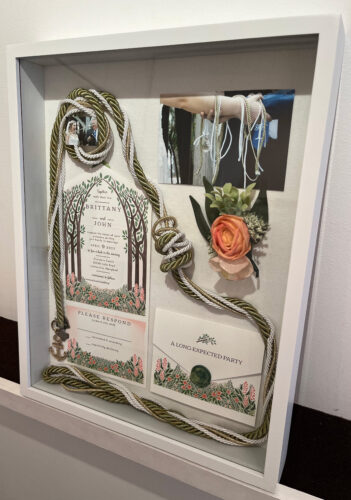 Need more Inspiration?
Preserve your mementos from the wedding celebrations with framing that compliments and safeguards the items. Here are a few more ideas of what you could save with custom framing solutions:
Marriage License
Handwritten vows
Pressed or preserved flowers
Invitation suite
Photographs
Menus, ceremony programs, table markers, signage, etc.