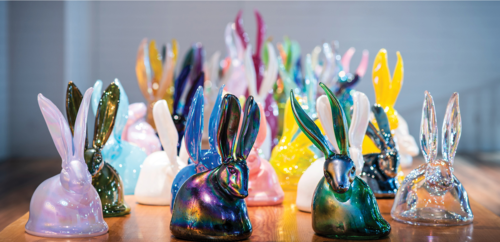 After 50 years of painting, Hunt Slonem is re-envisioning his bunny muses in exciting new three-dimensional forms: hand-blown glass and bronze. Born in the Zodiac Year of the Rabbit, Slonem's creates his bunnies as a visual manifestation of his sense of play and whimsy. Here at the gallery, we are hopping with excitement to be featuring glass and bronze pieces from Slonem's original and limited edition collections. Get your pick of the litter soon — they won't last long!
Always up for a challenge, Slonem is intrigued by glass making for its ever-changing quality and physical labor. Known for his neo-expressionist paintings, he has translated his energetic sweeping brush strokes into an entirely new medium. Slonem loves to push the envelope and defy all possible boundaries. As he has expanded his style in the past by introducing diamond dust and resin, glass blowing has helped him reconnect with his youthful energy. Using iridescent and transparent colors allows light to hit off every angle of each sculpture, bringing forward his lighthearted sense of play.
Coming at a perfect time in his life as a colorist, Hunt Slonem is thrilled and overwhelmed by the potential of where it may go.
Bunnies are on the way! Please contact the gallery for availability and pricing.