Every artist needs their muse. Whether it's nature, fashion, or the old masters of art history inspiring our artists, these new works feature portraits that exude both strength and femininity. Read on to get a glimpse of what's new in the gallery this month.
Gavin Benjamin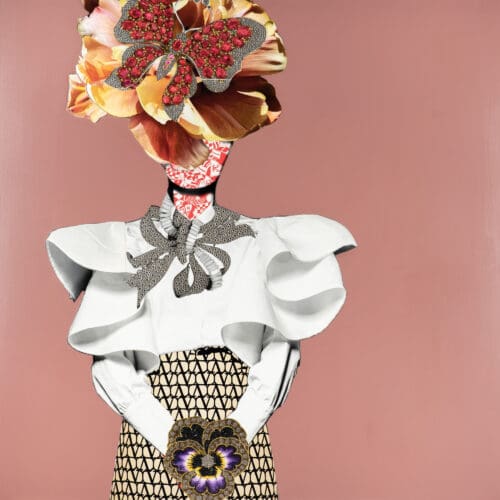 This exciting new series by Gavin Benjamin reflects the artist's respect and admiration for haute couture. Each original piece is one of kind and evokes the prestige and glamour found on an international runway. These large mixed media works on board feature collaged elements and Swarovski crystals for that extra sparkle. During a recent gallery visit, Benjamin shared more about his love of fashion and being able to "see the hand" that goes into the work in this series. See a clip from that discussion here.
Learn more about Gavin Benjamin or  browse additional work
Henrik Abedian
This striking homage to an icon is propelled into the twenty-first century with its abstracted silhouette and spotlighted, instantly recognizable hands. Abedian's signature juxtaposition of known and abstracted elements delights and surprises. Just as DaVinci's Mona Lisa evokes the grandeur and cultural awakening of the Renaissance, this work feels distinctly refreshing and accomplished.
Learn more about Henrik Abedian or browse additional work
Anke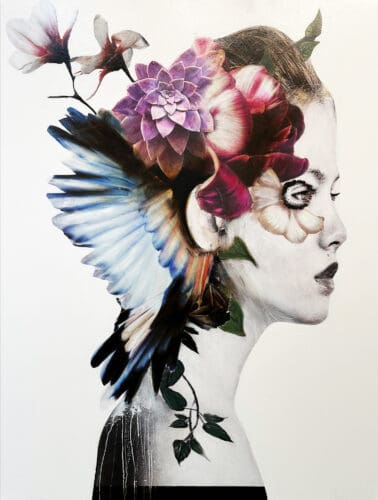 Large-scale collage artist Anke has once again wowed us with her inspiring compositions and playful, polished portraits. Combining visual elements from nature, Anke fuses lush foliage and sublimely feathered wings to craft a unique profile. This series balances softness and strength; the subject is at once both stoic and graceful.
Learn more about Anke or browse additional work