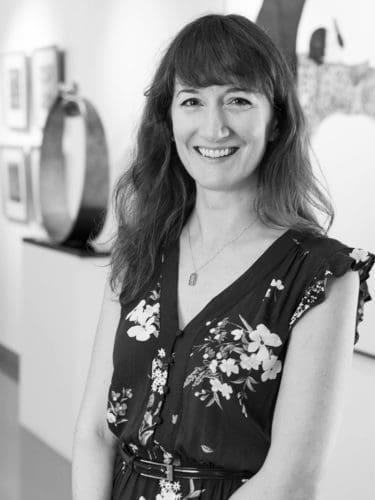 This gorgeous dining nook provides the perfect backdrop for a stunning piece of art to bring it to life. I've selected 3 different pieces to show how the entire feel of this room can change based on the art it contains. 
– Amy
Tom Chambers | Late for Dinner 
The atmospheric sunset hues of Tom Chambers' photograph Late for Dinner works beautifully with this dining nook's soft shades of green and pink with pops of yellow. Coincidentally, the title Late for Dinner is humorously appropriate for this room's use!
Tom Chambers: View More Work | Inside the Studio | On the Wall
Hunt Slonem | Peace Plan
Hunt Slonem's luminous painting Peace Plan offers a breath of fresh air in this already light and airy interior. The pure white of the butterflies and birds offer a crisp contrast to the green wall.
Hunt Slonem: View More Work | Inside the Studio | On the Wall
Eric Abrecht | Solace
Eric Abrecht's Solace utilizes a similar color palette already existing in this room, melding seamlessly into the overall design. The soft landscape adds to the happy and calming atmosphere of the space.
Eric Abrecht: View More Work | Inside the Studio | On the Wall